Family to Family:
The Charles F. Snyder Funeral Blog
To Plan or Not to Plan Your Funeral in Advance
Posted on September 28, 2023 by Charles F. Snyder Funeral Homes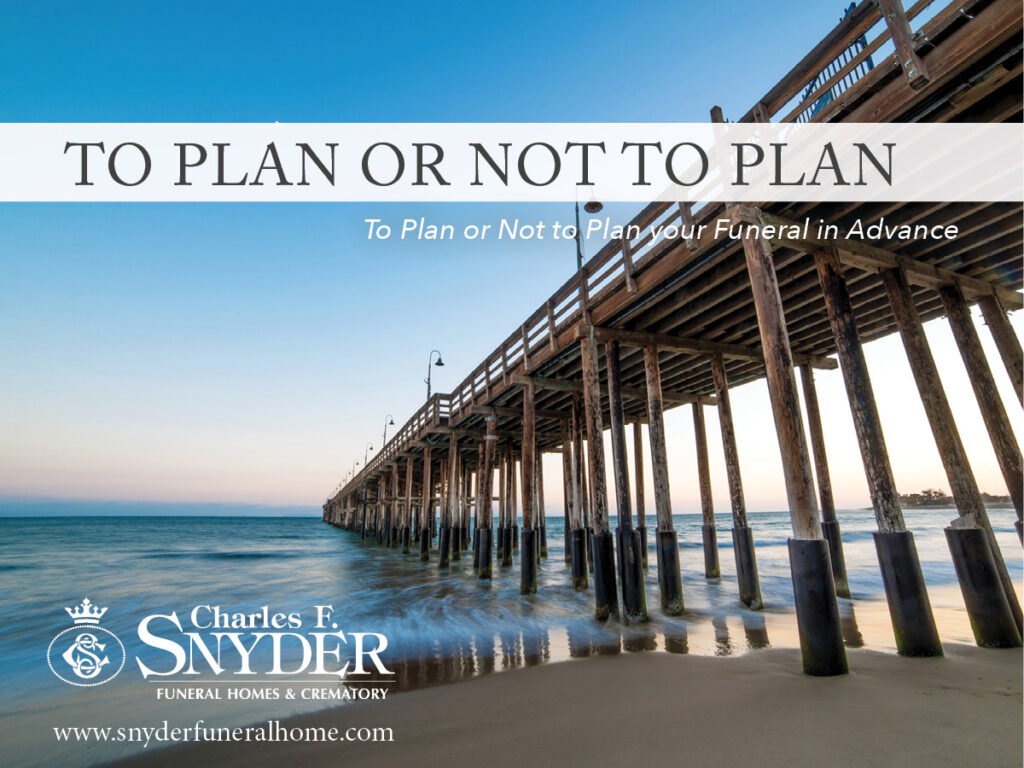 How does Advance Funeral Planning affect the first hours before a funeral and the days and weeks that follow?
Making the call:  When a loved one passes, contacting the funeral home is the first thing that needs to be done.
When a funeral plan is in place and on file at the funeral home there is no question as to who to call. The deceased has left a clear message. The stunned, tired, grief-stricken family just makes the call and the funeral home takes your loved one into their care.
When a death occurs and no plan has been recorded at a funeral home, the first order of business is deciding which funeral home to call. The stunned, tired, grief-stricken family must agree upon who they will trust to guide them through this difficult time. Which funeral establishment will help them honor their loved one in a way that satisfies all their needs and fits their budget.
The evening before the arrangement conference:
When a plan is in place the family can take this time to comfort each other. They can share memories. They can go through pictures or just rest. Tomorrow they will meet with the funeral director and review the plan their family member put together with them in mind.
For the family with no plan in place, tomorrow will bring many questions and decisions. Tonight, they will be weighing in on the big question, burial or cremation. They will be figuring out how much to spend and who will pay for the funeral. They will need to decide which of them will participate in the arrangement conference. They will need to consider and agree upon how to honor this life. 
The days and weeks after the service
The family with the plan has no doubts, no second-guessing and no regrets. They know they did the "right" thing. They know they spent the right amount of money. They miss the one they lost but they have no regrets about the service that honored their loved one's life. 
Sadly not all families are able to pull together following the loss of a family member. Some are pulled apart because they disagree about decisions great and small. The days and weeks following a death are tense and emotional. It is a difficult time to be making group decisions.
Categories: Pre-Planning
More Recently-Posted Articles
Meet the Author
Browse our posts by topic
Browse our posts archive