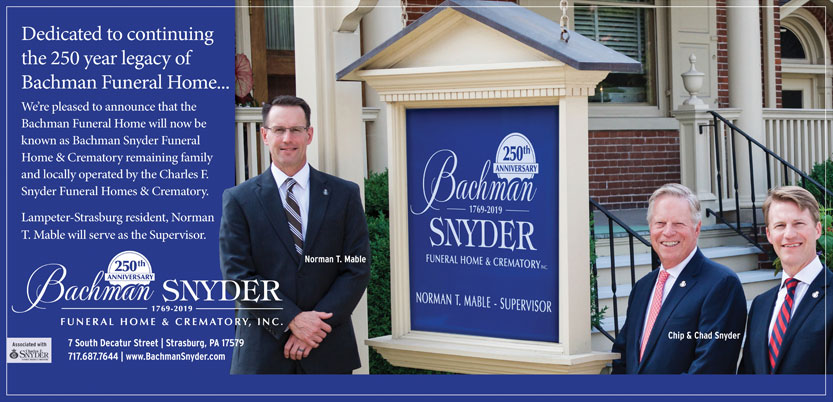 On June 12, 2019, Charles F. Snyder Funeral Homes & Crematory welcomed the nation's oldest and longest-running family owned funeral home, Bachman Funeral Home, Inc. founded in 1769 into their family of funeral homes. The beloved family-run institution located in Strasburg, PA, continues to operate out of its current 1899 C. Emlen Urban-designed building under the name Bachman Snyder Funeral Home & Crematory, Inc.
Bachman Snyder Funeral Home & Crematory
7 South Decatur Street
Strasburg, PA 17579
717-687-7644
Bachman Funeral Home has a long history in the central PA region. Started by Johannes Bachman, a Swiss Mennonite, in 1769, the company is now in its eighth generation as a family run business and is the longest-running funeral services provider in the United States. While the ownership may change hands, this institution will very much continue on in the family tradition. Charles F. Snyder Funeral Homes & Crematory is a third-generation family business that was started more than 70 years ago.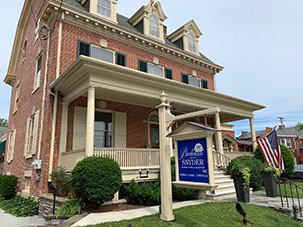 "We are honored to be able to continue but also preserve the history of Bachman Funeral Home known as the longest standing funeral home in the United States which happens to be right here in Lancaster County," says Chad Snyder, grandson of the company's founder and current Vice President of Charles F. Snyder Funeral Homes & Crematory. "Bachman is a revered name in this community not only for its history but also for the reputation for hard work and community involvement the family has built over 250 years of continued business. We want to continue strengthening that reputation with our experience and added value services."
Maintaining Bachman's historical significance and keeping the work of eight generations of Bachmans alive will be a priority under the new ownership. In fact, Norman T. Mable, a funeral director at Charles F. Snyder Funeral Homes & Crematory who will now be a supervisor at Bachman Snyder Funeral Home & Crematory, is the son of Barbara Bachman Mable and nephew of Ellis R. Bachman.
"I am humbled and blessed to return to my family funeral home and serve the Strasburg and surrounding communities," says Mable. Charles F. Snyder Funeral Homes & Crematory will bring its well-recognized programs such as their aftercare program, monument and headstone division, community outreach and pre-planning programs, along with its strong reputation for technological innovation, to the Bachman Snyder Funeral Home & Crematory.
"Our family has been serving the community for 250 years and many of the same families are asking for our continued help today," says John Bachman. "Having grown up in and around the funeral home, I watched my grandfather Donald Bachman, known to many as Brick, and my father, Ellis Bachman, take great pride in providing this important service, both to the families and the community. All of these things help create long lasting relationships."
This will be the fifth location under the Charles F. Snyder name, which includes a location in Lancaster, Lititz, Manheim Township, Millersville, and now, Strasburg, PA.  In addition, the Bachman Snyder Funeral Home & Crematory will also continue to manage and maintain the family files and records for the former Brown Funeral Home in Paradise and former Herr Funeral Home in Lampeter, which were previously acquired by Bachman Funeral Home.