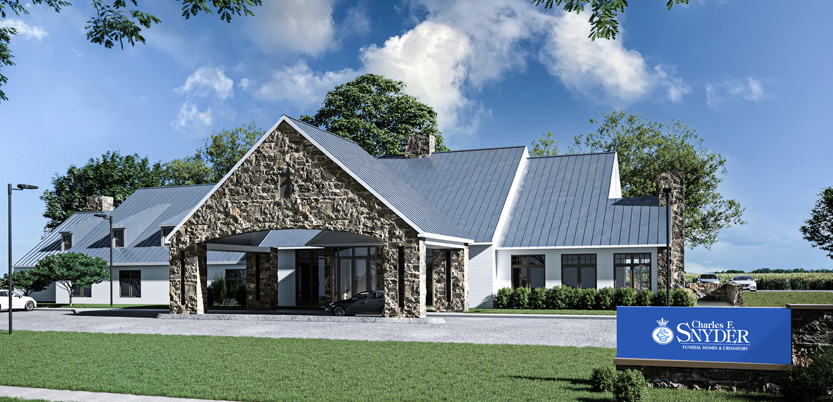 Willow Street
2421 Willow Street Pike
Willow Street, PA 17584
717-464-4600
The above picture is the architectural rendering of our new Willow Street funeral home & crematory. It is next to the Willow Street House of Pizza. We broke ground on Monday August 16, 2021. The new location is NOW OPEN and ready to serve the community. We are honored to complete construction of this beautiful building for the community in our 75th anniversary year in business.
We are now accepting existing transfers of prearrangements from other funeral homes and new plans. Call 717-464-4600 today to schedule an appointment.
Join Us For Our Open House!
Tours, Refreshments & Community Connection
– Thurs, Oct. 6 // 9am – noon & 4-7pm
– Sun, Oct. 9 // 1pm – 4pm
– Thurs, Oct. 13 // 9am – noon & 4-7pm
– Sun, Oct. 16 // 1pm – 4pm
– Thurs, Oct. 20 // 9am-noon & 4-7pm
– Sun, Oct. 23 // 1pm – 4pm
View Our Construction Progress Here
Willow Street - Request More Information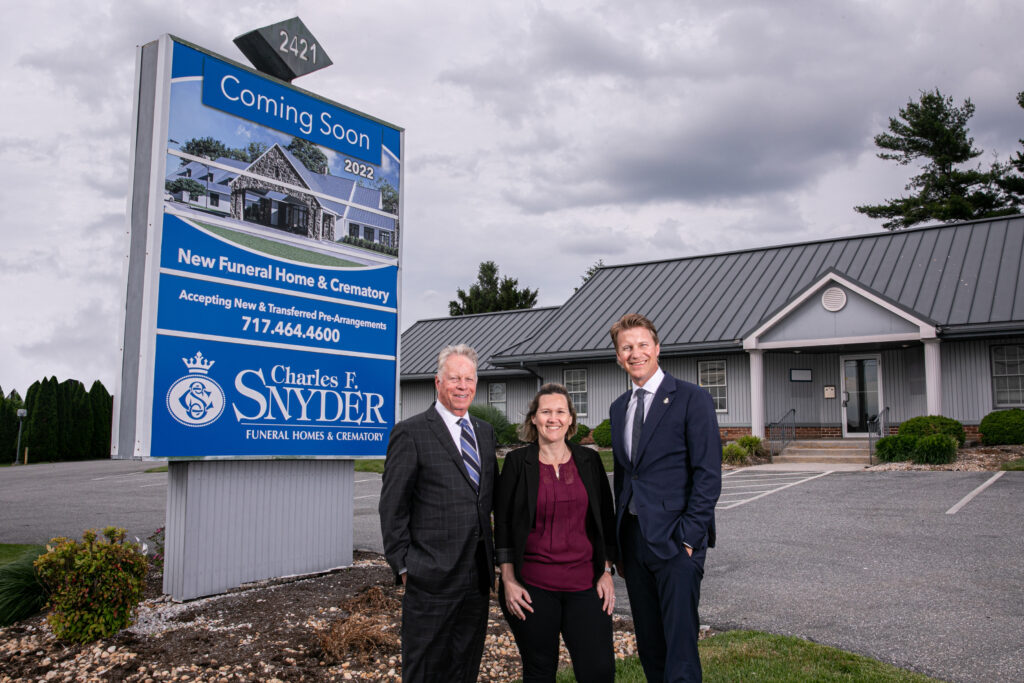 Lancaster County, PA – Charles F. Snyder Funeral Homes & Crematory will be opening a brand new funeral home location with an on-site crematory in Willow Street in 2022.
The new location marks the sixth funeral home and third crematory owned by the Snyder family, who is also celebrating the company's 75th anniversary in 2022. Designed by Cox & Evans Architects, the facilities will be built from the ground up on nearly three acres of what was previously an office building and farmland and provide plenty of room for the 12,500 square foot building, as well as its 145 parking spaces. Site work design has been done by RGS Associates, Fulton Bank is providing financing for the project, and Benchmark Construction will be the General Contractor.
The modern funeral home will feature several key amenities, including:
● State-of-the-art crematory
● Spacious lobby
● Large chapel with vaulted ceilings and 350 seats
● Small chapel with fireplace and vaulted ceilings
● Four arrangement offices
● Witness room
● Comfort room
● Picturesque patio and garden off large chapel
● Monument office
● Pre-planning office
● Large carport for family comfort
"Our family has been in search of real estate for many years in the Willow Street area so that we can better serve the communities south of Lancaster City. This has been a long-time dream and journey of planning and research, and we believe that we have found the perfect location."
says Charles F. "Chip" Snyder, Jr.
Kelly Gramola Townsend will serve as the supervising funeral director for this new funeral home location. She is a native of Lancaster County, and has spent a lot of time with her family in Willow Street.
"I'm honored to be able to serve the Willow Street community as supervisor. I have lived, sent my kids to school and dance in this community, and look forward to growing relationships and the funeral home." says Townsend.
The design of the funeral home will combine modern styles with familiar architectural elements of the Lancaster area, including touches of limestone like those found on Lancaster County barns. Each room will have an open design and feature large windows to fill gathering spaces with as much natural light as possible.
"We are grateful to all of our employees and partners who have helped us get to this milestone and we are grateful to be able to continue to invest in the local Lancaster County communities."
says Charles F. "Chad" Snyder III.
The on-site crematory that will be installed inside Snyder's new Willow Street funeral home will be the first crematory south of Lancaster City. This means that Charles F. Snyder will be the first and only funeral home that will operate on-site crematories North and South of Lancaster City. This will bring the communities south of Lancaster City tremendous peace of mind knowing that cremation will be handled on-site.
Benchmark Construction plans to break ground in August 2021 and finish the building some time during spring of 2022. Once open, families of Willow Street and surrounding communities will experience not only the modern, comfortable facilities of the new funeral home but the dedicated care of its expert and experienced staff.
This new funeral home, conveniently located to serve the Willow Street and surrounding community, will be the first of its kind in almost 120 years. There was an undertaker located in West Willow from 1892-1903, with Samuel R. Hackman providing funeral services from his residence, where he worked with his father and owned a hearse.
In 1903 he decided to focus solely on his carpentry business and close his undertaking services. Now, 118 years later, father and son Chip and Chad Snyder are honored to bring their compassionate and professional team to serve the community in a beautiful and timeless new facility.
For more information, call Chad Snyder directly at (717) 471-7921 or email him at chad@snyderfuneralhome.com.