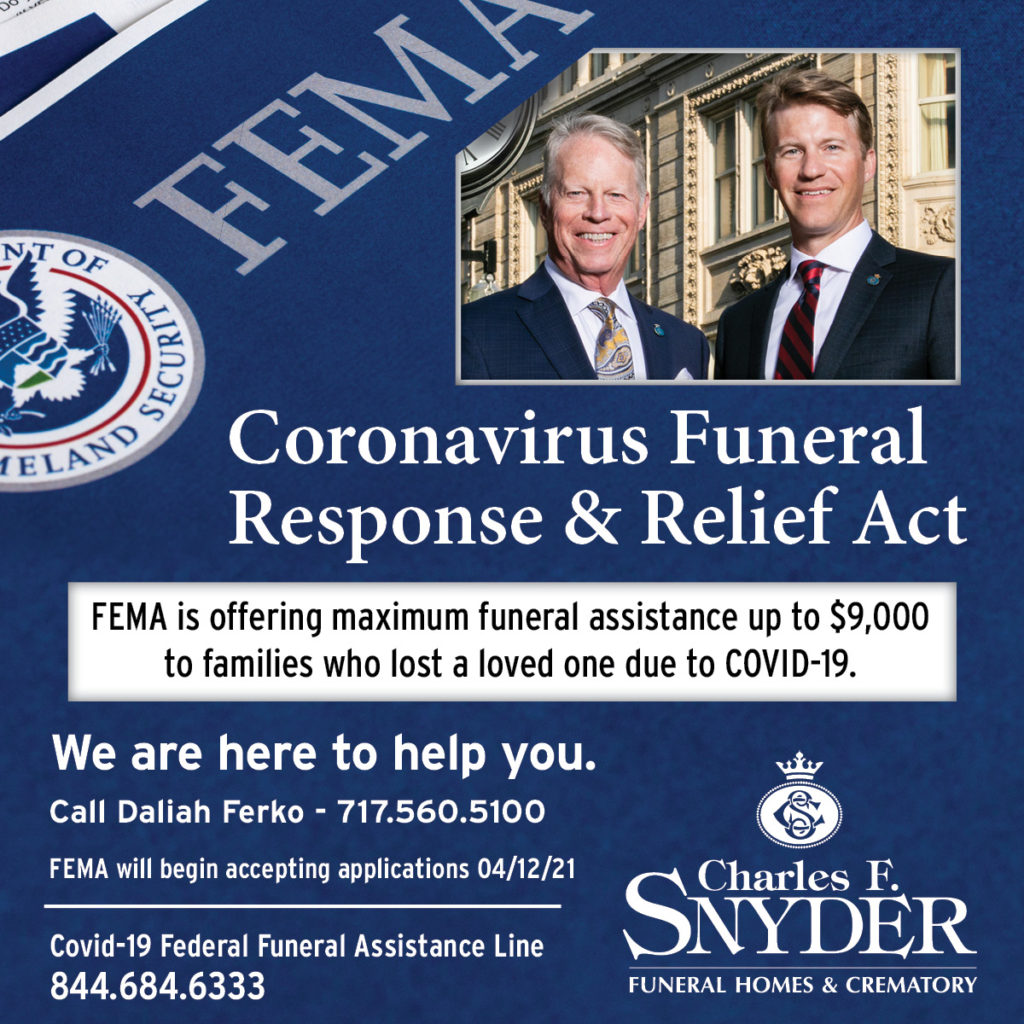 As we look back over the past year, it has been a difficult time for many families. Together, our community is battling through COVID 19 and we will win, coming out of it stronger and more united.
The staff of Charles F. Snyder Funeral Homes & Crematory were honored to have been able to assist you during your loss and wish to pass along
some news that we hope you will find helpful and encouraging.
The U.S. government has approved funds for funeral expenses due to Covid-19 related deaths. These funds are being administered through FEMA under the Coronavirus Response and Relief Supplemental Appropriations Act of 2021 and the American Rescue Plan Act of 2021. A few days ago, final policy was adopted that included maximum funeral assistance of up to $9,000.  As you may expect, there are specific requirements such as, but not limited to, documentation and death certification requirements etc. that must be provided by fax or mail, along with an application that is taken by a FEMA representative OVER THE PHONE. PLEASE NOTE: FEMA will begin accepting PHONE applications beginning sometime in April of 2021. NOTE: It is our understanding that the total funds allocated to this program do NOT cover the total number of Covid related deaths to date.
The following website links can be used for specific information and to answer questions you may have concerning this program.
https://www.fema.gov/press-release/20210324/fema-help-pay-funeral-costs-covid-19-related-deaths
https://www.fema.gov/disasters/coronavirus/economic/funeral-assistance/faq
https://www.fema.gov/sites/default/files/documents/fema_policy_covid-19_funeral_assistance-updated.pdf
https://www.fema.gov/disasters/coronavirus/economic/funeral-assistance
While we do not have all the answers and are not government experts, we want you to be aware of this important information. Although we are not able to assist families in this process, we did want to provide you with the information necessary for you to apply. If you happen to need an additional copy of a death certificate or a statement of your loved one's services, please reach out to Daliah Ferko at 717.560.5100 or daliah@snyderfuneralhome.com
We trust you and your family are continuing to heal through this time.