Over 75 years of serving our neighbors in Lancaster County.
The history of the Charles F. Snyder Funeral Home and Crematory.
The original Charles F. Snyder Funeral Home, located at 414 East King Street in downtown Lancaster, was opened in 1947 by its founder Charles F. Snyder. Our downtown funeral home is as active and vibrant as ever, as we continue to host funerals and memorial services for our Lancaster neighbors in a beautiful Georgian-style funeral home.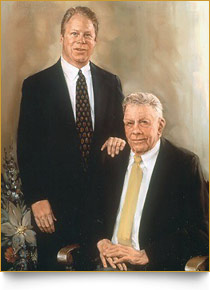 In 1975, the second generation of Snyder, Charles F. "Chip" Snyder, Jr. entered into the family business. He learned how to serve families under his father's supervision and guidance. Chip became President of the funeral home in 1988 after Charles retired, and he continues to work today with the same core values instilled in him by his father.
In 1989, the Charles F. Snyder Funeral Home acquired a second facility to serve the people of Millersville and the surrounding areas. In 2004, Chip would be joined by his son, third generation Snyder to enter the family business, Charles "Chad" Snyder III.
In 2000, a new modern facility was built north of downtown Lancaster on Rt. 501 (Lititz Pike). Located in Manheim Township, our Lititz Pike funeral home allows us to better serve the entire county. Then with the addition of the on-site crematory in 2010, it became the only facility in Lancaster County to offer an on-site crematory, witness room and chapel all under one roof.
1924

Family members enjoying the backyard of the Snyder home, before it was converted to a funeral home. The area pictured is now the funeral home's parking lot.

1925

The back of the original carriage house as seen from Mifflin St., which today houses our fleet of vehicles used in funeral services. The row home on the corner of Plum and Mifflin streets was torn down to add additional parking in the late 1950's.

1931

Charles F. "Buttercup" Snyder Sr., as he was known to his high school friends and families, delivered papers in Lancaster city. There have been three generations of Snyder newspaper boys delivering papers to city residents. Charles F. "Chip" Snyder, Jr. and his son Charles F. "Chad" Snyder, III both had newspaper routes.

1942

After finishing Eckels Embalming School of Philadelphia of Temple University and fulfilling his apprenticeship, Charlie Snyder enlisted into the Navy to serve during WWII. He was stationed in the South Pacific as a 1st Class Pharmacist Mate aboard the USS Barnes and USS Noble.

1945

A Lancaster County family outside the rear entrance of the East King Street funeral home.

1946

One of Charlie's first photographs as a Funeral Director, taken shortly after he established the Charles F. Snyder Funeral Home in downtown Lancaster.

1947

Opening winter of the Charles F. Snyder Funeral Home. This picture depicts the funeral home decorated for the holiday season.

1950

In 1950, Charlie married Rita Caskey, of the Cabbage Hill area of Lancaster City.

1950

The front of the East King Street funeral home as it appeared in 1950 after a winter storm.

1955

Charlie's son "Chipper" and daughter Christy leaning against their father's new Cadillac limousine used for funeral services. This picture is taken from the funeral home parking lot, just outside the main entrance on the side of the building.

1958

Picture taken during the 1958 renovation. Charlie is standing on the roof of the funeral home shaking hands with the contractors and discussing the construction plans.

1959

Picture taken of a reception room at the King Street location, following the 1958 expansion of the building.

1964

Completion of the stainless steel sign attached to the front of the funeral home, which remains in-tact and in excellent condition today.

1968

The funeral home on King Street on a sunny day in 1968 before the large oak tree was removed from the sidewalk in front of the building.

1970

The King Street funeral home after the oak tree was removed.

1973

Charles is elected President of the Lancaster County Funeral Directors Association in 1973.

1974

Second generation Charles (Chip) Snyder, Jr. joins the family funeral home business.

1978

Like his father Charlie, Chip would accept the honor of serving as the President of the Lancaster County Funeral Directors Association.

1985

The Charles F. Snyder family, funeral directors and staff outside the newly completed King Street expansion. Charlie and Chip are standing in the middle of the group.

1988

Chip Snyder acquired the Richard Bair Funeral Home in Millersville in 1988. Located on North George St. next to the post office, it is Millersville's oldest funeral home.

1998

The ground breaking ceremony of the Lititz Pike construction project. In attendance were home builder Mark Simeral, State Representative Roy Baldwin, Chip Snyder and his wife Doreen, Charlie Snyder and his wife Rita, funeral director Mark Burkholder and Chip's daughter Christina Snyder.

2000

Charlie and Chip Snyder during the ribbon cutting and opening of the Lititz Pike funeral home and chapel. Chip gave the privilege of cutting the ribbon to his father, and mentor, Charlie.

2000

Charlie walking the halls of the Lititz Pike location during the inaugural open house.

2001

Founder Charles F. Snyder, Sr. passes away.

2004

Third generation Charles (Chad) Snyder III joins the family funeral home business.

2009

Our Downtown Lancaster city location expands again, this time substantially increasing the size of our off-street parking lot.

2010

An on-site crematory is added to our Lititz Pike (Neffsville) location, ensuring that those we serve never leave our care.

2015

Spacht Funeral Home in Lititz is purchased, bringing two families together to continue to serve the Lititz Community as Spacht-Snyder Family Funeral Home & Crematory.

2019

Chip and Chad Snyder acquired the historic Bachman Funeral Home Strasburg, PA June 2019

2020

Design of architectural rendering of the new Willow Street funeral home unveiled

2021

Willow Street funeral home ground breaking

2022

Ribbon cutting and opening of Willow Street funeral home

2022

Chip & Chad Snyder acquired the two Andrew T. Scheid Funeral Homes which includes the historic Rhoades Mansion on 121 S. Prince Street Lancaster, PA along with the 320 Blue Rock Road Millersville, PA location