Charles F. Snyder buys Andrew T. Scheid Funeral Home Properties
Learn more about our new Event Space progress on Prince Street.
The below article was front page of LNP February 17, 2022 explaining the purchase that Charles F. Snyder made with the purchase of the Andrew T. Scheid Funeral Homes. – See the article on LNP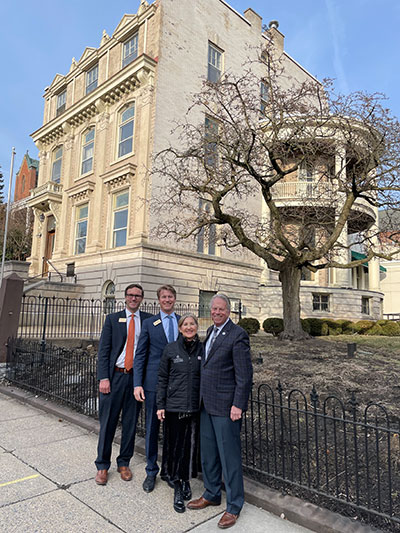 Lancaster County, PA – An institution in the Lancaster community, Charles F. Snyder Funeral Homes & Crematory has purchased several new addresses in Lancaster and Millersville, Pennsylvania, which formerly were known as the Andrew T. Scheid Funeral Homes. Addresses include the properties at 121 S. Prince St. and 131 S. Prince St. Lancaster, PA and 320 Blue Rock Road and 321 Old Blue Rock Road Millersville, PA.
With the transition of ownership, the Charles F. Snyder family plans to reverse the upsetting associations these buildings have had for the community following the misconduct of former funeral director, Andrew T. Scheid. By adding these buildings into their service offerings and operations, the Snyders plan to give the properties, previously owned by Scheid, new meaning and a positive future that serves to bring the community closer together.
"We want to let families know that the experiences in these two properties owned by Andrew T. Scheid in recent years were not a representation of the standard of care we as funeral professionals uphold," says Chad Snyder. "We believe that this is the first step in healing the community and imagining a bright future for this historic property."
The buildings will mostly serve in a support capacity to the existing six Snyder funeral homes, including the brand-new Willow Street location set to open this summer. The new properties that Snyder purchased will be used to assist in adding and enhancing what Charles F. Snyder Funeral Homes already offers. Chad Snyder intends to focus on adding catered food services and alternative services to the Snyder offerings through the Prince St. event space. The purchase of these buildings is a commitment that Chip & Chad Snyder have made that will also aid in continuing to support and enhance the neighborhoods that surround them, both in Lancaster and Millersville. The Snyders operational standards and ethical practices are widely known, both locally and nationally. Their ownership and stewardship of these buildings will assist in the continuation of their standards.
Following significant updates and remodeling, the buildings, in addition to the event space slated for the Lancaster location, will also provide more office and training space. The Millersville location will provide needed vehicle and equipment storage, and even housing for some of the Snyder staff members.
The community may have particular interest in the plans for the 1890s mansion built for Zahm Rhoads, which is a 4-story historic Beaux Arts building located at 121 S. Prince Street, Lancaster, next to St. Mary's Church and just around the corner from the newly revitalized Southern Market. This building is a rare piece of architecture in Lancaster City that the Snyders intend to preserve. Its ornate stone and brick work makes it a structure resembling Manhattan or Brooklyn architecture. Zahm Rhoads was a well-travelled art, jewelry, and antiques dealer who built the mansion in the 1890s. This area of the city is the new hotbed for revitalization, and the real estate associated with 121 S. Prince St. and 131 S. Prince St. offers opportunity to serve community needs.
Currently, the Snyders are actively looking to convert this beautiful building—with its profound French Parisian Beax Arts architecture similar to the Watt & Shand Building—into an event space that can be used for post-funeral and memorial luncheons, alternative funeral services, life celebrations, as well as for non-funeral related gatherings, events, seminars, rehearsal dinners, and non-profit engagements. The Prince St. location is in a trending area of the city and offers parking as well as a close proximity to many cemeteries. The location is within walking distance of many Lancaster City attractions such as the Fulton Theatre, Central Market, Southern Market, and the Arts District. Other features of this S. Prince St. property include a parking lot and a secondary office building for Snyder's operations. The neighboring building at 131 S. Prince St. is also a beautiful piece of architecture, featuring huge windows and ornate moldings. Zahm Rhoads build the Victorian townhome for his brother Charles Rhoads with whom he conducted business. The converted office building will be used for administrative space for Snyder's growing operations.
In addition to the attractive location and architecture, another reason Snyder purchased these properties on Prince Street is the growing trend of client families asking funeral directors about catered food service offerings. Under PA Funeral Law, food is not allowed to be sold in a funeral home. Pennsylvania is one of the last few remaining states in the country to not permit the sale of food in a funeral home. To accommodate a needed event space, Snyder has made the decision to not license the South Prince Street building as a funeral home. By not licensing it as a funeral home, Snyder will be allowed to provide the catered funeral luncheons, seminars, life celebrations, and other events with food that client families have requested. Snyder will soon begin to interview caterers and have plans to hire an event planner. Snyder intends to place a food staging area and catering kitchen in the building.
The trend and demand is growing in the sense that grieving families do not have a place to retreat to following a funeral for a meal and gathering. With church membership trending downward in recent years, church luncheon committees may not be able to meet the need of families who are not part of a congregation. It is Snyder's intention to help alleviate that pressure on clergy and churches. And although many Lancaster County families belong to service or private clubs, not every family holds a membership. The Snyders feel the event space will be a great alternative which will help fill a growing demand for post-service meals and gatherings.
"This community is our family, and we have been deeply honored with every opportunity we've had over the years to interact with the folks of Lancaster through community relations, whether it was for holiday celebrations, parades, fundraisers or just by being neighbors. This new event space will open the door to a myriad of new ways that we can connect with the Lancaster community," says Chip Snyder.
Separate from the new South Prince St. location, renovations have already begun at the 320 Blue Rock Road Millersville funeral home. Snyder will be moving its affiliate cremation company, Cremation Services of Pennsylvania, Inc. to this Blue Rock Road location. In 2017, Snyder acquired the Preneed Family Associates prepaid cremation book of business. Snyder also previously was a partner in the Lancaster County Cremation Society and will move those prepaid services to this location to be fulfilled. The cremation services will be moved to the 320 Blue Rock Road location, where there will be dedicated space for a newly renovated nondenominational service room, cremation selection room for urns and keepsakes, and a space for family viewings prior to cremation.
Through the restoration of the historic landmark building in Lancaster and the funeral home in Millersville, the Snyder family focuses on healing the community with its deep roots in the area, having lived and served in Lancaster for three generations and having served our Lancaster County community for 75 years as of 2022. The family's presence is entrenched in the very landscape of the Lancaster County community.
It is estimated that the Millersville properties will be completed and opened this summer in 2022 and the Prince Street event properties will follow later in 2022.