Why select funeral services from Charles F. Snyder Funeral Home in Lancaster, PA
Grief and loss touch each of us in its own individual way. There is no "right" or "wrong" way to cope with the loss of a family member or friend. It's always difficult.
The funeral directors at Charles F. Snyder Funeral Home & Crematory understand this, and work very hard at lightening the load for those making funeral arrangements and making the transition as easy as possible for you and your family. We believe that listening, coupled with the ability to empathize with a family's grief, gives our funeral directors the ability to support the Lancaster County neighbors we serve while guiding them through the process of planning funeral services.
Our staff will create a tribute that works within your budget.
Snyder Funeral Homes can create any type of funeral or memorial service to fit your personal needs and wishes. We will help your family consider and decide what type of funeral service to have, and develop a tribute that works within your budget.
Planning funeral services starts with listening.
Sometimes those making funeral arrangements have a clear idea of what type of services are most appropriate. Other times their views are less clear. In either case, when we help families make plans, our funeral directors begin by simply spending time with them and talking about their loved one. Through the questions asked and the stories that are shared, our staff will begin to develop an understanding what a family might be looking for. Only then can we guide them in the right direction of selecting funeral services that best suits their needs.
Careful listening, asking the right questions, and making appropriate suggestions in keeping with the spirit of the deceased are core strengths of all of our licensed funeral directors.
Experienced professionals handling important details.
Regardless of what type of service is created, our licensed funeral directors attend to the largest points and the smallest details so that the funerals can be exactly what the families intended, and that they will not be burdened in the process.
Planning, personalizing, coordinating and directing the funeral service, memorial tribute and/or visitation
Preparing and filing of legal documents or other paperwork necessary to complete the arrangements
Transfer of loved one from the place of death and transportation to the funeral home
Embalming and sanitary care
Dressing, cosmetizing and casketing
Use of facilities for visitation, memorial service, celebration of life or tribute
Service or set up at a church, chapel, synagogue, temple, mosque or other location
Transportation arrangements including funeral coach, family vehicle, limosine and service van
Coordinating with the cemetery for final committal, interment or entombment
Memorial stone or bronze marker, including engraving on existing markers
Making it easier for family to make funeral arrangements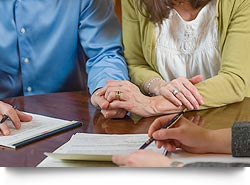 When it comes to making funeral arrangements, there are a lot of difficult decisions to be made during an emotional time. Many individuals responsible for the arrangements may be doing so for the first time, making the process harder still. Our experienced staff of compassionate licensed funeral directors will be a source of strength and guidance throughout the entire time your family is in our care.
Take some time to explore the funeral service at left or contact one of our Lancaster, PA funeral directors for immediate help.