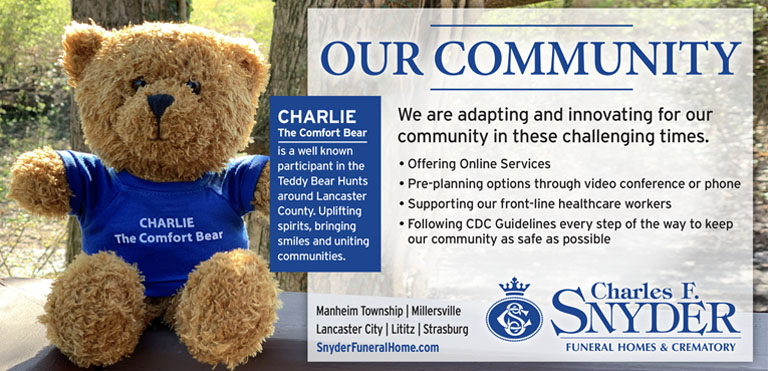 When Chad Snyder was conversing with his mother-in-law, Katie Guild Haines, she had suggested that our funeral home provide a warm welcome and keepsake for all small children who walk through our funeral home doors. Chad thought this was a wonderful idea and put it into action by creating a branded teddy bear. Charles F. Snyder, the founder of our Funeral Home went by the nick name "Charlie", and so it was a natural fit that we named our cuddly friend after him. Charlie The Comfort Bear is a tool that we use to help make children feel not only welcomed, but comfortable in a funeral home setting. Each child who walks through our door is welcomed to receive a Charlie Bear to take home and enjoy.
Charlie has also been in the news recently, during the world wide COVID-19 pandemic each of our locations are participating in the "Teddy Bear Scavenger Hunt". He's been featured in local newspapers and ads. It is the little touches that we offer that make the biggest differences to the families we serve and to the members in our community.
We encourage families to include their children of all levels to participate in some way at a funeral. These early introductions to the funeral process help develop children and create an understanding of early grief.