Family to Family:
The Charles F. Snyder Funeral Blog
Magic in the Family
Posted on July 19, 2016 by Anne Corvelle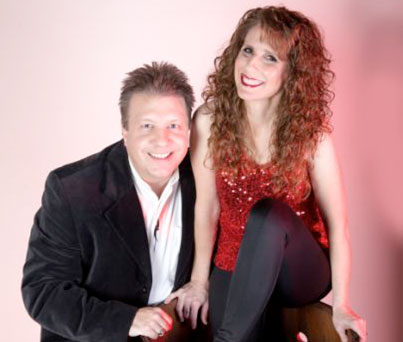 Had it not been for a commercial on television with Marshall Brodien and his TV Magic Cards, you would be reading the blog of the Charles F. Snyder & Sons Funeral Home. However, that commercial and the subsequent begging by Michael to his parents to order that set of the cards sparked a love for magic and entertaining that set Michael on a different path – to begin a family business of his own: The Magic of Mike Snyder and Donna.
On July 7, I had the opportunity to visit with Mike during The Magic of Mike Snyder and Donna's week-long engagement at Knoebel's Amusement Park in Elysburg, PA, where I learned a bit more about his humble beginnings and his journey to entertaining people all over the world. Magic is in the Snyder roots – Mike's father and grandfather had perfected a few tricks that are currently in Mike's collection. Charles F. Snyder, Sr. had a few good card tricks up his sleeve, he could make cigarettes (and pencils or tootsie rolls) disappear, and would perform magic tricks to entertain kids at viewings and keep them occupied during calling hours. He learned even more tricks as his son mastered them.
Mike is the youngest of Charles F. Snyder, Sr. and Rita C. Snyder's six children, with himself and Chip being the bookends, and four girls in between. Growing up in a funeral home, Mike Snyder had developed several childhood fears. His sisters may or may not agree, but they seem to have been the cause of the bulk of those fears. From zombies climbing to eat the person in the first bedroom at the top of stairs at night, to the boogeyman in the basement that would catch him if he didn't run upstairs fast enough. Two sisters in particular (who shall remain nameless, but you know who you are) were the protagonists and had convinced young Mike that these monsters existed in their home.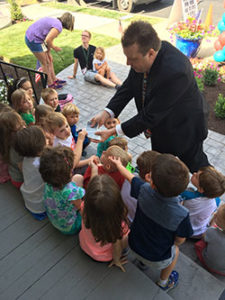 Back to that pack of magic cards Mike saw on TV – at the age of 5, he began learning various tricks, stopping for a few years, only to pick it up again. By age 12, he had his first show at a birthday party for Doreen Snyder's nephew, Kenny. During high school, Mike gained experience by being hired for school shows and private parties. Mike met Donna at Lancaster Catholic High School and she soon started as the animal trainer/handler in his show. The first time she filled in for Mike's regular assistant, it went so well that the chemistry they had that night solidified their connection as partners on-stage.
When the time came to make the choice to become a funeral director and join the family business, Mike learned that he couldn't pick and choose the tasks he wanted to do, that it was all or nothing. This, combined with the idea of going to college for four years, plus two years of mortuary school, wasn't exactly appealing. As their on-stage chemistry developed, so did their off-stage, and Mike and Donna were married two years later – the same year as Mike made magic his full-time profession. And now, several decades later, he and Donna perform year-round, traveling all over the US and throughout the world.
As a quick aside, most people who have ever seen Mike perform are able to recognize him in public, but Donna has a mild-mannered alter-ego and can blend into any crowd. Don't worry, Donna, I won't divulge your secret identity.
Here's their professional experience in a nutshell: graduates of the Chavez School of Magic, six months performing on a cruise ship to/from Bermuda, three summers performing at the Jolly Roger Amusement Park in Ocean City, MD, magic & special effects consultant for the Dutch Apple Dinner Theatre and many other productions, designing and working on illusions for David Copperfield and other top magicians, and an "extra" in the movie "Witness" (1985). The most relevant, and probably most notable, is that this year is Mike & Donna's 23 rd consecutive year performing at Knoebel's Amusement Resort in Elysburg, PA. Mike & Donna have the privilege of being the first act booked each year and the only magic act to get multiple weeks at the park. I must correct my mistake, their most notable performance was at our recent Spacht-Snyder open house!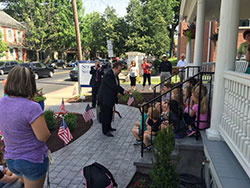 Mike also holds office in several different magic organizations, including Pennsylvania State Deputy for the Society of American Magicians (S.A.M.), Lifetime Grand Council Member of the Professional Magicians Club of Lancaster, PA, Past President of Capital Area Professional Magicians – Harrisburg, PA (2012-2015), among others. Pretty impressive!
Having seen Mike & Donna perform a few times now, I can attest that they have some pretty cool tricks, the most unique of which is Harbin's Beer Barrel. Mike and Donna have one of only three known Harbin's Beer Barrels in existence, which is enough to make it cool in and of itself – not to mention Donna being inside while it is pierced with a mix of sharp swords and massive, wooden dowels.
Have you ever thought about learning a few magic tricks? During our interview, Mike noted how magic has evolved to where new, aspiring magicians watch a video online and learn how to perform something with a flourish, but they don't actually learn tricks. If you really want to perform like the masters, studying magic from books and with a mentor is the only way to go.
Thank you, Mike and Donna for keeping your emphasis on fun and family!
www.MikeSnyderAndDonna.com
www.facebook.com/MikeSnyderAndDonna
Categories: Other Posts Worth Reading
Comments on this Article
May 11, 2020
My name is Kenn Allan Slotnick and Mike was always so kind and willing to bring magicians to many non profit organizations that I was connected with. Always with a great smile. Last time we met was at valleybrook estates a little over a year or so ago where he was very sick and performed like the pro he was. Miss you Mike and thanks for all the help you willingly gave to many organizations. God Bless
March 04, 2020
What a great article. Thanks for sharing this. Miss Mike so much and my time on the road with him and Donna. He was such a wonderful human being. I can recall our discussions about him "not" wanting to be in the family business. I have to agree… he was cut out to be the entertainer that he was and make a huge impact on people in that capacity. He is so missed and there are not too many days in my life that I do not think of him or have him cross my mind. The real magic was in that Mike shared wonder (and hope) with others anywhere he went. May his legacy live on, in and through others, instead of simply being distant memories.
Billy Diamond
July 26, 2016
Hi Mike & Donna,

What a great read about your background and eventual decision to go into magic
as opposed to the funeral business. You were 'dead' right about your decision.
It is always good to hear about fellow wand wavers and read about their success.
We belong to a wonderful fellowship where we may not have met physically we can
still be friends through that unique bond of magical brothethood. I never forgot your
kindness all those years ago Donna providing me with a routine for the "Pom Pom" Sticks.
I really enjoy hearing about your exciting and magical life and pleased that it has given
you such joy and pleasure. I also agree that to become a real magicician, it is necessary
to read the plethora of magic books we have available. So many younger aspiring magicians
learn from YouTube or videos and may become tricksters but never quite aspire to really
study magic. I was told that, "Dogs do tricks", but "Magicians do magic". May I wish you
both continued success doing what you do best. " We spread the Wonder – Not the Secrets"
Best regards. David J O'Connor (Down under in Brisbane)

July 21, 2016
Nice article about two nice people who put on a great show! Mike Tafelski
More Recently-Posted Articles
Meet the Author
Browse our posts by topic
Browse our posts archive