Family to Family:
The Charles F. Snyder Funeral Blog
Leadership Lancaster Blog
Posted on March 10, 2016 by Chad Snyder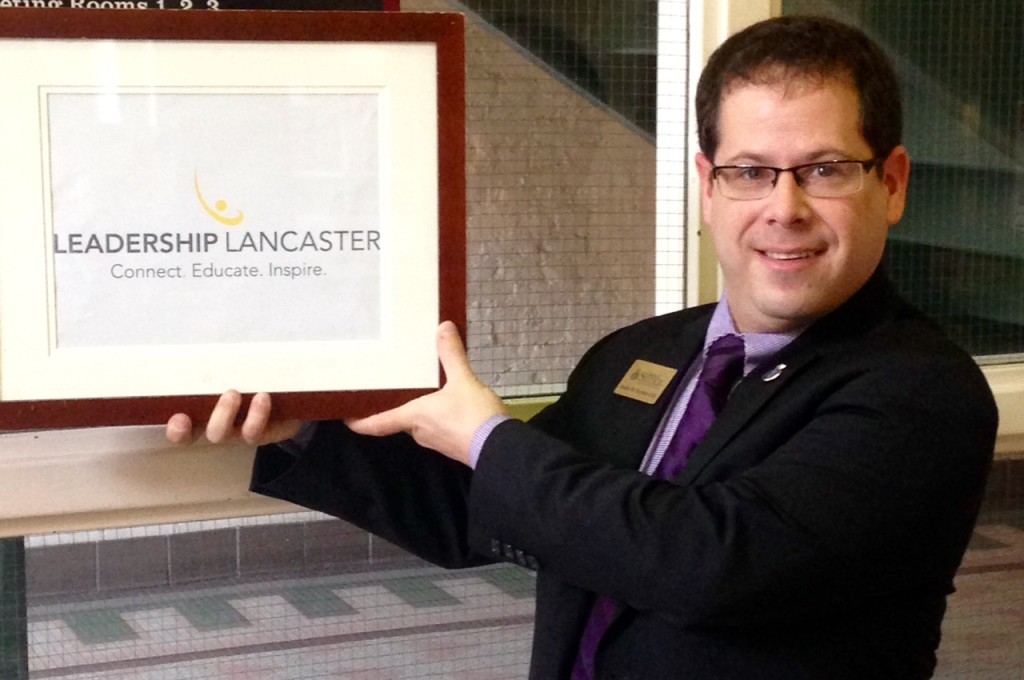 As a native of Lancaster County, I felt I had a pretty good sense of what this great county had to offer to the diverse community it holds. By surprise, I learned a whole lot more than I could have ever imagined when I enrolled in the Leadership Lancaster program in October 2015. Leadership Lancaster is a non-profit organization that was formed in 1983 and provides the skills and qualities for graduates to go out into the community to volunteer and make a difference.
To learn more about the challenges and opportunities this program had to offer, volunteers started off the year with a retreat. We started to form a bond with each other and gain a sense of why each of us began this journey. For myself, I knew many challenges were ahead of me, but I also felt that, if this was something I was going to do, I was going to go into it with a positive attitude and an open mind.
We spent the next 8 months learning about different aspects of the county in numerous ways, and, along the way, forged ahead as a team despite all of the different communicative and behavioral characteristics we each possess.

Opening sessions revolved around utilizing the existing leadership skills of the team to solve a problem or find a way out of a precarious situation. Following the introductory session, we set out on a tour to see more about what this county has to offer. We explored everything from the waste management sector to Wheatland (home of James Buchanan, the only US President from Pennsylvania). These sites, as well as other historical events, shaped the community then and continue to shape it today. The latter part of the program had us touring one of the biggest revenue opportunities in Lancaster, Sight and Sound Theatre. Finally, we got a sense of how the Amish community, which plays a huge part in the county, adapts to the trending cycle we all seem to be heading down.
Every session was very informative and eye opening but latter sessions really hit home. Although this is a great place to live, like all communities, there are many public and economic challenges we have to face. It was both mind-blowing and eye-opening to be placed in some situations where the bare necessities such as food, water and shelter were not an option. Finally, understanding the law and justice governing this county and how they can be a presence and provide the enforcement needed to keep this area a safe place to live was a "thank-you" moment for what you were given.
By being a part of this wonderful program, it has provided me the opportunity to become a better leader in my profession. I have had many "wow" moments in the last several months and as a funeral director it has changed my outlook on the diverse community in which we live. By being a part of this program it has provided me with opportunities to serve and utilize skills to better implement ideas for families I serve, and provide those resources to the families who call on us to serve in their time of need.
Categories: Other Posts Worth Reading
Comments on this Article
March 10, 2016
Couldn't be more proud of my nephew, Justin Koehler. He is such an asset to your team and anyone touched by him in his role as funeral director.
March 10, 2016
Justin is a shining example of "what is possible" when someone decides to plot his own course and MAKE things happen instead of letting things happen TO them. I've known him since his beginnings and he never failed to impress me with his positive, "can-do" attitude. I'm very proud of the success he has achieved in both his personal and professional life….and I know the community will benefit from all of the things he has learned. Congrats, Jut.
March 10, 2016
Thank you Justin for your commitment to Leadership Lancaster and to our community. Hard to believe that you graduated from LL almost a year ago! You are a great example of Leadership Lancaster alumni who are serving our community with compassion. Thank you and Snyder Funeral Home for supporting you throughout. –Deb Rohrer, Executive Director
More Recently-Posted Articles
Meet the Author
Browse our posts by topic
Browse our posts archive