Family to Family:
The Charles F. Snyder Funeral Blog
Honoring Dad on Father's Day
Posted on June 12, 2020 by Charles F. Snyder Funeral Homes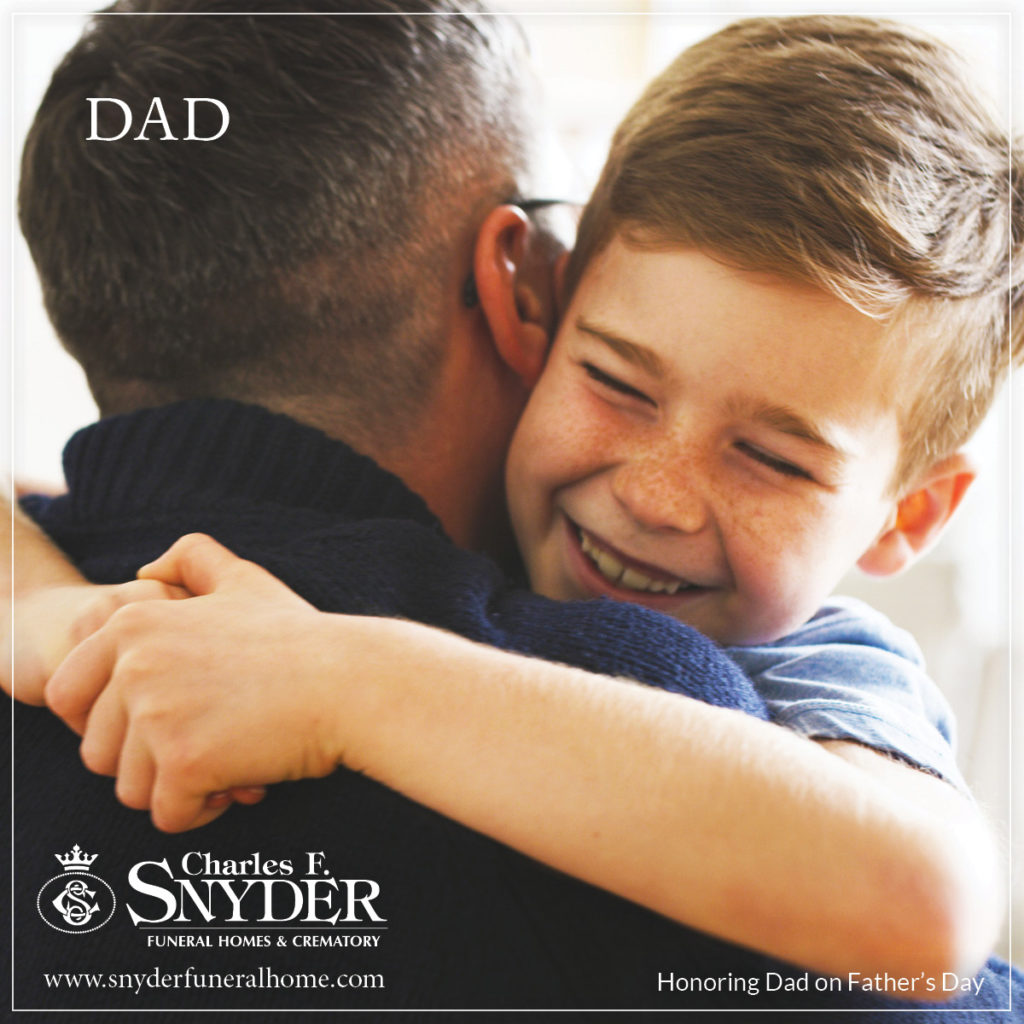 Think about the lasting impact dads have on our lives. Be you six or sixty, your father, by his presence, or even by his lack of presence, influences your life. Father's Day is that one day a year when we honor our fathers and celebrate the father child bond.
Maybe your dad was or is your rudder. The rudder on a boat determines the direction the boat takes. It can help you steer around obstacles like bigger ships or hazards to navigation. Those things can cause you to sink if you should bang into them. The rudder if held all the way to the left or right will send your boat going in circles.  A rudderless ship is doomed to failure. A boat without a rudder lacks direction. It can't stay on course. It is lost. Boats need rudders and kids need dads.
A father can also be the wind in his child's sails. A father can be his kid's biggest fan, life coach, or inspiration. Dad can be the fresh breeze that moves the becalmed child helping her find her way. Dad might be the guy that helps with the math homework or teaches his son or daughter how to put backspin on the ball. He can be the gale force wind that beaches the kid who is on a course of destruction.
A dad can also be a lifeboat. Even an adult child needs a dad rescue every now and then. Maybe it's just a hug when a child's domestic life hits a bump in the road. Maybe it's a couple of bucks to fill the gas tank or some pointers on how to install a fence in the backyard. Maybe its help with your investments, choosing a new car, or getting a mortgage. Dad to the rescue.
On Father's Day, be sure to tell your dad thanks for all he has done to help keep your ship afloat. Send him a card, buy him a gift, and make sure you don't forget to call him on his special day. Find a way to make him feel loved. He deserves it.
Categories: Uncategorized
More Recently-Posted Articles
Meet the Author
Browse our posts by topic
Browse our posts archive