Family to Family:
The Charles F. Snyder Funeral Blog
Cremation Society or Funeral Home
Posted on July 23, 2021 by Charles F. Snyder Funeral Homes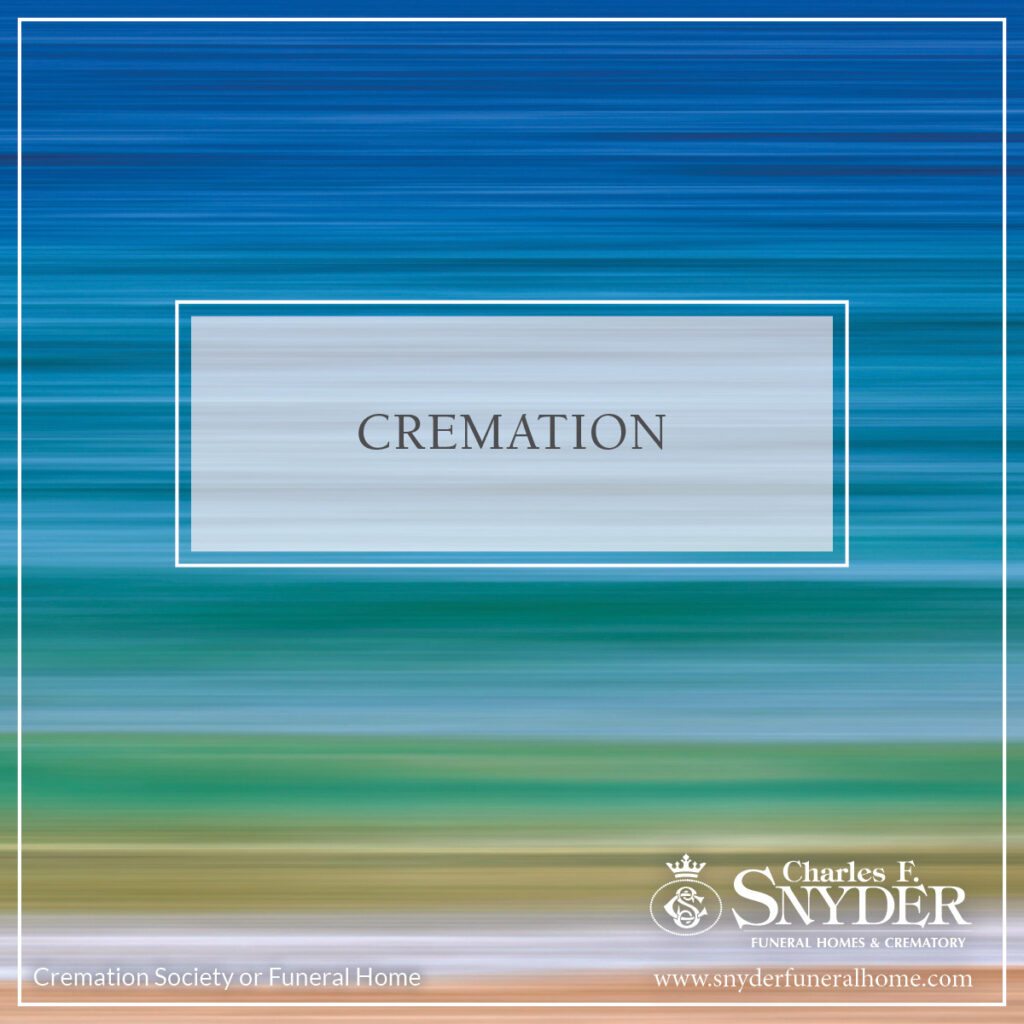 Cremation, like electric cars and cell phones is here to stay. For some people cremation is part of their religious practice. For other people, cremation just feels right for them.  The big question is who should help you with your cremation, a society or a funeral director?
Cremation Societies specialize in what is called a direct cremation. Direct cremation means the society will remove the deceased from the place of death and take the body directly to their crematory where the cremation process will take place. Following cremation, the ashes are returned to the family in a bag or box. It's all pretty quick. The cost is quite low for direct cremation.
But something is missing.
How do we feel when a family member dies? What helps? Death is a loss. It is hard to describe how loss feels, but it is something like a void, a vacuum, or an energy shift.  You see something close when you watch victims of the California wild fires or a tornado on television. You see that dazed and stunned look on their faces. That is loss.  There they stand looking at a pile of rubble that was their home … and now it is gone.  That look is about loss of a building. Loss of a person, someone you love, is so much more. It hurts your heart.
Funeral directors are trained and specialize in taking care of the deceased AND in taking care of the family of the deceased. They know people need more. They are going to encourage you to slow down a little and give the family a little time for the reality of the loss to sink in. Give a little time for the family to consider what they need to do to begin to heal.
Funeral directors specialize in helping families put together a gathering to honor the one who died. They know that being with those you love and who love you helps. They know words, as a part of a religious, spiritual, or life celebration ceremony help. Funerals are the funeral director's specialty. They have done this many times with many families.  Funeral directors are the experts.
Of course, the funeral home will help you with a direct cremation if that is what your family prefers. To be fair, cremation societies will also add on some service options at the family's request. As you add services the cost increases. It is important to look for value.
The funeral home is staffed by licensed trained funeral directors and serves families from a clean, company ready facility with plenty of parking and is a good value. Do your homework. Where will cremation take place? If your family wants service where will the service take place? If you add service and products what is the difference in price?  How important is cost over expertise? Share your budget with the funeral director at your funeral home. Don't assume you need to sacrifice ceremony for savings.
Categories: Cremation Services
More Recently-Posted Articles
Meet the Author
Browse our posts by topic
Browse our posts archive