Family to Family:
The Charles F. Snyder Funeral Blog
A Very Special Night
Posted on August 3, 2016 by Anne Corvelle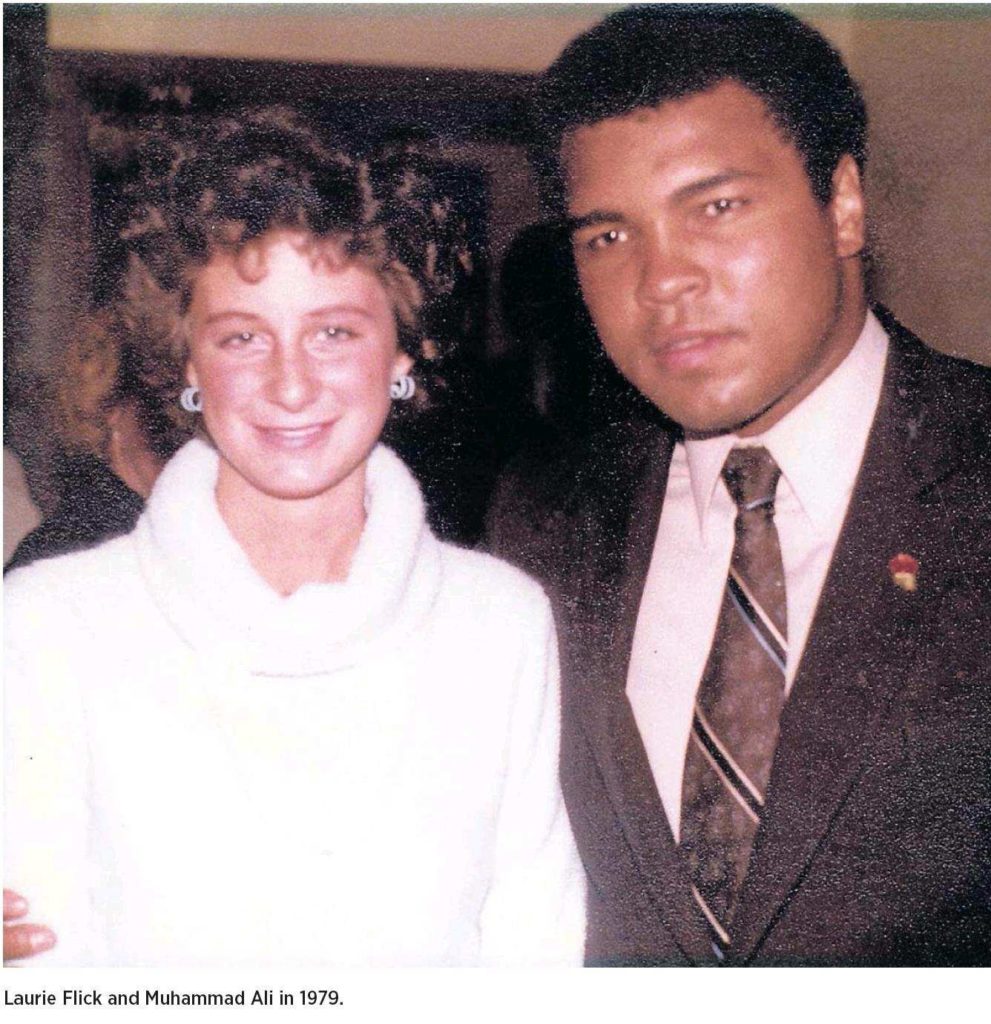 On June 3, 2016, Muhammad Ali, one of the most iconic sports celebrities in the world, passed away. As his death was mourned by millions around the world, this loss sparked a special memory for one of the members of our support staff, Ed Flick, and his wife, Sally. The following piece was written by Sally Flick and printed in the June 17, 2016 edition of LNP:
Along with many millions of people around the world, I watched and listened to the televised programs and commentary surrounding the passing of "The Greatest," Muhammad Ali. As I watched the funeral procession and witnessed the thousands who lined the streets shouting "Ali, Ali, Ali," reverently touching the hearse as it passed, paying tribute to this fallen giant of a man, my thoughts strayed to another time and place.
It was September 1979. My husband Ed, daughters Laurie and Holly and dear friends Ron and Gerry Weaver were at the (now-closed) Sherwood Knoll Restaurant to enjoy a special dinner and evening out.
Our daughter Laurie was 16 years old and had been fighting cancer since she was 10 years old. After three major surgeries, two rounds of radiation therapy and 42 months of chemotherapy, and fighting so bravely through it all, the cancer was back and this time all of us, including Laurie, knew that we could not win the battle. And so, making the most of the time we had left, we took her out for what would be her final dinner out.
We were seated at our table and a friend, the late Carl Jacobson, came over. He knew what Laurie had been through. He said, "There is someone in the back room I would like you to meet." We had no idea who it would be, but we went along.
And, lo and behold, it was Muhammad Ali. If memory serves me correctly, I believe he was in town for a meeting at M&M Mars, which was manufacturing a candy bar with his name.
Carl had told Ali about Laurie and he welcomed her over, spoke to her very gently and softly, and permitted a photograph to be taken. That photograph rests on my husband's desk as one of our most cherished possessions.
Whenever I look at it I remember a very special night with two extraordinary human beings -Ali and Laurie.
May they both enjoy all of the wonders, peace and love in the Father's kingdom.
As Christmas 1979 approached, our 16 year old daughter, Laurie, knew she was losing her 6 ½ year-old battle with cancer. She knew that this would be her last Christmas. Laurie was always concerned with World Hunger. She had a part-time job at the Orange Julius stand in the Park City Mall, and when she would get her pay check she always made sure that some dollars would go into the "World Hunger" appeal envelope at our church, Trinity Lutheran Church in Lancaster, on Sunday morning. Laurie asked us, as a Christmas wish, that we and the rest of her family make a donation to World Hunger instead of buying her Christmas gifts. At that time, the senior pastor at Holy Trinity was Rev. Wallace Fisher. He made an appeal to the congregation on behalf of Laurie's request. The Lancaster Newspapers got word and came to our home to interview Laurie in her hospital bed and published a photo and article about her and her Christmas wish. The mail started coming to our house, cards and letters with money enclosed. Laurie was so excited, pleased and overwhelmed by the response to this article. It gave her last days joy and meaning. Over $13,000 was raised and she was thrilled. She went to join her Lord and Savior, Jesus Christ on January 9, 1980. In May 1980, the Lancaster County Human Relations Committee established the Laurie Flick Youth Humanitarian Award. It is given each year in her name to a deserving young person.
Ed Flick is a support staff member with the Charles F. Snyder Funeral Home & Crematory, assisting during viewings, funeral services and special events. Ed is retired from a life-long career with Fulton Bank.
Categories: Other Posts Worth Reading
Comments on this Article
August 09, 2016
Dear Ed and Sally
Thank you for sharing Laurie's life with us. I remember her very well, having worked at Lancaster Pediatrics during the time of Laurie's many visits there. She was a trooper and an inspiration to all, such a strong young girl. I think about Laurie and Chris Millard, Four Diamonds, often. Ed, I'm glad you are part of the Charles F. Snyder staff and it was good to see you there last week. Sally, I haven't seen you since we worked at Lancaster Surgery Center. You were the best nurse ever.
Laurie and your entire family are in my prayers. She is in a beautiful place, waiting for you. Ali too !
Josie (Ransing) Rice
August 04, 2016
What a wonderful story, Thank you for writing this Anne and Ed thank you for sharing your story. Chip Snyder
More Recently-Posted Articles
Meet the Author
Browse our posts by topic
Browse our posts archive