Family to Family:
The Charles F. Snyder Funeral Blog
We Are Community…A Sit Down with Chad Snyder
Posted on January 17, 2016 by Chad Snyder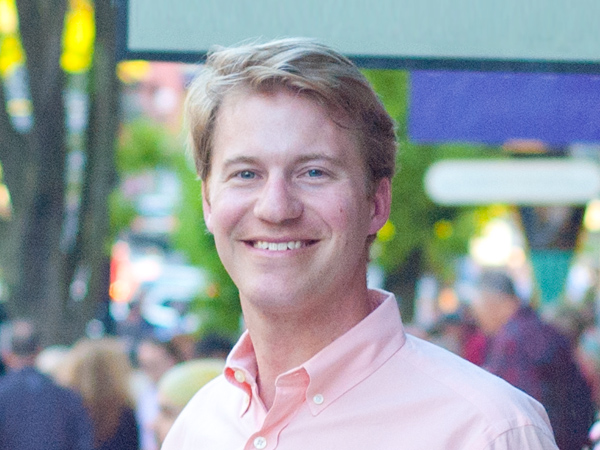 Each week, the Lititz Record Express features a profile of a local resident that contributes to the uniqueness of the Lititz Community. The following is a reprinting of the profile that ran on January 7, 2016.
What is your full name and job title?
Charles F. Snyder III, mostly known as Chad Snyder. My father is Charles F. Snyder, Jr. and he is known as Chip Snyder.
My title actually varies…and the reason why? I am involved in a family business and being involved in a family business means you have to do whatever it takes to get the job done well in order to best serve the clients. My official title is Co-owner and Supervisor of the Charles F. Snyder Funeral Homes & Crematory and the Spacht-Snyder Family Funeral Home & Crematory.
What are your community service positions?
I serve as a Trustee on the Lancaster General Health Foundation Board. This board reviews and provides grants to the hospital for new and ongoing projects related to growing the mission of making Lancaster a better community.
I serve as a Trustee on the Demuth Museum and Lancaster Museum of Art, and I volunteer my time with numerous non-profit organizations for their annual fundraisers in helping create awareness with the next generation.
Tell us about your family?
My father — I work side by side with my father Chip on a daily basis for 10 years. From sharing offices to having morning chats before work, my father is someone who I rely on greatly for his feedback and advice on a professional and personal level. I couldn't do what I do without his support and guidance. Growing up Dad was my hockey, soccer and golf coach for many of my sports teams and today we enjoy spending casual time together and playing golf.
My mother — I don't even know where to start here. She has been such a wonderful inspiration, supporter, and promoter of virtually everything I choose to do and want to do. She has provided the tools of what "family" means and has created a foundation for my sister Christina and I so that we can one day provide the same for our own families.
My sister — Christina Jemison, is not only my sister but a best friend and confidant. Wow! I wouldn't know what I would do without her. Growing up in Lancaster City we walked to and from grade school every day, then graduated to riding the bus together when we moved to Lititz. She has been and is always there to talk to about absolutely anything and everything and be a soundboard, and having a sister allows me to ask what's best in managing my personal life. HAHA. Christina is an oncology nurse and started her career at PENN Oncology in Philadelphia. Christina's husband, Mike Jemison, who has become one of my best friend's, couldn't have married a better guy. We connected from the start and I am so proud of my sister for choosing Mike to be her life partner.
My girlfriend — Lee Shand. Lee has been an awesome inspirational addition to my life in countless ways. Lee not only holds me accountable in various capacities, but has a beautiful blend of laughter and an understanding of being grounded. Lee has an extraordinary understanding on the principles on life. She has become my best friend and I love her for who she is. Lee and I have so much fun together and she makes me laugh uncontrollably.
Where were you born and raised, and when and why did you move to the Lititz Area?
We grew up above our funeral home in Lancaster City, actually four generations lived at our Lancaster City location on East King Street. That's where our family business began, after World War II my grandfather had a vision and established the Charles F. Snyder Funeral Homes. Our family had very little then and he started our family funeral home literally on a shoestring and a loan from his parents who also had to sell their home in order for Charles to open the funeral home. His promise to his parents and sister for their investment in him and new business was to provide a place for them to live the rest of their life, which was in the apartment above the funeral home. The rest is history.
I was 13 when we moved to Lititz. It was 1994 and wow was that exciting moving from the city to the suburbs. Having our own backyard instead of a funeral home parking lot, where we had to tippy toe around during viewings and services. What a difference to be able to run around and be in a neighborhood.
Where did you go to school (high school or College)? Do you have a favorite memory from your school days?
I went to Lancaster Catholic High School for half of high school. Then the other half I went to boarding school where I played ice hockey on their varsity team. I graduated from Lynn University in South Florida with a B.S.B.A. I absolutely loved college.
I have many memories, but the one that stands out most was the support I had from my family from the start.
Do you have hobbies?
Many — I love playing golf, skiing, surfing, exploring new places and spending time with family and friends. Many friends and family say I ask a lot of questions – mostly because I love learning and I am curious about everything.
What job have you held that many people may not be aware of?
Several actually – my parents put me to work right away and I learned the values of making ethical and moral decisions early on and I can apply those same skills to the funeral homes which I operate and co-own today. Living where your father worked, I couldn't escape helping around the funeral home from picking up trash in the lots, washing and parking cars, vacuuming and cleaning, mowing, doing whatever to make our family business and funeral home welcoming to the client families that call upon us.
A few jobs I had in other service industries outside the funeral home that coincidentally tie directly back to funeral service that I had during school were, a valet parker, waiter, caddy, and produce delivery. All of these various jobs directly correlate to customer service focused skills that I apply to serving the community today.
Favorite Meal?
My favorite meal is a home cooked meal and when my mom says "come over for dinner" I know that is something she put time in to create and share. She's an amazing cook and can tackle any recipe. (My grandfather on my mom's side owned a restaurant in downtown Lancaster on Prince St. called the "Wonder Bar."
Favorite movie?
No doubt it is Caddy Shack – it's a comedy classic. And being a caddy growing up in high school and loving the game of golf. It was a natural love. I probably watch that movie at least once a year and I laugh every time.
Favorite TV Show
60 Minutes and CBS Sunday Morning
Favorite music/band?
That's a tough one, I love all music and I love live music.
Favorite Vacation
We grew up going to the South Jersey Shore. We were lucky to have many memorable family vacations there and we still go there today.
What do you love most about Lititz?
What a sense of community this town has. It is just amazing. What is so cool about Lititz is that there are large international businesses and mixed with a healthy blend of small family businesses (like ours) who take pride in making this town a better one. The fun annual events such as the parade, bike race and brew-fest help create healthy growth and exposure to outsiders. I love Lititz!
Categories: Other Posts Worth Reading, The Snyder Family
Comments on this Article
January 29, 2016
When I met Chad this past year I was so impressed by his upbeat energy and down to earth friendly personality. Even though I was not a client I thought to myself this guy likely has great customer service skills. Having worked in customer service at my "day jobs" for the past 20 years it's easy to spot. He and his family have been so good to my parents and respectful of the history of our family business started by my Grandpa Spacht nearly 100 years ago. We are so happy to have them carry it forth with such a fresh and community oriented dynamic. Great interview, Chad. Carry on! ~ Susan Spacht
January 20, 2016
Wow what a wonderful profile! You make me so proud to be your Aunt. I look forward to witnessing the events and accomplishments and accolades that are ahead in your future. I wish you all the best of luck and success in all your endeavors. Please know I will always be a cheerleader for you and your team. May God always bless you with good health, love and peace.
Love,
Aunt Mary Jane
More Recently-Posted Articles
Meet the Author
Browse our posts by topic
Browse our posts archive