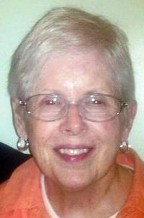 Joyce M. Gelson
Joyce M. Gelson, Lancaster, passed away peacefully at her home on Monday, Nov. 26, 2012 with family. She was 78 years old.
Born in Queens, N.Y., she was the daughter of the late Howard D. Klumpp and Ida M. Bulger Klumpp.
Her life and joy was her husband, the late John F. Gelson, former President of Hamilton Watch Company, and their seven children. Joyce spent most of her childhood, and later summers with her children in Sea Girt, NJ. She and her husband raised their family in South Orange, New Jersey, until moving to Lancaster, Pennsylvania. In 1980, they adopted their seventh child, Jeamy, from Guatemala. Jeamy would become her constant companion and the sparkle of her life until her passing in 1991.
Joyce's gift was her extensive knowledge of the world and its people through her travel, life experiences, and avid love of reading. Her words of love and guidance are forever captured in the hundreds of letters she wrote to her children and grandchildren. "Nanny" as she would later be known, had strong opinions, especially when it came to issues of social justice. As she would often say, "And that is that."
She adored animals, especially her late pugs, Ollie Peg and Angel Rose, and was a relentless advocate for animal rights.
Much of Joyce's later life was also shared with her best friend Mabel Seventko – on trips to Lancaster County, Sunday church services together, cruises to Bermuda, and staying one-step ahead of the watchful eyes of their children.
Joyce was a loyal fan of her husband's alma mater – Notre Dame – attending reunions with him, and in later years, watching Notre Dame football games with her children and grandchildren.
Her strength and courage during her illness was a perfect archetype of the person she was. When asked how she was feeling she would simply say, "I'm fine – how about you?" She joined all her children and grandchildren in October for her granddaughter's wedding – with a beauty and dignity that captured her full essence.
Joyce enjoyed traveling with her family, sharing holidays and special moments with them, and simply hearing their voices in daily phone calls.
Her death leaves her family with a heartache no one can heal, but her love leaves a memory no one can steal.
She is survived by three sons, John F. Jr., Pt. Pleasant Beach, N.J., James N., Cranford, N.J., and Thomas M., husband of Christina, Marion, Mass.; three daughters, Elizabeth M., wife of Dr. Dan Dragalin, Mendham, N.J., Pamela J., Piedmont, Ca., and Linda M., Westfield, N.J. She was predeceased by her cherished daughter, Jeamy, and elder sister, Linda Coffey
Joyce is also survived by seventeen grandchildren, Matthew C., Mathew P., Megan, Shannon, Sean, Grace, Bryn, Brendan, Conor, Cate, Ray, Tucker, Emma, Piper, Gabriella, Griffin, and Bude – and one great-grandson, Jack. To them, her greatest role in life was as their beloved "Nanny", who never missed a birthday or a chance to say, "I love you". To each of them, she was their closest confidant, devoted advisor, and favorite brownie-maker. She had an open-heart, open-door policy towards her family, and was a woman who led by an example of pure selflessness and unceasing kindness and warmth. She is fondly remembered for her quick wit, lively storytelling, and amazing ability to turn any sentence into a song. Nanny was a woman who never took herself too seriously, always looked for the beauty and blessings of life, and taught others to do the same.
Relatives and friends are invited to attend a memorial service and a time for sharing memories celebrating her wonderful life which will be held at the Charles F. Snyder, Jr. Funeral Home and Chapel, 3110 Lititz Pike, Lititz, PA on Saturday, December 1, 2012, commencing at 10:30 a.m. Burial will take place following the celebration at St. Joseph New Catholic Cemetery, Lancaster followed by repasse luncheon at The Hamilton Club.
In keeping with our beautiful Mother's wishes, in lieu of flowers please make a donation to a charity that was so dear to her heart for bringing her precious daughter, Jeamy, into her life: "Friends of Guatemalan Children." All donations will go directly to supporting a much needed school/medical clinic to help the orphans of Casa Guatemala. Please send all tax-deductible contributions to: Friends of Guatemalan Children, Inc. c/o Mila Stamboliyska 3607 Helms Ave. Culver City, California 90232.http://www.casa-guatemala.org/donate.php
Charles F. Snyder Jr. Funeral Home and Chapel are in charge of arrangements. To send online condolences please visit: www.snyderfuneralhome.com
Leave a condolence on this Memorial Page
Dear Gelsons – I am with you all in spirit. Your dear Mother was such a warm and loving presence in my life during my late teenage/college years in Lancaster. So many fond memories of Joyce and your family. You now have another angel watching over each and every one of you. I will hold all of you in my thoughts and prayers.
With loving memories,
Claire Rowan
I was very saddened to read of your mother's passing (and your father's). Please accept my sincerest and deepest sympathy. Your Mom was always so warm, welcoming, energetic, and fun to be with. I babysat for John, Beth, Pam and Linda and your Mom always took the time to chat.
Your father and my father knew each other through their jobs. Your family was settling into your new home in South Orange and needed a new babysitter. I truly enjoyed taking care of all of you. I witnessed the furnishing of the house (which I loved), the addition of baby James, and the deck addition.
I was glad to be a part of your lives for a while. I always felt the Gelsons were a special and wonderful family and now regret I did not keep in touch.
Please take care.
Marjorie Devaney Flynn
We were at the Memorial Service for Joyce. It was very meaningful. I (Ginny) first met Joyce at the Ladies Bible Study group at Lancaster BIC Church in 1987 when I returned from missionary service in Zambia. She was a very special friend!
Glenn & Ginny Hoover
Dear Gelson Family,
My most sincere condolences for the loss of your mother Joyce Gelson. A great woman, mother, and grandmother. Joyce by example showed all of us unconditional love, kindness, and a sincere concern for the well being of others, without expecting anything in return. Throughout the 20 years of friendship and loyalty to your mother I can say that I shared many beautiful and sad moments. She was strong yet tender. She was compassionate of others and very resilient to the obstacles that came her way. She was indeed a great inspiration in my life. I learned a lot from her beautiful qualities, which I hold very dear to me. I consider those qualities her priceless legacy. I am forever grateful to Jehovah for his promise of resurrection and for giving me the wonderful gift of her friendship.In the meantime, I will pray to our Lord Jehovah to give us the strength and courage to get us through this painful loss. From the bottom of my heart and with all of my love.
Olga Vega
I was very sorry to read of Joyce's passing. It has been many years, but I remember her with fondness. Please know that her family is in my thoughts and prayers. A special hello to Jim and Tom!
Tom Simpson
To Joyce's family:
What a beautiful tribute to a gracious and beautiful lady! In spite of her illness and the pain she must have suffered, I always came away from a visit cheered, rather than downhearted. She lifted me up! She was always self-less, never dwelt on her problems or pain, loved freely and was a pleasure to be with. We will miss her at church…very, very much!
Laura Shaida
Dear All, The Malones will miss your mother so much, especially I, Tonie Malone, who was a friend of your mother and father's since they were first married. My husband Chris was best man at their wedding and a roommate at Notre Dame. In our first married years, we would have dinner frequently at each others houses. Chris and I were each a godparent to Pam and Linda. We remember fondly the whole crowd of Malones and Gelsons watching JFK's Funeral together in front of the televsion in South Orange, and all the many visits we made to Lancaster to tour the Amish Country, swim in the pool and just hang out together. Joyce was one of my dearest friends, and I will miss her. Our almost weekly phone conversations in the last months showed me how strong and brave she was… never complaining, faithful to the end. Tonie Malone
Joyce Gelson was a wonderful person who touched many lives and I'm lucky to have been one of them.
I'm fortunate to be left with fond memories of her being there for me for more years than I like to admit to!
Her goodness and light will surely be missed by her friends and most of all by her family and I want you all to know that I will be thinking of you and keeping you in my prayers in the coming months.
Love, Monica McEvoy Anderson
John, my thoughts and prayers are with you and your family. Such a beautiful obituary! Your family was blessed.
Lisa Corson Ruggiero
Sorry for your loss. John spoke lovingly of her often and now after reading how she celebrated life, I better understand why. May God bless her.
Warmest regards from the Vermont Barletta's, Margaret, Curtis and Rob. We just visited your mom in April so she was able to meet my son, I was so glad to get to see her. She was such a positive force in the world and she looked out for us after our mom passed. Rob is remembering throwing firecrackers out the window with Ricky Holmes and your mom running down the street saying Robert Barletta you stop that, he said John Jr came down and yelled at him too. It takes a village. I wish I had been older and able to appreciate our moms friendship. I know they meant so much to each other in so many ways. Our thoughts and prayers are with you as you go through this time of loss, and rememberance. She was a gem and will be missed by so many.
Your mother left an indelible mark on my heart and my life. She has given me some great advice and seeing how she lived her life inspired me on my last visit with her. Mrs. Gelson always walked the walk. She has been a role model for me and I am forever grateful to have had her touch my life. I especially enjoyed finding out we shared a love of beer with our dinner. She was always so much fun.
It is especially hard to bid farewell to a mother who was so special in so many ways. You will all be in my thoughts in the coming months as you go through this difficult process. Memories of your mother have been flooding back to me. I wish I could be there to see her off.
Much Love,
Gina and Shannon Barletta
To The Gelson Family:
Your Mom, Grandmother & a true friend to many will be missed by all the people she touch. She gave more then she received but that was her nature. She was the happiest around those less fortunate. She is with your Dad in the sky above us.
Keep the faith,in fact spread it!
Your Friend;
John E. Vitale
My dear Joyce I will always remember you, and miss you, what a wonderful friend you was!
Yolanda Cirilo Family
Our love and wishes for strength and eventual peace to all of the Gelson Clan. Your mom was a woman who made an everlasting impression of joy on everyone she knew. We consider ourselves lucky to have been among them. I, along with Tommy, believe that there is a reunion of Blue Mountain Lake fans happening in heaven right this very minute!
~Janet and John O'Loughlin
Condolences from the Tony Barletta family in Ohio. I will always remember your Mom as my Mom's best friend back in the 70's. She was a great lady and will be greatly missed.
Both my sister and I were very sorry to hear about the passing of your Mom. She was truly a very special person and was a great friend to our family from the first time we met. As you may remember, Grandma, Stephanie, and I were walking to Church in South Orange, when your family stopped and offered to give us a ride. At this point we were complete strangers, but a strong friendship soon developed between the two families and the two Mom's; Joyce and Eileen. Over the years, your Mom was very supportive to us, in good times and bad times. It was always amazing to see how "under control" the house was inspite of any number of very active children running throughout. She will be missed.
Chris and Stephanie Staszak