Family to Family:
The Charles F. Snyder Funeral Blog
The Rewards of Caring for Others
Posted on February 24, 2015 by Norm Mable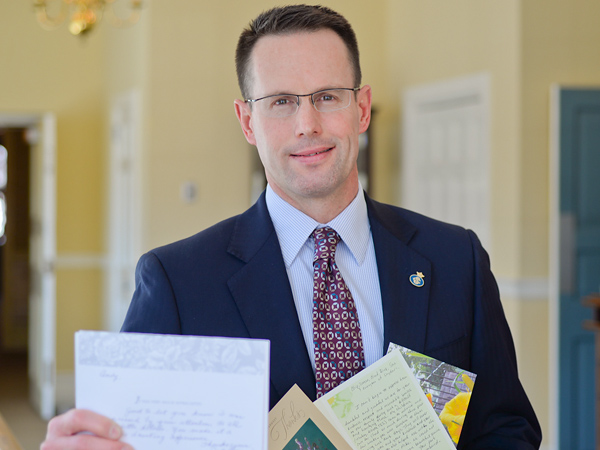 My profession as a Funeral Director defines a lot of who I am because I am required to care for people during very difficult times. Walking with a family following the loss of their loved one is a special and personal experience. This experience is shared by all of us who are entrusted with caring for both the deceased and their family.
The responsibility that a family bestows upon us places their burdens and uncertainties squarely on our shoulders to bear and sort out. My personal commitment to that responsibility is often returned to me tenfold in the rewards I receive from the families I serve.
These rewards can be a handshake, a hug, a pat on the shoulder, a tear, a smile, a kiss, a spoken thank you or a nice card. An emotionally given reward, regardless of how simple, is extremely gratifying to receive.
The most powerful rewards often come from families when our initial meeting is emotionally charged with distress, grief, frustration or even anger. Strong emotions can be directed at me simply because I am the one who assists families through very difficult situations that require hard decisions to be made.
In any case, when a reward comes my way I know that I have successfully cared for the deceased and their family.
I stay committed to assisting families as they walk through the situations facing them. I guide them through choices so they can make the best decisions for themselves, and then make their decisions happen.
At the conclusion of a service that has been difficult for a family it is not unusual for me to receive a reward, and also hear the words "I hope I don't see you again" or "I don't want to come back here again." I never take those statements personally. If I provided the proper care, I know I may have the honor of assisting the family again in the future.
To be chosen to serve them again may be the most important reward I receive.
Categories: Other Posts Worth Reading
More Recently-Posted Articles
Meet the Author
Browse our posts by topic
Browse our posts archive