Family to Family:
The Charles F. Snyder Funeral Blog
Rock On
Posted on February 23, 2016 by Anne Corvelle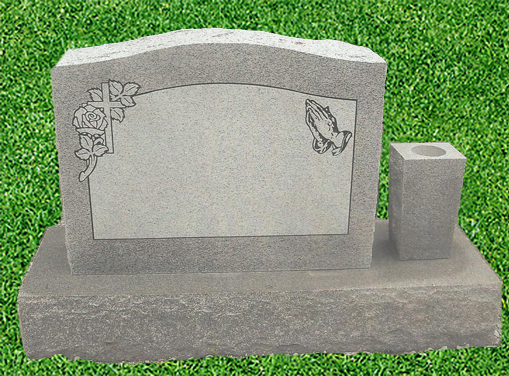 The first time I took my daughter to a cemetery, we had a brief conversation about their purpose while we were driving there. As soon as we arrived at the entrance, she looked around and declared, "Mommy, look at all of those rocks! They have people's names on them so their families will know where to find them!" That was not part of our original discussion, but I was in awe of her observation and fascination as we walked. Each headstone had a name, and some had personal touches, whether a symbol of faith or something else of significance.
So what is behind all of the names on those "rocks"? How did they all get there? Where can you get one? Okay, that last one might not have crossed your mind, but I need you stick with me here…it's the segue into a discussion on monuments.
Enter Heritage Estate Monuments, Inc., a monument company co-founded by Charles F. Snyder, Jr., in 1985, and now owned by his sister, Sue Snyder Bleacher. Being part of the Charles F. Snyder family, we are proud to be able to offer continued care beginning with the first call at a family's time of need through the design process and placement of a monument. Like her brother, Chip, Sue's pride in serving people comes from following the example of their father by treating everyone like a member of their own family.
What exactly sets us apart? Besides the aforementioned family history, we offer no-pressure sales, convenient appointments at any of our locations (Millersville, Lititz or Lancaster), cemeteries, or even your own home; with day, evening, and weekend appointments available. Design consults and proofing can even be done via email. As far as pricing goes, our prices are rather competitive, most often lower than local competitors.
Most of the granite that we use comes from Vermont, but we can get it from all over the world, and our bronze comes from Zimmerman's Foundry in Columbia, PA. While grass/flat markers, slants and uprights are most common, we can customize any size or shape and even put bronze on a stone. Whatever design you can think of, we can do – different fonts, engraving styles, engraved picture of a favorite hobby or even a photo. It is only limited by your imagination.
All of our monuments are made in Vermont, and timing from initial appointment to installation varies, depending on the time of year and cemetery restrictions (most of which we are aware), but can be anywhere from three to six months.
When I asked Sue for any suggestions that she would give to anyone in advance, she immediately recommended selecting and purchasing your monument now so that you can get what you want. She makes a good point, because I'm not sure that I would want to depend on anyone else to select what they want for me or what they think I might want.
What would you choose for your "rock"?
More information can be found here or call 717-872-1750 to schedule your appointment today.
Categories: Grieving, Pre-Planning
More Recently-Posted Articles
Meet the Author
Browse our posts by topic
Browse our posts archive