Family to Family:
The Charles F. Snyder Funeral Blog
Lifeline
Posted on October 26, 2016 by Anne Corvelle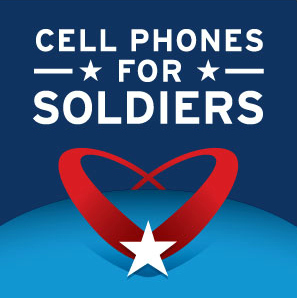 Being thousands of miles from home, soldiers fighting to protect our freedom have little opportunity to hear the familiar voice of a loved one. For members of the US armed forces, receiving a prepaid calling card for 2.5 hours of talk time is a much-welcomed gift. Cell Phones for Soldiers was founded in 2004 by siblings Robbie and Brittany Barqquist, then ages 12 and 13, respectively. In its first 12 years, they have provided 220 million minutes of talk time to troops serving around the world to call home.
The organization accepts both monetary contributions and donations of cell phones, smart phones and tablets. Every $5 contribution or donated device equals 2.5 hours of free talk time on a prepaid card. Their Minutes that Matter program helps troops to call home at no charge; 3 million calling cards have been given to servicemen and women due in part of recycling 11.7 million cell phones.
In addition to Minutes that Matter, Cell Phones for Soldiers also had a program for veterans called Helping Heroes Home. Contributions help to provide one-time emergency grants to aid veterans making the transition from the front lines back into civilian life. Since 2012, more than 2,800 veterans have been served with physical, emotional and assimilation hardships.
The Charles F. Snyder Funeral Home & Crematory has been participating in this program through our membership with Veterans & Family Memorial Care since June 2011. Since that time, we have collected about 2,600 cell phones. Cell phones, smart phones & tablets can be dropped off at any of our four funeral homes, along with other selected locations. Just a note for the protection of your personal information – please remove the SIM card or wipe personal information to the factory reset. If donating an Apple device, please be sure to disable the "Find my iPhone" feature.
Thank you for your support of this program and for helping us to continue honoring those who make protecting us and our country their job. You can help to support our troops by donating your old cell phones and devices, or by making a donation at www.cellphonesforsoldiers.com.
Categories: Other Posts Worth Reading, Veteran Services
More Recently-Posted Articles
Meet the Author
Browse our posts by topic
Browse our posts archive