Family to Family:
The Charles F. Snyder Funeral Blog
Writing an Obituary…is there an app for that?
Posted on February 2, 2016 by Anne Corvelle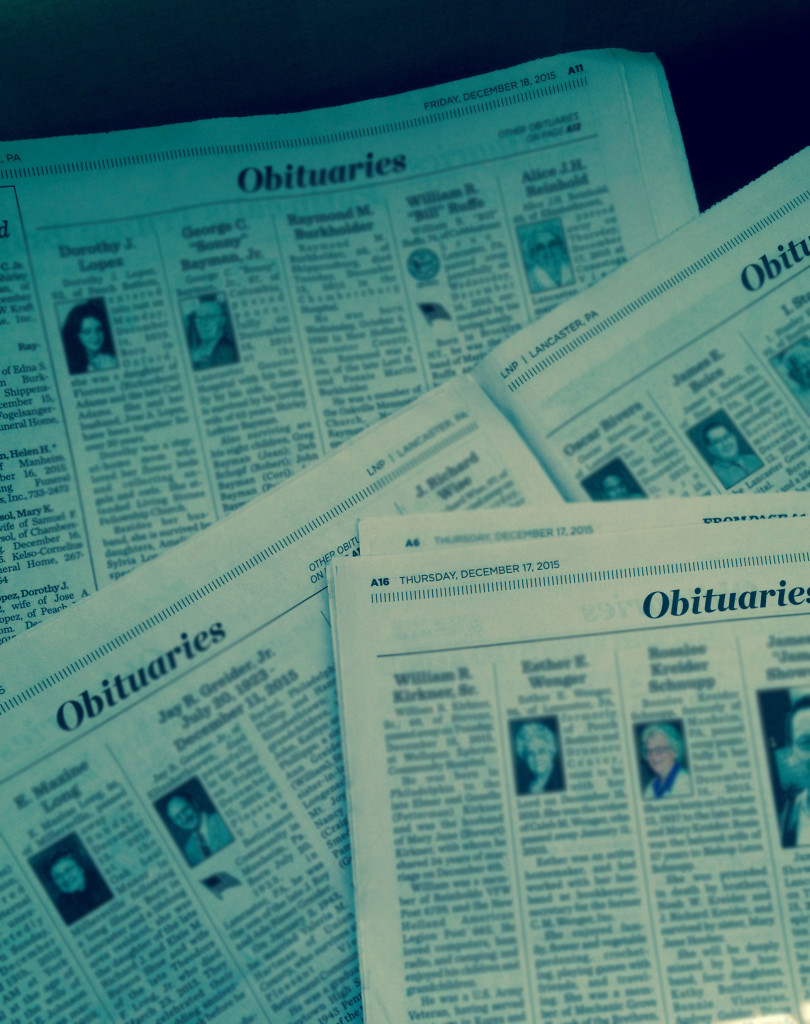 We've all read them, some make us laugh and others are very brief and to the point. Sometimes they even come as a heartbreaking surprise. But when suddenly faced with the necessary task of writing an obituary, people often develop writer's block. Is there a right or wrong way to write an obituary? Not really, just as long as you keep it clean and leave out anything negative or crude. Is there an app to come to your aid? Not that we've found, but there are a number of templates and suggestions online. The basics are who/what/where/when and, sometimes, how, leaving the rest to describe your loved one's life.
What it really boils down to is properly honoring your loved one by giving the rest of the world a glimpse into what made them special. Contemplating their personality and what exemplified their life should get you off to a great start. If you're limited by a budget, you'll be inclined to stick to just the facts, but that's not to say that you will have the inability to appropriately highlight your mother's, husband's or another loved one's accomplishments – get the creative juices flowing and make the space you have work for you instead of feeling trapped within the margins. Perhaps you could give the necessary details and sum up their lives in one or two sentences – "Aunt Susie radiated love in such a way that she was able to turn any bad experience into a positive one," or, "Mom took joy in having the whole family together for dinner every Sunday, holiday and birthday."
Ok, that's nice, but what if you have made the decision to pre-plan your funeral arrangements and have elected to write your own obituary? You might be thinking, "How can I possibly write something about my life that doesn't sound like self-serving drivel?" We have met people who want the basics, "I was born. I lived. I died. The end." and others who want to write their memoir, but there's also everything in between. A good place to begin for self-written obituaries would be to determine exactly what you want the world to know about you.
What is your passion in life? What have you accomplished? What is your legacy?
If you would like more information on this or any aspect of funeral planning, please contact us at info@snyderfuneralhome.com or 717-560-5100.
Categories: Grieving, Obituary
More Recently-Posted Articles
Meet the Author
Browse our posts by topic
Browse our posts archive