Family to Family:
The Charles F. Snyder Funeral Blog
Personal family connections to the armed services
Posted on September 22, 2014 by Christina Jemison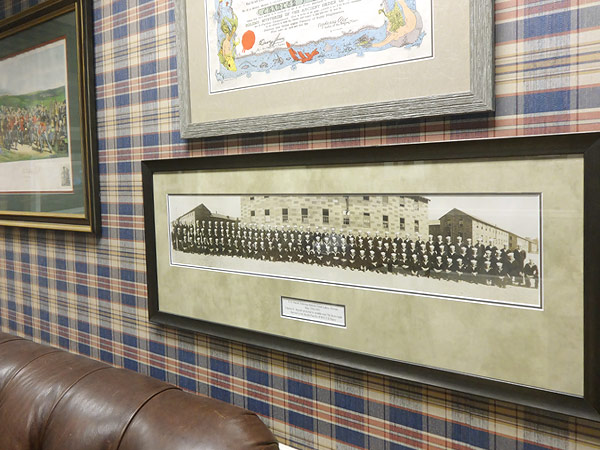 I was doing some writing in my Dad's office at the funeral home the other day, when I started to look around at all the family photos he has hanging on the walls. I noticed my grandfather, Charles F. Snyder, Sr.'s U.S. Navy basic training class photo.
He did his basic training in Great Lakes, Illinois. I remembered the connection that my cousin, Michael Antonelli, also finished his basic training in the same location. How cool is that?
I can imagine that thinking of our grandfather during his time in Illinois helped my cousin get through the rigorous preparation and difficult days that come with training to be a member of the Navy. I am so proud of my cousin, who in the midst of all the turmoil in the world, has volunteered to enlist. Back when our grandfather served, there wasn't such a choice.
After his basic training, my grandfather went on to serve for the U.S. Navy during World War II from 1942-1946. He was stationed on the U.S.S. Barnes and later the U.S.S. Noble. The Barnes provided personnel and air support in many raids of Tarawa Atoll in the Gilbert Islands and replenished aircraft to the 3rd fleet during the Caroline Islands Operation.
Before Charles was stationed on the Noble, the Barnes finished out its missions by carrying service men from the Pacific Islands back to Hawaii. The Noble traveled to Okinawa to provide ground troops and equipment for the Battle of Okinawa. Following the end of the war, the Noble was part of the Operation "Magic Carpet" which brought American Troops home from the Pacific Islands to California. Charles took part in all three campaigns.
My cousin, Michael Antonelli, completed his basic training for the U.S. Navy in Great Lakes, Illinois — just like my grandfather Charles F. Snyder Sr.
My cousin Michael just received his first station orders; he is headed to U.S.S. Bunker Hill in San Diego, California where I know he will make a huge impact for the Navy.
I hope that all the families out there — whether they have family members serving or not — understand the tremendous courage and discipline it takes to be a part of the armed forces. I would love to hear your personal stories and connections to friends and family in the armed services (feel free to comment below).
My grandfather treasured his time serving for the Navy, and because of that he always wanted to provide for and honor veterans at their time of death. We are proud to continue to honor his wishes today by offering discounts for veterans. We offer a 10% discount on any pre-paid funeral merchandise (casket & vault) or cremation services they pre-arrange.
If you want to learn more about the benefits we over veterans for funeral pre planning and services, email us or call Jackie Adamson or Kelly Townsend at 717-560-5100.
In addition to the discounts we offer, veterans ere eligible to receive benefits from both federal and local Veterans Associations. You can read about veterans benefits here.
Categories: Other Posts Worth Reading, The Snyder Family, Veteran Services
More Recently-Posted Articles
Meet the Author
Browse our posts by topic
Browse our posts archive