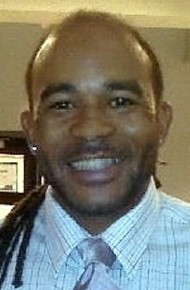 Willie E. Thedford, Jr., 42
April 02, 2016
Willie E. Thedford, Jr., 42, of Lancaster, passed away at Hospice and Community Care, Mount Joy, on Saturday, April 2, 2016. Born in Lancaster, he was the son of the late Willie E. Thedford Sr. and Tommie Jean Thedford. He was the loving husband of Lori A. (Baer) Thedford.
Willie grew up in Lancaster City and was a member of the Boys Club of Lancaster. In 1990 Willie received boy of the year award from the Boys Club of Lancaster where he developed a passion for mentoring and educating young men. His passion continued to grow in educating young black men on how to become productive individuals. He was a 1991 Graduate of J.P. McCaskey High School. Willie went on to attend Millersville University where he received his B.S. in Secondary Education in 1995. He continued with his passion and education and eventually received his MBA in education.
Willie was a social studies teacher at J.P. McCaskey East until his illness. He was very involved with the youth of Lancaster and tutored with EXIT LANCASTER (A summer program designed to prepare inner city youth with a variety of choices intended to create a winning life plan). Willie also taught for a year (1997) English in Japan. He also helped to form YouTHrive (an organization developed to help empower city youth to shift from surviving to thriving).
Willie was an avid body builder and was very proud of his work in maintaining his physique. He helped train anyone who asked for his advice. He was an avid sports fan, his favorite teams were the Philadelphia Eagles, Boston Celtics and the UNC – Tar Heels. He enjoyed spending time with his family and friends.
In addition to his loving wife Lori, he is survived by six children; Khyre Stuckey wife of T.J. of Austin, TX., Jocelyn Thedford of Brunswick, GA, Jalen Thedford of Lancaster, Christina Wise wife of Josh of Lancaster, Brittany Vallery wife of Derek of Ephrata and Daryl Jarvis also of Ephrata. Five grandchildren; Serenity, Brody, Alexis, Josiah, Jonathan and a sixth grandchild will be born this year, three brothers; Jessie Shelley of Plattsburgh, NY, Lee husband of Catrina Shelley of Lancaster and Frank husband of Kimberly Shelley of Mount Joy, Eight sisters; Nellie Shelley of Orangeburg, SC., Terry Shelley of Columbia, Jessica Thedford of Millersville, Gloria Thedford, Lisa wife of Jermaine Rios, Dorothy Young, Audrey Thedford, Ponzell Thedford all of Lancaster, Half brothers and sisters; David, Tonisha, Tywanna, and Kayla, and a host of nieces and nephews. He was preceded in death by his sister Carolyn Williams in 1997.
A Home Going Service will be held on Saturday, April 9th, 2016 at 11AM from the Charles F. Snyder Jr. Funeral Home and Crematory, 3110 Lititz Pike, Lititz, PA 17543 with the Rev. Roland Forbes officiating. Visitations will be Friday evening 5-8PM at the funeral home and a second visitation will be at the funeral home on Saturday morning from 9:30-11AM. Interment will be in Mellinger Mennonite Cemetery. Please omit flowers, memorial contributions in Willie's memory to the Willie Thedford Jr. Memorial Scholarship Fund, c/o J.P. McCaskey High School, 445 N Reservoir St, Lancaster, PA 17602.
Leave a condolence on this Memorial Page
Condolences to the Family
July 12, 2021
Happy Birthday Willie! Although it has been about 5 years since you have passed, Im just sitting here thinking of you on what would have been your 47th birthday. I miss you. You were so down to earth and very friendly. I enjoyed the times I spent with you both professionally and personally. I pray for all your family and I know you are watching over them. It's not the same since you been gone. Your memory will live forever in my heart. Thank you for being a great friend. Long Live Willie!
Mark K Nicholson
May 10, 2016
I had the pleasure of working with Willie as a fellow Social Studies teacher at McCaskey. Willie was truly dedicated to enriching the lives of his students, the school and the community. He was a pleasure to work with, and his seemingly endless supply of energy gave me a boost when I needed it. He will be profoundly missed by everyone who had the pleasure of knowing him, especially those who were lucky enough to be his students. My thoughts and prayers go out to Willie's family.
April 27, 2016
Dear Lori,
Please accept my condolences during this difficult time. My husband and I met you with Willie back in the fall outside Denny's. I was happy to have met you and to see my former colleague again. While Willie and I only taught together for a short time, he left a lasting impression on me. His dedication to students and improving their lives was an inspiration. The impact he made on the community will carry on. Sending prayers for strength and comfort.
Mary Kling, Former teacher at SDoL
April 23, 2016
Please accept my sincere condolences on the loss of your beloved Willie. He was a student of mine at Millersville University many, many years ago. I followed his career in the School District of Lancaster as an excellent teacher who motivated students and was a outstanding for them. His passing is a tremendous loss to the district and our community.
Cheryl Desmond, Friend and SDoL School Director
April 15, 2016
Dear Lori and Family, I am so sorry to hear of the passing of your dear husband and father. Please know that you are in our thoughts and prayers during this difficult time. If I can do anything please to help you please let me know. Kay Hudak
April 11, 2016
Sorry to hear the news.

Sophia Jones-Uta
April 11, 2016
Willie was such an awesome person. I had the privilege of working with him at McCaskey for a few years. He was always smiling when he stepped into the office. That's what I'll miss the most…his positive attitude and his infectious smile. McCaskey has not been the same without him, but I do know that his legacy will live on through us. Whenever I asked him how he was doing, he would say, "I'm living the dream." And I truly believe he did. RIP Willie.
Abby Rodriguez
April 11, 2016
Having taught and later taught with Willie at Lincoln Jr High, I was saddened to learn of his death. What I remember is the growth of an eight grader to become an educator in the same community in which he grew up. Moreover, what I remember the most about Willie is his caring! As we would run into each other over the last few years, he always had time to stop and talk. Willie will continue in the hearts of many people throughout Lancaster forever. David Leister
April 10, 2016
When I was a volunteer at McCaskey High School a few years ago, I met Mr. Thedford. His very untimely death is a great loss to the community. He was a model of energy, good cheer, an engaged intelligence and generosity to his students and colleaques. I extend my condolences to his family and the family which has lost him. His footprint in the community will be hard to refill.
April 09, 2016
My sincere sympathy to Willie's family and friends! I had the priviledge of working with him and enjoyed his upbeat personality and sense of humor. He will be sadly missed by all who knew him and cared about him! He was an awesome person!
Darleene Saylor
Retired SDOL
April 08, 2016
My condolences to Willie's family and friends. What an awesome man! I will always remember his smile and our talks at the Turkey Hill on Chestnut St and SDOL. His legacy will live on forever through the lives he has touched among adults and students. Sleep in paradise, Willie, Fly High Angel! Heather Styer Torres
April 08, 2016
I had the pleasure of meeting Willie my freshman year at Millersville University. He was always willing to help students, especially underclassmen adjust to college life. I will always remember is big smile, great laugh and caring ways. I am eternally grateful for all of his help during my college years. He was a great man that will be missed by all. My condolences to his family and all that are grieving.
Sincerely,
Terri-Lynn Souders (MU '97)
April 06, 2016
I was privledged to work with Willie as a founding member of YouThrive. I was touched by his compassion and dedication to the students at McCaskey and to our community. My thoughts are with you as you mourn his loss. He was a down to earth and approachable guy and it would have been an honor to be a student in his classroom. Willie, RIP. You will be fondly remembered and deeply missed.
Carla Saylor
April 06, 2016
I've known Willie since we were children. He has always had such a positive outlook that no matter what was going on, he made life better. I already miss our talks at McCaskey East and during our lunch hour. I will always remember the things we laughed about. Thank you for being my friend. My condolences to the family.
Matt
April 06, 2016
I am sorry you are gone. 1999 i was in the first class you had at Mcaskey East. Will always remeber you. May God Give peace to your ramily during this time.
April 06, 2016
WOW! I just found out about this from my sister. I hadn't seen Willie in years but always had fond memories of him going all the way back to the Higbee (King Elementary) days! Willie was always full of laughter, positivity, and energy! I was very proud to see how his career as a teacher unfolded and the impact he had on so many kids. My condolences to his wife and kids and the Thedford/Shelley families. Love and miss you my brother!
Akim (Keemie) Babil
April 06, 2016
Willie is well loved by all staff and members at the gym. His presence is radiant and his smile is healing to all he has met and influenced. He will always be with all of us and we pray that we will be with him again in paradise. We send comfort and peace to his family at this time. May his memory be eternal. Anna Basilovecchio
April 05, 2016
During my time at McCaskey I was lucky enough to have known him. While I didn't have him as one of my teachers, I was still fortunate to know him and have some good talks with him. I will miss his personality and his dedication to teaching and his students. McCaskey has lost a great teacher but I know that he will always remain in the McCaskey culture and what he has done will never be forgotten. RIP Mr. Thedford

Brian Haflin Jr.


April 05, 2016
Mr. Thedford was truly a dedicated teacher who pushed us all to achieve more than we thought we could, no matter what our GPA was. He wanted his students to be more than just a statistic from an inner city school; he wanted us to hold our heads high and smile because we were going to be a success. He allowed us to present PowerPoint presentations on Thailand with "One Night in Bangkok" playing in the background because we were learning and having fun doing it.
Mr. Thedford not only went to high school with my sister (who became a teacher), but he also had my mom for a teacher in elementary school. Teachers play an invaluable role in society, and Lancaster does not have many teachers like Mr. Thedford. He may have lost his battle on Saturday, but he certainly won the war. Thank you to Lori and his children for sharing him with all of us.
-John Burklew ('07)
April 05, 2016
For many, Mr. Thedford continues to walk the halls of McCaskey with a spring in his step and a gleam in his eye. It was a pleasure teach him while he was with us in person. His adroit questions, compassionate heart, and generousity will be remembered. -Phil Siegrist
April 05, 2016
I had the priviledge of working with Willie as a fellow social studies teacher. His positive attitude was amazing. He shared his love of teaching with students and teachers alike. The world lost a great man and a wonderful role model. May his memory live on through those he taught and inspired. Diane
April 05, 2016
I had the pleasure of teaching with Willie for many years at McCaskey and concidered him not only a coworker but also a friend. My thoughts and prayers are with the whole family to find comfort and peace during this difficult time. Willie will be missed by many. May his memory be eternal. Maria Hazangeles
April 05, 2016
Dear Thedford family my deepest condolences to the family. I had the pleasure of meeting Mr. Thedford when his son went to Lancaster Daycare Center some years ago. He was a loving father, and a great human being. He was an inspiration to the young men he came into contact with. Peace and blessings to the family.
Sincerely,
Jennifer Wilson (Miss Jen)
April 05, 2016
Dear Lori,
As you know, Mike truly considers Willie a brother. Willie was always one of the first to be there and involved at any event… Mike's bachelor party, our wedding, meeting Ben as soon as we came home from the hospital, always bringing gifts and clothing for Ben, game nights, dinners, meeting at the gym, and the list goes on and on. Willie was a true friend and mentor to so many, even his closest friends. We are all finding it hard to comprehend that Willie is no longer here, but his spirit will always be with us. Wille was the most positive "fighter" that we've ever met, even since his diagnosis. We will make sure that Ben grows up knowing all about Uncle Willie. I still tell him each morning if he is wearing clothing from Unlce Willie and Aunt Lori. 🙂 It goes without being said that we are here to continue remembering all of the great and funny memories we've had with you and Willie, and we will support you through anything you may need.
With Sincerest Condolences,
Mike, Jackie, and Ben Smith
April 05, 2016
The community has lost a wonderful man. He was one of the best teachers at McCaskey. He pushed students to do better and be better. I am glad I had the chance to be a student of his . My condolences to Lori, his family and everyone else devasted by his passing.
Melissa (Callaway) Fleming
April 05, 2016
Willie, your contagious laughter an caring heart will be missed forever @ McKaskey East!! Fly high Willie, you will forever be missed an loved!!
Judy Ruder
April 05, 2016
To the Thedford and Shelley Family,
There are not enough words to express either the sadness or the love we have for you. Willie played such a vital role in our lives and I am so grateful George and I had the opportunity to say thank you! It was through Willie that I met my husband. He was such a good friend to George growing up and whenever they would see one another it was like no time was lost. We will both cherish the memory of during his last days getting the opportunity to meet Jalen and share the many years of George and Willie's friendship with him.
Jess, as you have been there for me and my family so many times over the years we are here for all of you. Prayers of comfort, peace, and strength for you today and in the days to come. We love you!

George & Yolanda Brown and Family
April 05, 2016
Willie was one of the first teachers I met when I came to McCaskey six years ago. As many have already pointed out, His smile was the trait that you notice first and was something that never left his face. I could always count on his positive attitude to reinvigorate me and his dedication to students always reminded me of why we all work at McCaskey. Over the years, I got to know where he came from and what kind of man he had grown into. He was an inspiration to many students and just as many adults, including me, looked up to him and hope to be half the man he was. I am saddened by his departure and I promise to never forget him and do what I can to make sure he is always part of the McCaskey culture. He was a great role model, teacher, man and friend. The halls of McCaskey will be a little less bright without him here. Willie, Rest in Peace. Bill Jimenez
April 05, 2016
It is with great sadness that I send my condolences to Willie's family. I had the honor and privilege of working with Willie at McCaskey. His positive energy and unwavering kindness will be missed in all of our lives. We lost a wonderful colleague, teacher, and friend.
Sincerely,
Kelly Peters

April 05, 2016
Jessica and Family, I am so sorry to hear about your brother Willie. I never had the chance to meet him but from all the condolences seen here, he was a fine teacher, a gentleman, loved his community, and was a loving person…a refelection of his family. My thoughts and prayers are with you all. Sincerely, Marianne Baka
April 05, 2016
My deepest sympathies to Willie's family. He was a wonderful human being. I had classes with him at McCaskey and I'd see him from time to time at Millersville University too. Years later I'd see him again regularly at Planet Fitness. I was envious of how built he was and joked to him that he needed to be my fitness instructor.
I was looking forward to seeing him this year at our 25th high school reunion. This is a huge loss for our classmates as well. I promise we will honor him at the reunion.
Willie will truly be missed.

Ron Bleacher

April 05, 2016
I was very saddened to hear of Willies passing. I was shopping and had to sit down for a while. Willie was the most motiviated person I have ever known. He hit many walls and always climbed them, dusted himself off and tried again until he would win. I think the thing that I most admired about him was his passion for educating youth, especially the hard-to-reach kids. The world was definitely a better place because of Willie and I know youth have been saved because of him. You will be missed dearly Willie, nothing but love until we meet again. The Galbreath family
April 05, 2016
I would like to send my heartfelt prayers to Willie's wife and family. I was a childhood friend of Willie's. Everything he has accomplished/become was not a surprise to me. He was a great friend when we were kids and I am glad to see how his life has blossomed. I am so sad God called him home from you all so soon. It is never easy to loose some one..especially a "good" person from your life. Stay strong and I pray things are not so hard for you all. Take care
Prestina Prim
April 05, 2016
May the comfort of friends and family be your strength now and in the days ahead.May God hold you in the palm of his hand and comfort you with His ever lasting love.May memories be a source of comfort at this time.Our thoughts are with you in this time of sorrow.
Love Ian and Rose Guthrie
April 05, 2016
Willie was a classmate of mine, I am very saddedned by his loss. He was always so nice to everyone! My condolences to his entire family.
Rest peacefully Willie….
Miki Tackett-Bair

April 05, 2016
Sorry for the loss of your loved one. His family will be in my prayers. Had mr. Thedford as a teacher at mccaskey and he was always there for his students. He will be missed.
April 05, 2016
To the Family of Mr. Thedford,

My daughter Tamia Morris and I would like to take this time to say that we are so very sorry for your loss and that your family is in our thoughts and prayers. Tamia had the honor of being one of his students at McCaskey and from the moment she stepped into his class he was nothing short of a mentor to her. God be with you.
Tamika Thomas
April 05, 2016
Thedford and Shelley family
I was very saddended to see your brother Willie passed away. WHENEVER I saw him he always greeted me with a "well hello Miss Keith and how are you." He will always be to me one of the MANY great teachers that came through J.P. McCaskey! With both of my kids he always was ready to go the EXTRA to help them succeed and made it known anything he could do to help just let him know. May he rest in peace and god be with you all in this most difficult time.
Yamie (Keith) Gantz and family
April 05, 2016
Lori and Family,
I will cherish the fond memories that I have of Willie as an eunthsiastic student at Dr. Martin Luther King Elementary. He was very actively involved willing to do whatever he could to make a difference in the lives of those whom he touched. We will all miss his smile and great sense of humor. I am so glad that I was able to spend some time with him before he went home to be with the Lord. May God keep you and your family safe in His arms.
With My Deepest Sympathy,
Dr. Dontina Jones Jackson
April 05, 2016
With deepest sympathy such a great man always had a smile and kind words for everyone.
Dawn&Clyde Brown
April 05, 2016
So sorry for your loss he was my daughter teacher she was so proud of him and he help her a lot he will be miss
April 05, 2016
willie was such a great friend and mentor with us at summit quest academy for the boys.we will miss your friendly smile.so rest in peace my brother.john shelton.
April 04, 2016
Lori and Family,
May Willie "rest in peace". He was a shining light and will not be forgotten. Our deepest sympathy is with you and your family. Remember the good times and his great smile. If there is anything you need, we are here to help. Feel free to ask… With Love,
Skip and Pam Walters
Visitation

Friday, April 08, 2016
5:00 PM - 8:00 PM
Charles F. Snyder Funeral Home & Crematory
3110 Lititz Pike
Lititz, PA 17543

Map and Directions

Visitation

Saturday, April 09, 2016
9:30 AM - 11:00 AM
Charles F. Snyder Funeral Home & Crematory
3110 Lititz Pike
Lititz, PA 17543

Map and Directions

Services

Saturday, April 09, 2016
11:00 AM
Charles F. Snyder Funeral Home & Crematory
3110 Lititz Pike
Lititz, PA 17543

Map and Directions