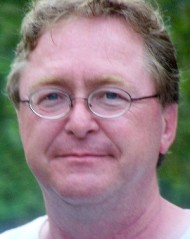 William S. "Bill" Ream, 57
October 16, 2015
William S. "Bill" Ream, 57, of Lancaster, PA died on Friday, October 16, 2015. Bill was the husband of Pamela S. King Ream. He was the son of Ruth Reeser Ream, York Haven, PA, and the late Clarence Ream.
Born in York, PA, Bill graduated from York College in 1980 with a Bachelor's Degree in Accounting. He worked in the banking industry for many years in securities and investing. Most recently, he worked for First Discount Brokerage as an Investment Banker.
He was an active member of BPOE Post 134, Lancaster, PA. He will be remembered and loved by so many people. He enjoyed riding dirt bikes and going to the Speedway to watch dirt track racing. He also enjoyed car racing, his '55 Chevy, golfing, shooting in the pool league, board games and watching someone else win, even with his competitive spirit. He was a member of the Goldsboro Fireman's Club and the Republican National Committee. He was a giving individual, a loyal friend, intelligent, generous, and had a happy smile that would light up any room he entered.
In addition to his wife and mother, he is survived by two brothers, Mark D., husband of Darlene E. Ream, Lititz, PA; Thomas E. Ream, York Haven, PA, a sister, Carolyn K., wife of Michael T. Bair, York Haven, PA, nieces, Chelsea M. Dugan, York Haven, PA, Samantha Niederreither, Dover, PA, Morgan Elizabeth Boff and Emily Jean Boff, both of Pittsburgh, PA; nephews, Connor M. Ream, Lititz, PA, Kolten E. Ream, Devon W. Ream and Dalton M. Ream, all of York Haven, PA, Mother in law, Carmella M. King, York, PA and sister in law, Beth King, York, PA.
Relatives and friends are invited to attend Bill's Celebration of Life Service from the Charles F. Snyder, Jr. Funeral Home & Crematory, 3110 Lititz Pike, Lititz, PA on Sunday, October 25, 2015 at 4:00 P.M. with The Rev. Craig A. Ross officiating. Private interment will be held at Paddletown Cemetery. The family will receive friends at Charles F. Snyder, Jr. Funeral Home & Crematory on Sunday from 2:00 P.M. until time of service. In lieu of flowers, memorial contributions may be sent to the Humane League of Lancaster, 2195 Lincoln Highway East, Lancaster, PA 17602.
Leave a condolence on this Memorial Page
Condolences to the Family
November 24, 2015
Pam – i am so sorry to hear about Billl. I have fond memories of Amy and I and the two of you enjoying an evening together. Bil was such a bright warm fellow and I'm sure he will be missed by all who knew him. I hope you are ok – please know our all of hearts are with you.
Christie
November 01, 2015
I am very saddened to learn of the passing of Bill. I will always remember him as a wonderful person and an all around good guy. RIP my friend.
Mick Spadea


October 28, 2015
This is a tribute to our dearly beloved friend Bill Ream and his family. In the short period of time that I knew Bill, he enriched the lives of me and my family in so many ways. He was so very loyal to all of us. Bill came into our lives not long ago. It didn't take long for us to realize that our relationship grew into something very special. I know how lucky I am to have had a friend like Bill in my life. To get one like him in a lifetime is truly a gift. Your untimely passing will be a memory for as long as we live. My family and I will forever be grateful to you for all that you have done and you never asked for anything in return. We will forever love you and miss you. May the Lord reward you and keep you in His holy presence. Rest in Peace.
Your Eternal Friends,
Charlie Acri and Family
October 28, 2015
Pam, I am thinking of you and praying for you. So sorry for your loss. Eileen (O'Day) Sosa
October 22, 2015
Dear Pam and family,
We are very sorry and shocked about Bills passing. This is such a loss of a wonderful man that we have know for many years. He was so well liked by our office staff. We know how much he will be missed by all that knew him. Our thoughts and prayers are with his family and friends.
Your Fiends at West Lancaster Animal Hospital
October 21, 2015
What to say about Bill… I knew Bill in my youth from when my father took me to the Elks to shoot pool. As a child I always hoped I was on his team because he always made me feel good about myself. I grew up, joined the military, and when I got out I wanted to join the Elks. The main reason why I wanted to join was to see Bill again and shoot pool with him. I loved Saturday mornings with him. I loved his french toast even more. Every year when the Monday night pool league came around I always hoped to be on his team. Finally this year it happened. I looked forward to the conversations we would have about politics, the economy, and the stock market. Last Monday he told me he wanted to adopt me. If only he knew how much I would have loved that. If this man could have such an impact on my life and I was only in it for a short time I can't imagine what his loved ones are going through. I am deeply sorry for your loss Ream familiy. No words can say enough about the man I greatly admired. Mike R.
October 21, 2015
Dear Pam: With a heavy and sad heart I write this note of love. We were so sorry to hear of Bill's death. Both you and Bill were a very important part of our lives as we started out in Lancaster. I can still remember fondly all the Friday nights spent after work at the Brunswick happy hour, what laughs and fun! Unfortunately I will be in Cleveland this weekend (great spot huh!) and will miss the service. Please know that we will be thinking of you and wish you knowing but the best. If we ever could be of assistance please never hesitate to call. Hope our paths cross again in the future. Love, Ken and Wendy Phillips
October 20, 2015
As a young teacher I was blessed with having Bill Ream in my French class. He was charming, witty, brilliant and lots of fun. His personality made him popular at Northeastern High School. My heart is broken for his family and friends because he left this life too soon. Please accept my deepest sympathy as you send Bill to God's heavenly kingdom. Alana Haag
October 20, 2015
Praying for the Ream family and all who knew Bill. I hope you feel God's peace during this difficult time.
October 20, 2015
We always enjoyed visits from Bill at the store, we will miss his humor. Please accept our condolences.
Bill & Lori Cold Springs Farm & Pet
October 20, 2015
Mark, we were so sorry to hear of the loss of your brother especially at such a young age. God rest his soul. You and your family are in our thoughts and prayers.

Cathy and Dave Zoccola
October 20, 2015
My thoughts and prayers to Bill's family. We were friends at Northeastern and paths went separate ways after high school. We had some times together. May he rest in peace.
Tom Pokopec, class of 76, NHS
October 20, 2015
To Bill's Family,
I am so sorry to hear about Bill's passing. He was absolutely one of my favorite patients! Always a great sense of humor and a great conversation. I will truly miss seeing him. My heartfelt condolences to his family.
October 20, 2015
Bill was one of the most sincere people I have ever met! He would do anything for anyone! He is truly missed. My thoughts and prayers are with you all.
Nichele Palermo
October 20, 2015
Pam, Mark and Ream Family,
My thoughts and prayers are with you and all who loved Bill as I did so very much. I first met Bill in 1991 at Hopper and immediately I knew I had a life long friend. While I haven't seen allot of him in recent years, when we did get together it was always the same old Bill. We loved talking about the stock market and politics. I will neve forget going home at 4:00 AM after watching the Busch/Gore debacle on election night. We also spent the entire day on 9/11 glued to the TV. Oh yes, the golf and dirt track races! So many fantastic memories with my/our friend Bill. And finally,I will miss his laugh!
He wii be missed by so many that truly loved him!
Charlie K.


October 19, 2015
What a shock to hear this news about my late dad's best friend. I'm so glad he was able to come to my wedding. Here's a pic of him like I remember him: https://drive.google.com/file/d/0B4F8e1ZCpfUEdnVPZlFZWjJ0djQ/view?usp=docslist_api
October 19, 2015
Pam, Mark and family,
I cannot express my deep sadness for your loss. I loved Bill dearly through so much. I will miss him. My heart goes out to you both and your family at this loss. Please know that even though I can't be there, you will be in my thoughts every moment of the day. I love you both.
Visitation

Sunday, October 25, 2015
2:00 PM - 4:00 PM
Charles F. Snyder Funeral Home & Crematory
3110 Lititz Pike
Lititz, PA 17543

Map and Directions

Services

Sunday, October 25, 2015
4:00 PM
Charles F. Snyder Funeral Home & Crematory
3110 Lititz Pike
Lititz, PA 17543

Map and Directions