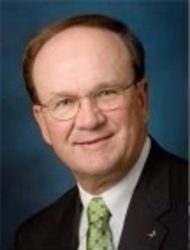 William John Reuter, 71
May 05, 2021
Eminent banking executive, dedicated philanthropist and beloved husband, father, grandfather and uncle, William "Bill" John Reuter, passed away on May 5, 2021.
Born June 2, 1949, Bill was raised in East Baltimore where he attended the Our Lady of Fatima parochial school followed by Archbishop Curley High School. His successful school career included graduating from the University of Maryland School of Banking and receiving his bachelor's degree from the University of Baltimore. He also received an honorary doctorate degree from Millersville University.
He married his high school sweetheart, Selina, and the union lasted 53 years until Bill passed. Their marriage produced three children and five grandchildren.
Bill was preceded in death by his parents William F. and Dolores Reuter and his brother, Donald J. Reuter. He is survived by his wife, Selina A. Reuter, his children, Lisa Fink (Gary), William B. Reuter, Jason J. Reuter (Erin); and his grandchildren, Nicholas Custodero, William Reuter (Blake), Jason K. Reuter, Zhen Reuter and Rayn Reuter.
Bill's greatest love was his family. He adored spending time with them, being their role model and offering a constant source of love and support. In his own words, the things he valued most included: "Honesty, character, integrity, hard work, not being something you're not, being realistic, reaching out, touching people's lives."
He was proud to have served his country in the United States Air Force; after 23 years he retired as master sergeant with the Maryland Air National Guard.
Professionally, Bill spent over 45 years in the banking industry. His career started in 1973 at Equitable Bank in Baltimore, Md. In 1989 he became the president and chief executive officer of Farmers and Merchants Bank, in Hagerstown, Md. Later, Farmers and Merchants was acquired by Susquehanna Bancshares, based in Lititz Pa., and Bill became chairman and president in 1997. In 2002, he was appointed chairman, president and chief executive officer. He retired from his role with Susquehanna Bancshares in 2015, and went on to serve on the board of directors for BB&T from 2015 to 2019.
Bill had a lifelong sense of civic responsibility and held numerous leadership positions with nonprofits and charities. Though he relocated due to his professional positions, he always enriched and served the communities in which he lived. His philanthropic commitments were many, and he served on the board of several organizations including the Maryland Symphony Orchestra, the Greater Hagerstown Committee (he was a charter member), Meritus Health (formerly Washington County Hospital system) and Hagerstown Community College.
Groups that he volunteered with included (but were not limited to): the Pennsylvania Bankers Association; the Maryland Bankers Association; the New Jersey Bankers Association; the Bank Administration Institute; the United Way of Lancaster County, Pa. (where he served as chairman in 2006 and was the recipient of the Thomas H. Bamford Volunteer of the Year Award in 2008); the United Way of Washington County, Md. (he was the recipient of the Jesse L. Kagle Distinguished Service Award in 1992); the Maryland Theater in Hagerstown Md.; the Maryland Chamber of Commerce of Washington County, Md.; the Community Foundation of Washington County, Md.; Leadership Maryland-Leadership Washington County; the Young Bank Presidents of America; the Jaycees of Baltimore, Md.; the Special Olympics; the Economic Development Company of Lancaster, Pa.; The Lancaster Alliance; and Archbishop Curley High School in Baltimore, Md. He also received recognition from the U.S. Small Business Administration, Hagerstown Rotary Club, Hagerstown YMCA, and was named the 1995 Business Person of the Year by the Hagerstown-Washington County Chamber of Commerce.
An avid golfer, Bill loved playing at different courses but his home greens were particularly close to his heart: Fountain Head Country Club, Bent Creek Country Club, Caves Valley and Grey Oaks. He served as club president at both Fountain Head Country Club and Bent Creek.
Bill's legacy of service and selfless dedication will live on always. In the words of Thucydides: "What you leave behind is not what is engraved in stone monuments, but what is woven into the lives of others."
Guests are invited to pay their respects to the Reuter family at Charles F. Snyder Funeral Home and Crematory, 3110 Lititz Pike, Lititz, PA 17543 on Sunday, May 9, 2021 from 2-4 PM and 6-8 PM. A private burial will take place at Saint Stanislaus Cemetery in Baltimore, MD on Monday, May 10, 2021. In lieu of flowers, memorial contributions can be made in Bill's name to the Ann B. Barshinger Cancer Institute, 2102 Harrisburg Pike, Lancaster, PA 17601.
Leave a condolence on this Memorial Page
Condolences to the Family
May 13, 2021
Selina, Bill was truly wonderful man and he will ne greatly missed.
Joan Williamson
May 11, 2021
Dear Selana
So very sorry to hear of Bill's passing. He was such a great person. I still remember all the great times we spent together enjoying all our boys sporting events. We will keep Bill, you & your family in our thoughts & prayers. Phil & Maxine Nussear
May 10, 2021
Dear Selina My husband Bill and I were very sorry to hear of your Bill's passing. I felt like I knew him well after working with you for 10 years. You and your family are in my prayers. Barb Lloyd
May 09, 2021
Dear Selina,
Please accept my deepest sympathy.
I still miss our "ina" golf!
Love and peace to you.
Tina Angle
May 08, 2021
Dear Selina and Family,
A memory of Bill: We worked together on the first Crystal Ball for then Washington County Hospital. He was so organized and kept telling me that the ball would be a great success! Of course he was right because of all the hours he worked to insure its success. He shall be very much missed by all who knew him. May his name be a blessing forever

May 08, 2021
Selina and family. I am glad I had recent opportunities for lunch outings, email and telephone conversations with Bill. Through my years of working with Bill, we had many conversations about banking, people, health, sports, politics and life. Central in his focus was family.
Bill was very caring and treated me as if I was special to him. I appreciated that and that he valued my opinion. He made a difference in many lives. Especially mine.
God Bless you and the family.
Edward Balderston Jr
May 08, 2021
Selina & Family: So sorry for your loss. Bill accomplished so much during his life. He made a difference in our community.
Sorry we cannot make the visitation due to medical conditions.
Our thoughts with for you and your family.
Art Marianne Schneider
May 08, 2021
Selina: I am so sorry to read of Bill's passing. I only met him a few times, but felt like I knew him through the years you and I worked together at WCHA and how you shared what a great guy he was. My very deepest condolences to you and your family. Penny Hill.
May 08, 2021
Selina – I am so sorry for your loss. I met you and Bill on the TOA cruise and you were such a friendly and lovely couple. God Bless!
Bob Wright
May 07, 2021
Selina: I am so sorry to hear about Bill. Fond memories of you and Bill back in high school…Prayers for you and family during this time. Rita Gilpin Bajkowski
May 07, 2021
Dear Selina and family:
I send you my sincerest sympathy in the loss of Bill. I always enjoyed working with him in the many community events and committees on which we both served. He was a fellow Baltimorian and he never forgot his hometown,. He now rests in the glory of heaven and is at peace. Sincerely, Kathleen Perini
May 07, 2021
Selina and family,
I learned so much from Bill about strength, leadership and trust through the years that I had the opportunity to work with him as a lender throughout my real estate career. He was always kind, funny and decisive. May you all be blessed by your many memories that you created together.
May 07, 2021
Our sincerest condolences to the entire family. Bill was always one of my favorite cousins – such a kind person, he loved his family deeply, and he had the greatest laugh! I know he will be painfully missed. Praying for all of you as you adjust to life without him.
May 07, 2021
So sorry to hear this life is just not fair thinking of your family love ❤️ Mary Lou and Jim mace
May 07, 2021
Selina and family
Bill made a difference in every person's life and community he touched during his life. He will be remembered as a great inspirational leader and a person to emulate. We are proud to have had the opportunity to know, work, and have him involved in our lives over many years
May 07, 2021
I am deeply saddened by the news of your loss. I pray that God will grant you the strength. My most sincere condolences.
May 06, 2021
I am so very sorry for your loss. Although I have not seen him in many years I still have fond memories of him. I hope you can find comfort in the love that he gave you when he was living.
May 06, 2021
I'm so sorry for your loss; what a magnificent man! I remember how much it meant to him to get the family together for the annual photo at the campground, and how he shepherded the grandkids here and there, and so enjoyed the sense of family. I know you will miss him so much. Sending love, light, and prayers….
May 06, 2021
My thoughts and prayers are with you. He was a very nice person.
Visitation

Sunday, May 09, 2021
2:00 PM - 4:00 PM
Charles F. Snyder Funeral Home & Crematory
3110 Lititz Pike
Lititz, PA 17543

Map and Directions

Visitation

Sunday, May 09, 2021
6:00 PM - 8:00 PM
Charles F. Snyder Funeral Home & Crematory
3110 Lititz Pike
Lititz, PA 17543

Map and Directions