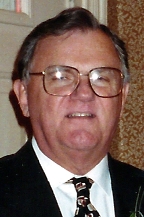 William J. Templeton, 83
William J. Templeton, 83, of Lancaster, passed away unexpectedly on Thursday, December 08, 2011 at his home.
Born in Lancaster, he was the son of the late J. Paul and Marie T. (Meyers) Templeton.
Bill graduated from Lancaster Catholic High School in 1946 and he attended Temple University School of Pharmacy. His college career was terminated by tuberculosis and an extended recovery.
He was employed by the US Post office, from which he retired.
He was a life member of the B.P.O.E #134, Hubley Club, and the Commercial Travelers Association. He was known as the "Mayor of Shippen Street". Bill genuinely liked people and as a result he will be sorely missed by many friends. He was an enthusiastic sports fan and was a member of St. Anthony of Padua Catholic Church.
He is survived by 2 siblings, Romaine T. Frey, wife of Carl H. and Jere P. Templeton, husband of Carol F., all of Lancaster. He is also survived by a nephew and 2 nieces: Stephen C. Frey, husband of Patricia F., Karen E., wife of Robert W. Koenig and Julie A., wife Randy C. Good. Also surviving are his nephew's and nieces' children and grandchildren.
A Mass of Christian Burial will be held on December 14, 2011 at 11AM from St. Anthony of Padua Catholic Church, 501 E. Orange St., Lancaster, PA with Rev. Daniel Mitzel as Celebrant. Interment will be in St. Joseph New Catholic Cemetery. A visitation will be held on Tuesday, December 13, 2011 from 6-8PM at the Charles F. Snyder Funeral Home & Crematory, 414 E. King St., Lancaster, PA. In lieu of flowers, memorial contributions can be made to St. Anthony of Padua Catholic Church, 501 E. Orange St., Lancaster, PA 17602 or Hospice of Lancaster County, 685 Good Drive, Box 4125, Lancaster, PA 17604. To send the family online condolences please visit SnyderFuneralHome.com. Charles F. Snyder Funeral Home & Crematory 393-9661
Leave a condolence on this Memorial Page
Jere and Romaine,
We wish you peace as you handle Billy's passing. We have many fond thoughts about Billy. He was an ambassador of his faith, every week Billy shared the Saturday Night Gospel and the spiritual thoughts from the homily, it meant a great deal to him and to us. We shared Holy Cards and prayers many times, I have a special card of the Blessed Mother that Billy gave me.
Billy taught us the value of family; he always looked over his shoulder at Molly's and said,"I think Jere and Carol will be here." He was very proud of his family, Jere, you and Carol were his best friends, and Romaine was the sister that is an artist who can do "everything." Romaine and Carl always included Jere and Billy in family activities, that meant a great deal to Billy. Billy was kind and caring when he spent time with and talked about George, Dick and Sue, and Mike." We enjoyed his family and friends' stories; we shared many of the stories with our children, they knew Billy through us. I must confess that I tend to embellish the stories to entertain the grandchildren, I compared Billy to a character in a childen's book, The Flower Man, who brought brightness to the world around him.
Of course Billy knew his sports' teams, he could have saved Andy Reid much anguish; Andy Reid should have called Billy for advice, he may have provided solid information for the Real "Dream Team.
Billy is special in our hearts, we say, "Peace be with you, Billy." Peace be with the family. Thank you for sharing Billy with us.
John and Barbara Titus