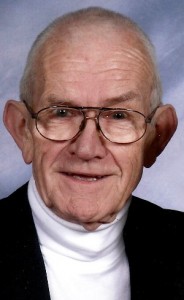 William J. "Bill" Raugh, 77
June 04, 2014
William J. "Bill" Raugh, 77, of Lancaster, passed away Wednesday, June 4, 2014 after a courageous battle with cancer. Born in Johnstown, Bill was the son of the late Carl F. and Elizabeth Davidson Raugh. He was married to Judith Ammon Raugh for 54 years.
Bill was employed as a printer and then as facilities manager of Armstrong World Industries for 38 years before retiring in 1994. He was also employed part-time by Horting Printing for 30 years, and by Graphic Crafts in Willow Street.
Bill was a member of Holy Trinity Lutheran Church where he enjoyed singing in the choir.
He was a member of F.&A.M. Lodge #43 of Lancaster, Harrisburg Consistory, Rajah Shrine Temple and Lancaster County Shrine Club. Bill enjoyed attending the sports events of his grandchildren, watching Pittsburgh sports, and hunting with his buddies in Potter County.
In addition to his wife, Bill is survived by his children, Suzanne G. Raugh, of Lancaster, Rebecca L., wife of James Way, of Conestoga, grandchildren, Jared, Hayley, and Ryan Way, brother, Donald A. Raugh, husband of Peg, of New Providence, sister, Margaret, wife of Barry Giberson, of New Providence, and brother-in-law and sister-in-law, Lanny and Diane Ammon. He was preceded in death by his brother, James E. Raugh.
A Memorial Service will be held Sunday June 8, 2014 at 4 PM at Holy Trinity Lutheran Church, 31 S. Duke St., Lancaster, PA with Rev. Timothy A. Mentzer officiating. Friends wil be received from 2 until 3:45 PM at the church. A Masonic Service will be held at 3:45 PM. Interment will be in the church memorial garden. In lieu of flowers, memorials in Bill's memory may be made to Masonic Village Childrens Home, 1 Masonic Dr., Elizabethtown, PA 17022.
Leave a condolence on this Memorial Page
Condolences to the Family
July 17, 2014
Dear Family, I was sorry to hear of Bill's passing today from Bill Davidson. Your Bill and I were close friends in the early 1950s.
Ed Seager,
Bedford, Pa

June 08, 2014
Our dear friends, Judy, Sue and Becky, please have comfort knowing that the Smith Family are grieving with you at this time. We have enjoyed our friendship with you and your Father, Husband and Grandfather. Our deepest blessings go out to you at this time, and are keeping all the wonderful memories close. Much love to you all, Love the Smith's, David, Miki, Hitomi, Kay, Karen, Karla, Christina, Roy and Jon.
June 07, 2014
Judy,
You are in my thoughts and prayers. I'm sorry I won't be there to worship with you on Sunday. I will be there in spirit. You know that God and your friends surround you with love and are here for you. All you have to do is ask. Bill was a true gentleman and I enjoyed our times taking together at the January reunions. Love you!
June 07, 2014
Dear Judy and family;
May God's loving arms surround you at this difficult time. I have happy memories of working with Bill at the Masonic Center when the reunion dinners were made by the masons and the ladies served them. He always had a smile and kind word for everyone. He will be missed.
Paulette Bledsoe
June 06, 2014
To Judy and girls– I was saddened to hear of Bill's death. You and the world have lost a wonderful husband, father and citizen. I have many memories of him from the time I met him while starting to date Jean. His humor and opinions were enhanced by that deep voice he had, and I always enjoyed talking to him. I remember and respect him as a hard working man. May your grief and tears be lightened by knowing that he is being rewarded with a heavenly home where he no longer suffers.
Ed Lull
June 06, 2014
Judy and family,
I worked with Bill at Armstrong for many years. He treated me like a daughter and was always there to give me a helping hand. He gave me a nickname, which stuck between us. I was at the Masonic Homes in Etown a few years back, only to run into Bill and hear "Killer Keller", how are you doing. I will never forget what a friend he was to me, how we had our "talks" and how much his family meant to him. He will never be forgotten. I hope you and your family are at peace knowing there is no more suffering and he will always be watching out !!
Janice (Keller) Stauffer
June 06, 2014
I am so sorry to hear of your loss. When I have experienced the loss of a
loved one, I found great comfort in the words of Jesus at John 11:11, where
he likens death to being asleep, and at John 5:28,29 – "All those in the memorial
tombs will hear his voice and come out." For more comfort, I turn to the
website: www.jw.org Dennis Mathewson – Harrington, Delaware
June 06, 2014
During our Summer holiday neighborhood cookouts, Mr. Raugh was always a positive influence in the crowd. I see Pat Weidinger made reference to Bill's volleyball-playing. Well, we often put a volleyball net up in the alley during those Summer cookouts and he was there for every game! I recall thinking how I hoped to be in his shape when I reached his age, for he could play with the best of us youngsters! I can also say that Bill Raugh was a man my father and mother both respected and enjoyed living near.
I am happy to have known Bill Raugh and extend my deepest sympathies to his Family.
Jim Boyd
June 05, 2014
To Mr Raugh's Family:

I am sad to hear of Bill's passing. Ann Wolf (Ann Miller) wrote to tell me. He will always be in my memories as one of the great "Allegheny" parents. I loved Bill. He was the only one more competitive than I was at playing volleyball. I always wanted to be on his team and I think he wanted me on his. Most of all, he was a great guy and a good role model for me as an awkward teenage boy all those years in the mountains together. When I think of the mountains, which I often do, and all the good times we had, I think of Bill.

Patrick Weidinger
June 04, 2014
You are in our thoughts and prayers. God Bless you all. Love, Rick, Carolyn, Matthew & Lindsay
Visitation

Sunday, June 08, 2014
2:00 PM - 3:45 PM
Holy Trinity Lutheran Church
31 S. Duke St.
Lancaster, PA 17602

Map and Directions

Services

Sunday, June 08, 2014
4:00 PM
Holy Trinity Lutheran Church
31 S. Duke St.
Lancaster, PA 17602

Map and Directions