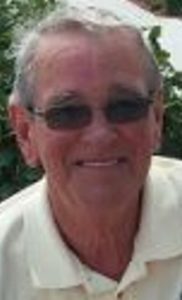 William H. Theurer, 73
April 23, 2018
Bill Theurer, 73, of Lancaster, passed away on Monday, April 23, 2018, surrounded by his family.
He was the husband of Anne Marie Sharkey Theurer, with whom he would have shared 50 years of marriage this coming September 21st. Born in Harrisburg, he was the son of the late William and Mildred Theurer.
Bill served in the Army Reserves, graduated from Wilkes University, and was employed by Henkels & McCoy for 37 years.
He enjoyed golf and was a member of the Conestoga Country Club, and was a die-hard Eagles and Phillies fan.
He is survived in addition to his wife, Anne Marie, by his son, Scott married to Shannon, his daughter, Tracey Ditzler married to Chris, and by his three grandchildren: Devlyn Theurer and Anya and Kennedy Ditzler. He is also survived by his three siblings: Tom Theurer of Mount Joy, Linda Howe (Richard) of Richmond, VA and Dottie Noel of Colorado Springs, CO.
Memorial Services will be private. In lieu of flowers, memorial contributions may be made in Bill's name to Hospice & Community Care, 685 Good Drive, Box 4125, Lancaster, PA 17604-4125.
Leave a condolence on this Memorial Page
Condolences to the Family
April 30, 2018
AnneMarie, My deepest condolences in the loss of your sweet husband Bill. You and your family are in my thoughts and prayers. May your faith help you through this difficult time.
Love and hugs, Marion Boland
April 30, 2018
Anne Marie, My thoughts and prayers are with you and your family at this time of grief. Kathie Dissinger
April 29, 2018
To Anne Marie and family, I would like to send my deepest sympathy in the lose of Bill. It is very hard to say goodby to a loved one. I will keep you in my thoughts and prayers. Dennis Cassel retired from LCHA.
April 27, 2018
Anne Marie and family:
We will miss Bill. You all were good neighbors and friends, going way back to when our children were growing up. And we are thankful to have reconnected in recent years. And I (Bill) enjoyed playing golf with him and his friends at Conestoga C.C.
Bill and Peach Parke
April 27, 2018
Ann Marie, Scott and Tracie
Bob and I were so sorry to hear about Bill.
We had so many good times together and such fun that we will never forget him. We loved him.
We are sending prayers and hugs to all of you!!
Love, Bob and Pat and Family
April 27, 2018
Ann Marie,
Bob and I were so sorry to hear about Bill.
We had so many good times together and so much fun. Great memories.
We are sending you and Scott and Tracie hugs and prayers. We will keep you in our thoughts. Love, The Pawlings
April 27, 2018
My heartfelt sympathy to Bill's family. He was a dear friend of mine in high school and college. Bill was fun-loving, smart, sympathetic, and loyal–when I think of him, I remember first his smile. Rita Signorelli Pappas
April 26, 2018
Anne Marie, Scott, and Tracie,
I'm sorry to hear about Bill's passing. Although our childhood was many years ago, I still remember your husband/father like it was yesterday. He had that impact on people! I have fond memories of our shenanigans from that part of our lives. I hope your memories of Bill pull you through this difficult time.
Warm Regards,
Sean McCormick
April 26, 2018
Anne Marie and family,
I am so sad to hear about Bill. My prayers are with you in this time of sadness.
God Bless You.
Carol Fetch
April 26, 2018
Condolences Anne Marie & Family.
Bill was a great guy and will be missed by all his friends at Conestoga.
May he Rest in Peace.
Doug & Toni Williams
April 26, 2018
Very sorry to hear of Bill's passing. On the job he was always willing to offer his many years of experience in a mentoring role. He will be missed. Mike Kelly
April 26, 2018
My condolences to you Anne Marie and your family. May your family have comfort at this moment of sorrow.
Jay Ortiz
Lancaster City Housing Authority
April 26, 2018
Anne Marie….
I am so very sorry to hear of Bill's passing. I'm sending along lots of healing strength to help you thru the difficult days ahead.
RCS
April 26, 2018
Ann Marie, Tracie and Scott. We are so sorry to hear of Bill's passing. He was a giant that I thought could beat his cancer. He had a positive/giving attitude, and was well liked by all in our family and by his friends. Our hearts go out to you for your loss. Love – Baughman family