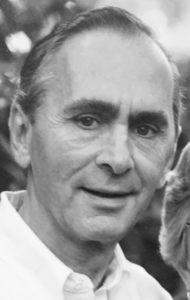 William H. Adams, 85
November 21, 2020
William H. Adams, 85, of Lititz, PA, passed away on November 21, 2020. Born in Mount Union, PA, Bill was the son of Harold and Helen (Faust) Adams. He was the oldest of four mischievous boys.
Bill spent his high school years at Captain Jack High School. He went on to Juniata College where he graduated with a B.S. in Physical Chemistry and found his sweetheart. He married Helen Schmidlen immediately after graduating. Together they had two children, Debra and Kurt.
Drafted into the U.S. Army during the Vietnam War, Bill served his time at the Aberdeen Proving Grounds. His first job after the Army was in Lancaster, PA with Armstrong Flooring. He stayed with the company for more than 30 years as a product development chemist.
Retirement allowed Bill to pursue his passions for wood carving, gardening, and playing duplicate bridge. He joined his wife as an active community volunteer, especially with their college and conservation of natural resources. An avid fly fisherman, Bill was happiest when he was thigh-deep in a clear stream casting out for brook trout. His fishing stories were legendary.
Preceded in death by his wife of 62 years, Bill is survived by his daughter, Debra Adams (Joe Costello) of Alta, WY; his son, Kurt Adams of Lancaster; and one grandson, Sean McGregor of Linn Grove, IA.
A memorial service will be held in the Spring when the fishing is better and the tales can be taller.
Leave a condolence on this Memorial Page
Condolences to the Family
November 29, 2020
Dear Kurt and Deb,Your Dad was our wonderful neighbor and friend for many years. He will always hold a special place in our hearts, and we cherish many fond memories of him and the time we spent together. You have our deepest sympathy.
Mary and Joe

November 27, 2020
Hello Deb and Curt,
We met breifly at your mother's service outside Lititz. Both of your parents were so helpful to me as I became involved in the community. Patience and proofreading proved to be valuable traits they shared with me.
Always a lovely home on Quarry Drive. One memory stands out with your Dad. There was a large brown ladder spotted bird in one of our trees. (I was just beginning to learn my birds.) Who would know this bird? Of course, Bill Adams! I called and described the bird. With a clear, unhestitating voice your father said, "It's a flicker". Thus, began a most enjoyable venture into bird watching. Thank you, Bill.
My best wishes to you,
Molly Henderson
November 27, 2020
Didn't know your father very long. He touch my heart very much. Enjoyed being his CNA..While I was on vacation he asked the charge nurse , when will the short CNA be back….your father will be missed..💙
Dawn Connor
November 27, 2020
Dear Debra & Kurt,
Thankful for the delightful interactions with each of your parents here at BV.
Your dad's deep caring for your mother, for you, and for nature were very clear. Nothing "fishy" about that.
Smiles and prayers,
Connie Brown
November 27, 2020
Debra, So sorry to hear about your dad. I enjoyed talking to him when I worked at BV, I also enjoyed your visits when you came to see him. He will be with Helen now. Blessings to you and your family! I am now retired from BV, enjoying life at home and pursuing my hobbies and interests! Sincerely, Connie L
November 26, 2020
Sorry for your loss
Worked with Bill many years at Armstrong great guy. Attended many lunches with Bill and other retirees over the years.
Rick Herr