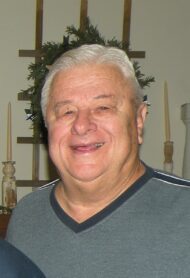 William G. DeMora, Sr., 92
June 02, 2022
William G. DeMora, Sr., 92, of Lancaster, went into the arms of the Lord on June 2, 2022 after visiting with his loving family. Born and raised in Lancaster, he was the son of the late William L. and Edna (Butt) DeMora. He shared 65 years and raised a family with Jean L. DeMora until her passing in December 2015.
He attended West Lampeter High School and upon graduation he studied at Thaddeus Stevens College of Technology to obtain his degree as an Electrical Contractor. In 1951 he enlisted in the Army to honorably serve his country in the Korean War. When he returned, he entered into the family business, D & H Electrical Construction Company. He eventually became owner of the business and, after retirement, continued working for the business until his death.
In his free time, William enjoyed hosting family picnics, regular family trips to Stone Harbor, NJ, and assisting his family with their home DIY projects. He could frequently be found working on word search and jigsaw puzzles. He was a fan of the Philadelphia Phillies and Hershey Bears. He will be remembered for his many years coaching football and baseball and continually cheering for Lampeter Strasburg sports. He was a member of Lancaster Masonic Lodge #43, the Willow Street Sertoma Club and Willow Street United Church of Christ.
William will be greatly missed by his children, Sue Meck of Lancaster, Cynthia, wife of David Rudy of Lancaster, and William G. DeMora, Jr., husband of Linda of Strasburg; grandchildren who affectionately referred to him as "Pop Pop", Erica Meck, Laura Walsh (Dan), Becky McKillips (Cody), Alyson DeMora and Ben DeMora (Luda); and a great granddaughter, Paige. He was preceded in passing by Jean's siblings, Ralph Shell and Patricia, wife of John Nicklas.
Friends and family are invited to attend a Funeral Service at 11 AM on Thursday, June 9, 2022, at the Charles F. Snyder Jr. Funeral Home & Crematory, 3110 Lititz Pike, Lititz, PA. A viewing will be held from 10 AM until the time of service. Interment will be at the convenience of the family in Riverview Burial Park. In lieu of flowers, memorial contributions may be made to Hospice & Community Care, 685 Good Drive, Lancaster, PA 17601.
Leave a condolence on this Memorial Page
Condolences to the Family
June 24, 2022
Omgosh, I am so sorry to hear this. He was my cousin and I didn't even know. My heart goes out to the family and I pray for them.
June 24, 2022
Bimpy,Suzanne and Billy
I am deeply sorry about the loss of your father. I just found out about his passing. May God be with you and your family in your time of grieving.
Sincerely
Ann Shultz (Cissy) Your Aunt Jennette granddaughter.
June 16, 2022
I was sorry to hear of Bill's passing. I worked one summer for D&H while in college and learned quite a bit about electrical work and the extended family. He was always a positive influence then and when I would visit my mom, Elaine, at the office when I was younger. My mother also sends her condolences.
Jack DeMorra
June 09, 2022
We were so sorry to hear about Bill. He had a wonderful sense of humor and we enjoyed visiting him when we could. Glenn worked with him on electrical projects at the Lampeter Fair years ago and enjoyed talking about L-S sports with him. Our condolences to the family. He will be missed. Glenn and Brenda Book
June 05, 2022
Do not know where to start. Bill was the one who hired me back in 1986 and was a pleasure to work for and was always fun to be around. Even after retiring he was an asset to have around the office with invoicing or technical questions. It was always an enjoyment to go in on Tuesdays and Thursdays and see who Bill "Junior" would pick on that day. But Joel usually got the brunt but turned out and gave it back to Junior. Those days will be missed by the crew of D&H. Lastly as one of the owners of D&H we will do our best to keep the company prospering as that was one of Bill's last conversations with Joel and I when we visited him. As I close the one thing that I will not forget is when I would bring him the homemade horseradish and the next day he was in he would say that is some Good Stuff! Condolences to the family on your loss and be rest assured your grandfather's and fathers is in good hands and we will make him proud
June 05, 2022
I didn't know personally but he was a customer where I worked at Penn State Electric in the mid 80's. I remember him as an honest and pleasant man who never got a collection call from us. Paid on time every month. Very sorry for your loss.
June 04, 2022
MY CONDOLENCES AND PRAYERS TO THE FAMILY OF A BROTHER MASON. KARL F. SCHUBERT #32 # 353 OXFORD LODGE
Visitation

Thursday, June 09, 2022
10:00 AM - 11:00 AM
Charles F. Snyder Funeral Home & Crematory
3110 Lititz Pike
Lititz, PA 17543

Map and Directions

Services

Thursday, June 09, 2022
11:00 AM
Charles F. Snyder Funeral Home & Crematory
3110 Lititz Pike
Lititz, PA 17543

Map and Directions