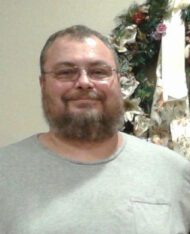 William C. Critchfield, 54
January 11, 2022
William Charles Critchfield, 54, passed away on January 11, 2022, at Ephrata Wellspan Hospital following a brief illness. Born and raised in Lancaster, William was the son of Pam (Rehm) Critchfield and Ray Critchfield. He shared his life with his wife of over 20 years, Alicia (Buck) Critchfield and his son William "Buck" Critchfield.
William was a proud veteran, serving six years in the United States Navy. He was a member of the AMVETS Post 136 and the American Legion, where he enjoyed sharing stories with fellow service members and socializing with friends.
He enjoyed hunting, cooking, and spending time in his Man Cave. William was the camp cook for BeerCamp in Potter Co, where he and his buddies would go up and hunt. Most of the time you could find William reading or spending time with his family and dogs. William was proud to share his knowledge with Buck about tools and how to fix things, cooking, and all aspects of life. Those moments together will always be precious memories.
A great friend, a loving father, and an amazing man, William will be deeply missed by his wife, Alicia, son, Buck, mother, Pam Critchfield, father and step-mother Ray and Christine Critchfield, a brother Andrew R. Critchfield, a step-brother, Jared Reiber, many nieces and nephews, and his beloved dogs, Itsy Bitsy and Boo Boo.
William will receive one of the highest honors for a Navy man and will be buried at sea with military honors by the US Navy out of San Diego, CA, where he was stationed for part of his service.
Leave a condolence on this Memorial Page
Condolences to the Family
January 17, 2022
Dear Alicia and Buck,
We are so sorry to hear of Bill's passing. Our thoughts and prayers are with you.
January 16, 2022
We are so sorry for the loss of Bill! He always called me sissy and I will never forget the memories that I have of him at the hunting cabin. He was a great cook and loved to cook for others! He is no longer in pain and watching over us all the time. Love, Cassey
January 15, 2022
My deepest sympathies and condolences to Alicia, Buck, and the entire Critchfield family…I know he spent more time than he wanted at my office, but I always looked forward to seeing him and "catching up"…he was NOT just a patient, but a true friend…and I will miss him…
January 15, 2022
So sorry, Alicia and Buck, you are in my thoughts and prayers. Wishing you both strength.
January 14, 2022
Dear Alicia, Buck, Pam and Andrew,
Our thoughts and prayers are with you and your family during this difficult time. Please accept our sincere condolences on the loss of Bill a wonderful husband, father, son and brother. May he rest in peace. Jack and Kathy Mentzer
January 14, 2022
So very sorry for your loss. My thoughts and prayers to your family🙏🏼🙏🏼Ann Penny
January 14, 2022
Dear Alicia Bock Andrew and Pam, I am so sorry on the loss of Bill he was a wonderful human being he always made me laugh and he was bigger than life I loved him dearly he was good hearted he would do anything for anyone and he truly loved his family. I am praying along with many other friends for you all now and also for Bill and you know he is in a better place and he is not suffering anymore. He will be waiting for all of you. I send my love and my prayers to each and everyone of you a God bless all of you. Aunt Annie
January 14, 2022
Our deepest condolences and support go out to Alicia and Buck. Our heartfelt sympathies to Pam, Andrew (Jack/Payton), Ray and Christine. Now he knows no more pain. Love Grandma and Papa (Mary Jane and Don).