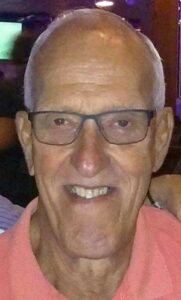 William "Bill" L. Garrett, 82
February 23, 2023
William "Bill" L. Garrett, 82, of Millersville, passed away on February 23, 2023, at Hershey Medical Center.
Born in Lancaster he was the son of the late Abram and Doris (Reese) Garrett. He was married to the late Carol M. (Kopf) Garrett, who passed away in 2021.
After 34 years of service, Bill retired from Armstrong World Industries where he worked as a technical specialist. Bill spent most of his time outdoors, participating in various activities such as hunting and fishing. One of his passions in life was keeping a pristine yard, flower bed, and vegetable garden where he grew tomato plants taller than him. He enjoyed going to the casino with his kids and loved traveling with his wife multiple times a year, especially to Florida and Aruba. But the greatest joy in Bill's life was his family and friends, and the time he spent with them making memories.
Bill is survived by his daughters, Karen (Brian) Ehrhart, of Lititz, and Kerri Lee (Charlie) Null, of Willow Street; his brother, John C. Garrett, of Lancaster; his grandchildren; Derek, Kyle & Demi, his nephew, Scott (Amy) Garrett; and great-niece, Ava. He was preceded in death by his brother, Wayne (Sam) Garrett.
Bill's family would like to thank the nurses and ICU staff at Hershey Medical Center for the love and care they provided him.
A visitation will be held from 2 to 3 p.m. on Saturday, March 4, 2023 at Charles F. Snyder Jr. Funeral Homes and Crematory, 3110 Lititz Pike, Lititz, PA, with a time of sharing at 3PM, where there will be an opportunity to share a memory of Bill with family and friends. In lieu of flowers, contributions may be made to a charity of your choice in Bill's honor.
Leave a condolence on this Memorial Page
Condolences to the Family
March 15, 2023
Im sorry to see the loss of Bill. He was a relative of mine that I never really knew. Carol had known me previously and had introduced him to me one day. I wish I had known him better he seemed like a great guy.
March 03, 2023
Bill was a friend and a wonderful coworker. Bill would take on a task and see it through to the end, often coming up with really innovative solutions to mechanical and processing problems. What made this even more amazing was that Bill did not have a degree in mechanical engineering but learned what he needed to know on his own.
Bill was always generous, faithful to his friends and interested in the events surrounding him. He had an all encompassing sense of humor that made the days spent with him brighter and more enjoyable.
I will miss you, Bill.
Ron Lenox

March 01, 2023
So sorry for your loss, holding you close in our hearts. I have such fond memories of Bill and your family, gowing up over the years. Those were such fun times together. He was always happy and such a gentleman. May the memories help to comfort you at this time. with love,
Tonya & Steve Bergstrom
March 01, 2023
Bill was a great guy and I always enjoyed chatting with him. He complemented Carol perfectly and there were not too many times that one was not with the other, unless Carol was on the golf course. I know that Bill and John met regularly and their closeness was a blessing for both. Bill will be missed by many, for certain. As we grieve, Heaven rejoices. RIP Bill.
Michael Sheely
February 27, 2023
We will always have fond memories of Bill; from Rocky Springs swimming pool, skating rink, & bowling lanes. He hunted with my dad & husband. He was a great man; wonderful husband & father, good friend, a very nice guy.
Toby & Leroy Stanley
February 27, 2023
I am sorry for your loss. May his memory be a blessing.
John Wise
February 26, 2023
Bill was a great guy. Worked with him at Armstrong over the years. We fondly called him "Kink".
Rick Herr
Visitation

Saturday, March 04, 2023
2:00 PM - 3:00 PM
Charles F. Snyder Funeral Home & Crematory
3110 Lititz Pike
Lititz, PA 17543

Map and Directions

Services

Saturday, March 04, 2023
3:00 PM
Charles F. Snyder Funeral Home & Crematory
3110 Lititz Pike
Lititz, PA 17543

Map and Directions