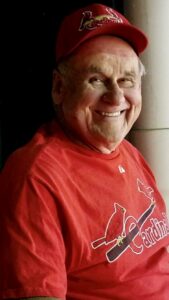 William (Bill) Clifford Burrey III, 84
September 04, 2022
William (Bill) Clifford Burrey III, 84, of Lancaster, passed away on Sunday, September 4, 2022. Born in Danville, PA, on October 4, 1937, Bill was the eldest of three children and the only son of William C. Burrey Jr. and Beatrice Burrey.
He is preceded in death by his first wife, Judith Burrey, with whom he shared 34 years of marriage. He is survived by their two children, Robin Payne (husband, Leonard) and Kevin Burrey (wife, Cynthia).
Bill is also survived by Carol Burrey, his devoted wife of nearly 25 years. Traveling the country with her became one of his greatest joys in life following a career of over 30 years selling paints for PPG (he later worked part-time at Bomberger's). Arizona, in particular, became a home away from home and one of his favorite places. He enjoyed volunteering at the Open Door food pantry (Coalition for Compassion and Justice) in Prescott, AZ, and especially loved it when his son, Kevin, and grandson, Jared, joined him to experience the Arizona Fall League together. Another one of his favorite traveling experiences was visiting Arches National Park in Utah where he and Carol hiked to see the majestic Delicate Arch. He held the memory of this trip with him right up until his passing.
He loved spending time with his family, including his five grandchildren of whom he was so proud. It was important to him to support them in everything from soccer games and track and field events to orchestra concerts and marching band shows. He believed that our time is one of the most precious gifts we can give, and he always made time for his family and friends.
Bill proudly served in the United States Coast Guard from 1955-1959 where he was stationed in New York City. During his time around the Big Apple, he had the opportunity to see some Broadway shows and was soon hooked. "Broadway Bill" continued going back to NYC over the years with his daughter, Robin, who, in his words, "always picked the right show."
Sports were another one of Bill's passions. He became a lifelong St. Louis Cardinals fan at an early age thanks to his father, and the tradition continues with his children and grandchildren who proudly root for the Redbirds. He planned frequent trips to St. Louis to see the Cardinals with his grandson, Zach, and later other family members, creating memories that will be cherished forever. In addition to his beloved baseball team, Bill was also an avid Raiders fan. He'd never pass up a chance to relive the glory days of Kenny "Snake" Stabler and the rest of those menacing Silver and Black teams of the 1970s and 80s.
Known for his tireless wit, there was no better friend. His generosity and compassion left no doubt about the character he possessed. He was an inspiration to his family, and though he will be missed dearly, his presence will always be felt, reverberating through those who were fortunate to call him Dad, Grandpa, and Pappy.
In addition to his wife and children, Bill is survived by his two sisters, Bonnie Dailey and Barbara Starks. He is lovingly remembered by his five grandchildren: Amy Splain (husband, Michael), Zachary Payne (wife, Allyson), Jared Burrey (wife, Caitlyn), Judy Burrey, and Katie Burrey; his two great-grandchildren: John Payne and Maci Burrey; and many other nieces, nephews, and extended family members.
Friends and family are invited to wear red or anything Cardinals-related to a visitation from 10:30 a.m. to 12:30 p.m. with a service to follow on Saturday, September 17, 2022, at the Charles F. Snyder, Jr. Funeral Home & Crematory, 3110 Lititz Pike, Lititz, PA 17543. Following the service, interment will be held at Long Memorial United Methodist Church, 2660 Lititz Pike, Lancaster, PA 17601. The family asks that any donations be sent to Manheim Township Public Library: https://mtpl.info/donate-funds/ or The Coalition for Compassion and Justice (CCJ): https://yavapaiccj.org/
Leave a condolence on this Memorial Page
Condolences to the Family
September 25, 2022
Dear Kevin & Robyn,
This is Paul Leaman . . . neighbor and childhood friend. I was visiting with my mom this past week and she shared with me your dad's obituary. What a wonderful tribute and photo! I have so many fond memories of your family and hours spent in your basement playing spinner MLB, racing cars, playing ping pong, and our summertime wiffle ball matches:) Bill was such an encouraging person . . . all the time! He lived right and well.
I would love to get together sometime we're in the area. Feel free to text or email your contact information if/when you get this message. leamanp@emhs.net (540)578-0262
Thinking and praying for you & your loved one!
Paul
September 22, 2022
Kev….I know how close you and your Dad were, and even though I never had the pleasure to meet him, your stories of all you shared over the years makes me smile and warms my heart.
September 18, 2022
Carol, my heart is with you. Sending peace, courage, and love as you make your way in this difficult time. I am so sorry. Kathy Melamed
September 17, 2022
Dear Carol, so sorry to read of the passing of Bill on Sunday. My deepest sympathy and prayers that you have the support you need and that your memories will keep him near. Hoping we can connect again when your schedule allows. Call me at 7176562429 and leave a message. Miss working with you. Deepest condolences at your loss, 💕Pat Leaman
September 15, 2022
Jack and I always enjoyed Bill and Carol when they visited Prescott He was fun guy and a fellow classmate of Montandon High
September 12, 2022
It is indeed a privilege to have called Bill a friend. Always enjoyed serving on committees and working side by side with him at Long Memorial church.
Our thoughts and prayers are with Carol, Robin, & Kevin (along with rest of the family).
Love, Calvin & Laura Davis
Visitation

Saturday, September 17, 2022
10:30 AM - 12:30 PM
Charles F. Snyder Funeral Home & Crematory
3110 Lititz Pike
Lititz, PA 17543

Map and Directions

Services

Saturday, September 17, 2022
12:30 PM
Charles F. Snyder Funeral Home & Crematory
3110 Lititz Pike
Lititz, PA 17543

Map and Directions