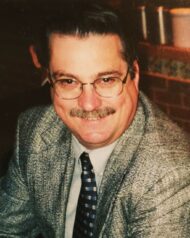 William "Bill" Alan Heffner, 69
November 17, 2021
William "Bill" Alan Heffner, 69, of Mohnton, PA passed into the loving arms of Jesus on November 17th surrounded by his family. Born in Sellersville, PA, he was the son of the late William and Mary (Parker) Heffner and the husband of Daureen (Heffentrager) Heffner with whom he celebrated 48 years of marriage this past September. In addition to his wife, he is survived by three daughters: Leeann Groff, wife of Steve, Manheim, Laura Connell, wife of John, Lancaster, and Leslie Garner, wife of Ben, Wellsboro; nine grandchildren: Brayden, Kyler, Addison, Reagan, Noah, Rylee, Holden, Reese and Benson; and two brothers, Bruce (Debbie) Heffner and Randy (Cathy) Heffner.
Bill was a member of the Lancaster Alliance Church where he served on the security team. He had a passion for missions and led several short-term missions teams to Word of Life Hungary and France. He also had a love for volleyball and was "stat man" for several years for several local high schools. He served in the US Army Reserves for 10 years.
A funeral service honoring Bill's life will be held on Tuesday, November 23rd at 3:00 PM at Lancaster Alliance Church, 210 Pitney Road, Lancaster. Friends and family will be received at the church from 1 – 3 PM for visitation. Interment will be private. In lieu of flowers, memorial contributions may be made in Bill's name to Word of Life, Hungary by visiting https://give.wol.org/05050C, or by mailing a check to: Word of Life International, PO BOX 600, Schroon Lake, NY 12870 Memo: Hungary Camp Scholarship Fund 05050C.
Leave a condolence on this Memorial Page
Condolences to the Family
November 29, 2021
Dear Daureen, Leanne, Leslie and Laura, we send our deepest condolences to you and your family! We love you all and our hearts and prayers are with you. Your father was a great godly man and will be surely missed! Take refuge in the arms of Jesus, and we know that Jesus is holding your Dad right now too! Love from all the Tresses, Craig, Mary, Rachel, CJ and Nathan
November 23, 2021
Dear Daureen and Family! What a great man of God, he will be greatly missed! While he is praising face-to-face his Savior whom he loved so much and served so faithfully, our hearts are broken… It's hard to imagine not having him back in our summer camps, watching him lead, having fun, loving on the elderly during our annual visits to the retirement home, exploring Budapest, and so much more! Love you very much here at Word of Life Hungary! Thank you for the Camp scholarship, we trust that many young people will meet Jesus here as a result of your generosity! You are in our prayers!
November 23, 2021
Daureen and family, Bruce, Randy- I am so sorry for the loss of your husband your and brother. I have known the Heffner family since the time of your family's service to the Lord at Paradise Bible Fellowship Church. Many memories of Bruce, Bill and Randy as they grew up in Paradise. Bill loved the Lord and especially short term missions trips to Hungary and France. He will be missed by many. Frances Yonce Sears
November 23, 2021
Dear Daureen and your whole family – Please allow Judy and me to send our deepest condolences and most sincere sympathy to all of you at this sorrowful time. We were saddened to learn of Bill's illness and were united with you all in prayer for his healthy recovery. We are now thankful that he is able to see JESUS face to face – what a blessing and comfort that knowledge must be. While generally, everyone that one meets at church is friendly, not every acquaintance is a friend. However, Daureen for Judy and I, you and Bill were our friends and we are so sorry for your loss. Would please allow us to share some words of comfort from GOD'S Word that are especially meaningful to both of us at times such as these. … "GOD in love has promised grace for every trial, strength for every sorrow, help for every mile, and may GOD in sympathy and unfailing love impart help for each tomorrow and new courage to your heart." … "Cast your burdens upon the LORD, and GOD shall sustain you; The LORD shall never allow the righteous to be moved" … "Cast all your cares upon GOD, for the LORD GOD cares for you." … (Psalm 55:22, 1st Peter 5:7) All of you remain in our thoughts and prayers. Sincerely, Judy and Fred Holler
November 22, 2021
Oh, Daureen, I am in stunned disbelief to just now hear this news. My heart aches for you. I have great memories of Primetimers Choir with you and Bill, and always feeling secure as Bill walked his "beat" on Sunday morning. You and your family are in my prayers. May God be your all-in-all during this difficult time, and grant you "Grace for the trials, help from above, Unfailing sympathy, undying love." Praying for the peace of His presence to abide with you always.
Love, Dottie and Paul
November 22, 2021
I would greet Bill in church and enjoyed his enthusiasm for missions in Hungary. I knew Daureen much better through Stephen Ministry and thought highly of her. I was convinced that Bill must be a gem as well. My condolences to this wonderful family. May God keep you close as you grieve this great loss. Love in Christ, Sharon Benham
November 22, 2021
To the entire Heffner family,
My heartfelt and deepest condolences. I worked with Bill at TES inc. and he was the nicest man. Always made time for you no matter how busy he may have been. I loved talking to Bill, whenever he would mention his family, He just beamed with love. Again, I am so sorry for your loss.
Jill Jones

November 21, 2021
I'm sorry for your loss I worked with him at Manheim auto in Morgantown and he was a nice guy I'm sorry for your loss
Madison bair
November 21, 2021
Condolences to the entire family.
We are so sorry for your loss.
We remember Bill from playing softball at Faith Bible Fellowship with Dwayne.
Daureen and Bill both served in many ways at FBF. You raised 3 great girls and helped many others!
See you someday in heaven Bill!

Dwayne and Cindy Charles
November 21, 2021
DEAR HEFFNER FAMILY; BARBARA AND I WOULD LIKE TO OFFER OUR SINCERE CONDOLENCES TO ALL OF YOU IN THE LOSS OF YOUR HUSBAND AND FATHER. WE BOTH KNEW AND LIKED BILL AND ALL OF YOUR FAMILY. OUR SINCERE CONDOLENCES; BARBARA AND LARRY FAGAN.

November 21, 2021
Daureen, Between you and Bill what great examples of Jesus in the flesh! He is now with Him celebrating his life of service for the Lord. He will be missed greatly. We love all of you. I thank Jesus that Bill was in our lives!
Bob & Nicki Hess
November 21, 2021
I will miss Bill and his humor. I work in the ER at Ephrata Hospital. He would bring his wife Daureen Burger King fish sandwiches on the Friday buy one get one free special. I always got the second sandwich. Always good to me.

Leeann, I am very sorry for the loss of your father. Please take careful yourself, along with Daureen.
November 21, 2021
My condolences to all the Hefner family. Bill and I were coworkers at Thomas e Strauss and he was always. So kind and helpful. A very nice man. So very sorry for your loss.
November 21, 2021
My deepest condolences to The family. Prayers to help you get through this.
November 21, 2021
Dear Heffner Family,
We celebrate the life of this patriarch of your family, and really his heart of love and faithfulness that persists in all of your family members, today.
As Daureen knows, Bill and Daureen were strategic counsellors in my life during uncomfortable times. I still remember walking through the summer crowds, at night in Budapest along the Danube with both of our families, and really appreciating how Bill understood my difficulties and had some priceless advice.
Bill and Daureen will forever be famous with our children for inviting our family to stay with them for a few days at their home in the woods. Such a wonderful time to explore the trails, experience the excitement of sleeping in a loft, and the tasty surprise of pumpkin ice cream.
We wish we could have more time with Bill down here on the earth, but we know he has been called to a greater expression of LIFE with his Lord and Savior, Jesus Christ. And, we look forward to seeing him again when we meet together in resurrection.
With love & respect,
-Randall (and for Timea & our children)
November 21, 2021
Mr. Heffner was a great man, a great example of a husband and a father. All of his girls are the are the nicest around. I had the pleasure of knowing him through the friendships with his daughters and had the pleasure of having him and Mrs. Heffner as a customer during my time in the car business. I only wish I could have known him better – I know he will be deeply missed.
November 20, 2021
Dear Daureen, Leeann, Laura and Leslie,
I was saddened to hear of Bills illness and passing, but praising God that he is now resting in the arms of Jesus. May He comfort you all in this time of sorrow. I would love to think that he and Don are celebrating together with our Lord. My love to you all. Michele Fatula