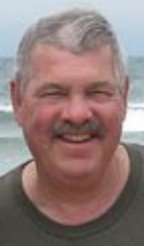 William A. "Bill" Apgar, 66
William Anders "Bill" Apgar, 66, of Lancaster, PA, died Monday November 30th, 2009 after a courageous battle with lung cancer. Bill was born in Reading, Pennsylvania in 1943 son of the late Carl Leon Apgar Jr and Elsie Apgar Odheimer before moving to Stamford, Connecticut, where he was raised. He was a 1965 graduate of Dickinson College in Carlisle, Pennsylvania. He met and married his lifelong love from there, Margaret Dripps Apgar. They celebrated their 43rd wedding anniversary on May 5, 2009
In addition to his wife, Peggy, he is survived by his two sons: Carl Leon III married to Margaret Griffith Apgar and Anders Paul married to Jacqueline Maher Apgar. Both currently reside in Damascus, Maryland; Six grandchildren, Anne, Carl IV, Alexa, Regina, Kathleen, and Sean all knew him lovingly as "Tatu"; A seventh grandchild expected in May, 2010. His sister, Carla Willis, of Stamford Connecticut, is married to Paul Willis. He also had many nieces, nephews and cousins.
Bill served his country proudly in the Army Reserves from 1965-1971. He held several positions in the trucking, automobile and plumbing supply industries. His most recent employment was in the Inside Sales Department locally for Hajoca Corporation for the past 4 years. Bill's Community and volunteer service included: Committeeman for 16th District (Lancaster), Stadum Voice of Manheim Township Midget and High School football. Bill was an active member at Highland Presbyterian Church
A Memorial Service will be held Saturday, December 5, 2009 at 11 a.m. at Highland Presbyterian Church 500 E. Roseville Rd. Lancaster 17601 with Rev. Ted Mingle officiating. Family and friends will be received at the church on Friday only, December 4, 2009 from 5:30-8:30 p.m. Interment will be in the Highland Memorial Garden. Donations in his memory can be made to Highland Presbyterian Church designated for the Steeple Fund, 500 E. Roseville Rd., Lancaster PA 17601. Arrangements by Charles F. Snyder Jr. Funeral Home and Chapel 3110 Lititz Pike Lititz 17543. To send an online condolence or for more information please visit snyderfuneralhome.com
Leave a condolence on this Memorial Page
Condolences to the Family
April 11, 2020
HAPPY BIRTHDAY BILL. 4/11/1943
Carol Jackson
June 15, 2019
Hi Bill. I'm sorry I missed your Birthday APRIL 11, I have never forgotten you…I'm happy you married your first love…
Carol Jackson
April 17, 2018
Dear Bill I never forget your birthday ,April 11, 1943….Happy Birthday April 11 ,2018 ♡♡♡
September 18, 2014
I am very sadden by Bills passing.
Dear Peggy,
I was saddened to hear of Bill's passing. I'll always remember your kindness when I was stranded in Lancaster.
May the peace and grace of God be with you and your family during this time.
Dave Huddleston
Peggy and family, We were sorry to learn of Bill's illness and our thoughts and prayers are with you today. We often remember our times together with both our families on Fruitville Pike. May God be with you in this time of need.
Love, Bob and Penny
Dear Peggy & family,
Please accept my sympathy for the loss of your wonderful husband. It seemed as though he was always smiling, no matter how crazy the business became. I was Bill's secretary at Interstate Motor Freight many years ago. Without a doubt, he was one of the best bosses anyone could ever ask for. Please know that Bill will be missed by many of his former employees.
best regards,
Helen (Risser) Tudor
God bless you guys Bill was a great neighbor and friend for many years My condolences go out to Carl Peggy and Andy and their families. Bill was a great man
from Michael Boyer The Colony Texas
Dear Peggy,
I am so sorry for your loss. You and Bill have been in my thoughts since I met you both at the hospital many months ago. Know that I am thinking of you and your family in your time of sorrow and that both Bill's kindness and courage will not be forgotten.
Sincerely,
Sarah Sylvia, RN
Dear Peggy,
My thoughts and prayers are with you and your family. If there is anything I can do for you please let me know.
Marie Schnee-Realty1
My name was Sandy Miller Bell and Bill was my Terminal Manager with Roadway Express in Lancaster. He was just the best boss. I remember when he bought the snow suit for his 1st son……..he was so proud. Roadway lost a great team player and a wonderful Terminal Manager. I again had the pleasure to talk to him @ Hajoca when I joined the team at Robert H. Ranck, Inc. He kept me updated on the boys and the grandchildren and of course his wife. He was always so upbeat.
I'm sorry that he lost his battle but I was so blessed to have known him.
Sandi Young
Dear Peggy and family,
Herb and I are so sorry to hear of Bill's passing, please know that our thoughts and prayer's are with you at this time. Bill was a wonderful man and I can tell you that Herb and I talk many a time of those Friday nights getting together with everyone after the MT football games, oh what fun times they were. Know that Bill will live forever in your hearts.
Herb & Brenda Hohman
Dear Carl, Margie, Annie, CJ, and Jeannie,
Please accept our sympathy for the loss of your father (and grandfather). Please know that your family is in our thoughts during this difficult time.
With heartfelt condolences,
Fonda Newcomb and Family
Dear Peggy and Family,
I'm so saddened to hear that Bill is gone – so quickly. I regret that I will be tied up both Friday and Saturday, but my heart goes out to you and yours especially during this season.
Please accept my condolences and I will get in touch with you, my fellow Carlisle "sister".
Sincerely,
Carole and David Ashby