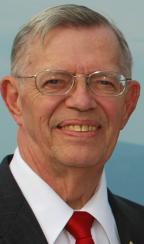 William A. Anderson, 73
William A. Anderson, 73, of Lancaster, PA, died peacefully at his home after a courageous battle with leukemia on November 29, 2010. Born in Rochester, NY, he was the son of the late Chester and Inez Pifer Anderson. Bill was married 44 years to Bonnie Batjer Anderson.
After graduating from Aquinas Institute in 1955, he majored in chemistry at the St. John Fisher College, Rochester, NY, where he received a bachelor's degree in 1960.
In 1997, Bill retired from his career in forensic chemistry at the Monroe County Public Safety Laboratory, which serves Rochester and surrounding counties.
After moving to Lancaster in 2002, Bill enjoyed 7 years of employment at Union National Community Bank in Mt. Joy.
He was a member of St. Philip the Apostle Catholic Church. Church, family, and friends were his great interest.
Surviving besides his wife are two children: Christine wife of Michael Mohn, New Providence, PA, Mark W. husband of Aimee Anderson, Glenville, N.Y., a granddaughter, Madison Mohn and four sisters: Judith wife of Odette Houston, Venice, FL., Diane Furdell, Kenmore, N.Y., Sylvia wife of William Newman, Mystic, Conn. and Christine Anderson, Rotterdam, N.Y
Bill was preceded in death by a sister Joanna Anderson.
Mass of Christian Burial will be held at Sacred Heart Catholic Church, 558 W. Walnut Street, Lancaster, PA on Saturday, December 4, 2010 at 12:00Noon with the Rev. Mark Weiss as Celebrant. Entombment will be in Conestoga Memorial Park Mausoleum. Friends may pay their respects to the family from 11-12:00noon at the church on Saturday. In lieu of flowers, contributions may be made in Bill's memory to St. Jude Research Hospital, 262 Danny Thomas Place, Memphis, TN or Lancaster Public Library, 125 N. Duke Street, Lancaster, PA 17602. To send online condolences, please visit; SnyderFuneralHome.com. Charles F. Snyder Funeral Home& Crematory, Millersville, PA. 1-717-872-5041
Leave a condolence on this Memorial Page
Good Neighbor, good friend. We'll miss you, Bill.
Bonnie, we grieve with you.
Family, we feel your loss here on Rabbit Hill.
Sherry and Mike Carter
Bill, what a wonderful neighbor and friend you were to Marianne and me. You were the first person to welcome Marianne to the neighborhood and she will always remember that. You were there for me to cut down the privacy fence, fix the toilet, cut the bushes, etc. Thank you so much. We will miss your daily walks with Andy. May your soul rest in peace, you are greatly missed by everyone.
Bonnie, Mark, Amie, Chris and family we send you our love and prayers in your loss. Love from Jean and Marianne
Dear Bonnie and family,
We are so sad to know that Bill is not with us any more. We miss him very dearly for ever. As you grieve know that we are remembering you and honoring Bill's memory.
Adi & Devi Rayavarapu
bonnie & family
we were very sad to learn of bill's death this morning. he was a very caring & loving man. we were in church together, little league & a customer of mine @ the mobil station. our kids went to fairport schools together.
we are sure that our lord will take very good care of him
you are in our prayers
ed & fran rosen
I was a Rochester Police Officer for 24 years and performed Crime Scene Investigations. During those years I got to know the personnel in the Crime Lab and that included Bill. I am saddened by his death and send my condolences to you, his family. The photo of Bill is how I remember him, always with a smile on his face and taking time out to chat when I visited the Lab with evidence.
So sorry to read about Bill's death in the D&C on Thursday. Sue and I send you our most sincere condolences. We will remember him always.
Sincerely,
Gene and Sue LeDoux
Dear Bonnie and Family,
Our deepest condolences for your loss. We will always remember Bill and miss him. Our thoughts are with you and your family!
Kamala and Sai
Dear Bonnie and family:
It is with deep sorrow that I have read of Bill's death. I will always remember Bill as a loyal fellow worker and as a good friend. Bill was one of the most capable lab chemists that I have ever worked with, and he went about his duties in the most humble way.

My prayers are with you.
Al DiPasqua
Bonnie, Christine and Mark please accept my sincere sympathy on your husband or Dad's passing. I worked with Bill at lab for many years and know he always valued his wonderful family as his best gift in life.
Roberta Ames