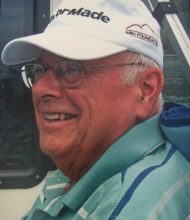 Wayne B. Ranck, D.D.S., 89
January 03, 2021
Wayne B. Ranck, D.D.S., 89, of Mennonite Home, formerly of Lancaster, Ronks, and New Holland, went home to be with his Lord on Sunday, January 3, 2021. Born in New Holland, PA he was the son of the late Wayne and Alta (Bair) Ranck. He was the loving husband of Geraldine Iris Ranck who passed away in 2014. He was also preceded in death by an infant son, David D. Ranck; brother Rev. Park Ranck, and sisters Louise Loewen and Elizabeth (Betty) Summers.
He graduated from New Holland High School, and the University of Pennsylvania Dentistry School. Wayne was a local dentist in Lancaster for many years.
Wayne was a member of the Holy Trinity Lutheran Church of Lancaster. He proudly served as a captain in the US Air Force.
He was a member of the Rotary Club and Lancaster Country Club. Wayne enjoyed his extensive travels around the world with his wife, attending Lancaster Barnstormer baseball games with his daughter, Deborah and her children, winters in Florida with the RV at Lake Okeechobee and loved golfing, dining out and going to the theatre.
Wayne is survived by his daughter, Deborah L. Gavalchik wife of Steve of Lancaster; two grandchildren, Jordan Haenel partner of Marco Callisto of NY, Justin Haenel of VT; stepdaughter, Vicki Kave wife of Brian of Lexington, VA; two stepsons, Rob Gabriel husband of Susan of Brickerville, PA, Wes Gabriel husband Carolyn of York, PA; five step grandchildren and several step great grandchildren. He also leaves treasured nephews and nieces Steve Loewen, Julia Maclay, and Lucinda Mellinger, all of New Holland; Mike Ranck, Mary Heffelfinger, and Suzanne Summers and Linden Summers of NY along with their respective families.
Services will be live streamed to Wayne's online obituary at www.snyderfuneralhome.com. Interment will be private. In lieu of flowers, contributions in Wayne's memory may be made to Water Street Rescue Mission, 210 S. Prince St, Lancaster, PA 17603.
A livestream of the service will be available under this obituary on Thursday, January 7th a few minutes prior to 11:00AM. Please refresh your page closer to the time of the service.
Leave a condolence on this Memorial Page
Condolences to the Family
January 08, 2021
Dear family of Dr. Ranck,
I was a patient of Dr. Ranck all of my growing up years, and then had the opportunity to train as his chair side assistant, in 1975 and continued working for him until I got married in 1981. Marsha Lausch and I had many funny, memorable times with Dr. Ranck…..he was compassionate and loved people, especially his family and close friends….. I was always impressed with how personable he was with every patient that sat in his chair!
May the Lord comfort you at this time of loss
Jodi (Witwer) Brown
January 07, 2021
Dear Family of Wayne,
Lots of good memories with Wayne. My words are small and your loss is large, and so is my sympathy.
John Sapper
January 06, 2021
Dear Family of Dr. Ranck,I was his receptionist from 1971-1980. Dr Ranck was a kind and mild mannered man. Over the years I worked he would recite a poem to patients who smoked. I have it forever memorized. It goes like this! Tobacco is a nasty weed, from the devil it doth proceed. It picks your pocket burns your clothes and makes a chimney of your nose. Oh my, the days of a dial phone and a typewriter. Great first job right out of high school. Wonderful memories of simpler times!
Marsha lausch
January 06, 2021
To the Ranck family: I wanted to send a message of rememberance for Dr Ranck. I worked for him(office on Littitz Pk); my first job after dental school in DC, and my marriage (Oct and Nov 1966). Working with Faye Sangrey in the office was a great first job. I remember conversations with the family(family living ajoined to office) and still have some great recipes that were shared. I was surprised to see Dr Ranck and new wife one day at local Freeze and Frizz and nice to catch up and learn he was living at Grasshopper Level. I worked for several dentists over the years,but always remember those early years. RIP Dr Ranck and sympathy to the family.
Mary Ann Lefever
January 05, 2021
So sorry to hear of your loss. You and your family are in our prayers, In Jesus's name. May he Rest In Peace. Love to you and Steve, Tony and Patty Garbush
Services

Thursday, January 07, 2021
11:00 AM
Live Streamed
,

Map and Directions