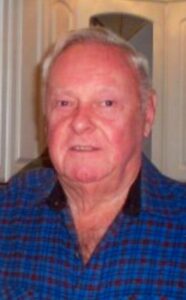 Walter Leach, Jr., 93
December 13, 1927 - October 06, 2021
Walter "Skip" Leach, Jr., 93, formerly of Parkland / Langhorne, passed away at Ephrata Manor on Wednesday, October 6, 2021. He was born in Newtown to the late Walter Leach, Sr. and Gladys (Atkinson) Leach.
Skip was married to the late Lucy Alice (Beswick) Leach for 26 years before her death in 1972.
He drove city bus for New Jersey Transit for 30 years, retiring in 1989. Skip earned the Safe Driver Award. He loved to go out to eat with his family, and he cherished family time. His greatest love was listening to Big Band music from the 1940's.
Surviving Skip are his daughter's, Suzanne A. Reif-Witwer, wife of John Witwer of Lancaster, and Rozanne A. Pastorella, wife of Charles Pastorella of Langhorne; four grandchildren, William Reif, Karen Reif, James Reif, and Rocco Pastorella, husband of Abby; seven great-grandchildren and three great-great-grandchildren; and his sister-in-law Betty Leach of Penndel, and several nieces and nephews. In addition to his parents and wife, Skip was preceded in death by his son Walter "Skippy" Leach, III, his brother Hugh "Pete" Leach, and his sister, Mary Lauritsen.
The family extends a heartfelt thank you to the staff at Ephrata Manor and Hospice & Community Care, for the wonderful care they provided to Skip.
Private interment will take place in Beechwood Cemetery, Bensalem, PA.
Leave a condolence on this Memorial Page
Condolences to the Family
October 13, 2021
I am so sorry for Skip's passing. He was a very caring person. When our families met, we became friends immediately. Through all the years our families shared many happy and sad moments. But one thing never changed; Skips love for NH! The great meals at Polly's Pancake House, in Sugar Hill. He treated me as if I was his own daugther. I have always considered him my 2nd dad. My dear friend, Rozanne, My heart is broken into a million pieces for you. Everyone who cared and loved him, But Rozanne was my very first friend, and sister. I alm so thankful that you have such wonderful friends and those 2 awesome little boys. I love you so much. Marion
October 09, 2021
Condolence to the leach family may he rest in piece 🙏🏻
October 09, 2021
Dear Leach Family,
My condolences to all of you on the loss of your father, grandfather, great-grandfather, brother-in-law, and uncle respectively.
Skip and my father Rolf were lifelong friends. It always seemed to me that Skip was the brother Rolf never had. Skip certainly felt like family to me, as he was a consistent presence in my family's lives. We were blessed to have him in our lives for as long as we did, and it is with great sadness that I learned of his passing.
Skip's memory will always live in my heart the as the kind, gentle, and thoughtful man that he was.
I join you in your grief and wish for you peace and comfort in the days ahead.
Love to all of you,
Laurel Welch nee Ihlenfeldt
October 08, 2021
Saddened to hear of my cousin's passing. Lost track of so many in the family circles while pursuing my military career. Always have had a fond memory of "family" from the past, and especially Skip. See you on the flip-side, cuz. Condolences to Suzanne, Rozanne and surviving family members, all.
October 08, 2021
I am so sorry to hear of your Dad's passing. He was a dear kind and caring man. Thinking of you and praying for God's comfort.
October 08, 2021
On behalf of the Ihlenfeldt family, please accept our sincere condolences on Skip's passing. He was known to each of us as a lifelong friend to our father, Rolf. When our dad passed away in 2014, Skip was able to attend the funeral services and express his sadness over losing his best friend of 70 plus years. As well as being a loyal friend, he also served as a successful matchmaker, having introduced our parents to one another in 1950, resulting in a marriage that raised seven children. Thank you Skip, and may you rest in peace.
October 08, 2021
I am sending you all a big big hug! I read the obit and then sat here and sobbed my eyes out….love you guys ❤️
Dana VanHeusden