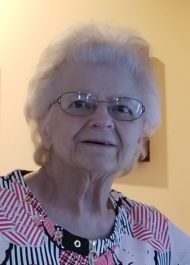 Virginia "Ginny" Regitz, 81
Virginia "Ginny" Regitz, 81, of Pequea, passed away on February 18, 2020. She was the daughter of the late Loy and Ruth Ryan and the wife of Ralph Regitz, celebrating 62 years of marriage on February 1.
Ginny will be remembered as a loving mother, who dedicated her life to her six children. She was a very active member of Mt. Nebo United Methodist Church where she faithfully served as a Sunday School and Junior Church Teacher, was part of the staff for Bible School and an Adult Choir member. Her faith played a very important role throughout her life.
Ginny became involved in activities because of her children and remained involved because of her heart for others. She was known by many as being a second mother or grandmother, simply because she treated everyone as if they were her own. Ginny was a Girl Scout Leader for many years, held various positions in the local Boy Scout pack, troop, and district as well as worked many summers in the kitchen at summer camp. She enjoyed volunteering her cooking talents for the Pennsylvania State Police Camp Cadet of Lancaster County and she also served as the Judge of Elections for Martic Township for several years. Regardless of what was going on, her dinner table always had room for one more and it filled her heart to see it surrounded.
Ginny worked for the Penn Manor School District as a cafeteria worker at Martic Elementary and Marticville Middle Schools bringing her love of cooking and children together until her retirement. She then she continued to volunteer at the elementary school several days a week to assist the teachers and school administration with various tasks.
Ginny's love will continue to shine through her husband, Ralph; her six children, Jodi Regitz of Pequea, Linda Harnish, (Stephen) of Holtwood, Dennis Regitz (Carol) of Washington Boro, Cathy Jo Regitz of Lancaster, Kenneth "Chip" Regitz (Barb) of Mount Joy and Brent Regitz (Kristi) of Ephrata; her grandchildren, Joshua, Sarah, Tyler, Emily Mae, Alayna, Mason and Ryan; her great-grandchildren, Isabelle, Maxwell, Josiah, and Elizabeth; her siblings, Frank and Donald Ryan and many others who were blessed to be called her family. She was preceded in death by her parents, her brothers Loy and William Ryan, and sisters, Verna Mae Kripplebauer and Mary Ryan.
A viewing will be held on Saturday, February 29, 2020 at Mt. Nebo United Methodist Church, 673 Martic Heights Drive, Pequea, PA from 9AM-11AM with a service to immediately follow. In lieu of flowers the family requests donations be made to some of Ginny's passions including the Mt. Nebo United Methodist Church Sunday School, Boy Scouts of America (Conestoga River District), 630 Janet Ave. Suite B-114, Lancaster, PA 17601 or Pennsylvania State Police Camp Cadet Troop J.
Services have been entrusted to the Charles F. Snyder Funeral Home & Crematory, 414 E. King St., Lancaster, PA 17602
Leave a condolence on this Memorial Page
Condolences to the Family
February 26, 2020
We (I) have been so lucky to have know Ginger almost all of my life. When she first started to date Ralph, she was working at Woolworth's store in Mt. Carmel. She brought her knowledge of food even then as we first tasted hoagies that she made for us. After she married and had children, she was always bringing her love of family and food. She and Ralph had at their home-the first and second Regitz Reunion. She made the food and Ralph and her made the plaques–a slice of our old cherry tree and a gold trimmed plate with our names on it. No matter when we came to her door she welcomed us with open arms and a good meal. Over the last 60+ years, I have been the recepient of her love, her creativity (many of my cub scouts projects were with her help and advice), her advice on how to prepare and how much to make when we were serving guests, and the honor of her presence at many Christmases when she experienced our non traditional dinners. When our son died, she and Ralph were one of the first people to come and offer their love and support. We have been blessed to know Ginger and to be part of her family. Thank you Ralph and family for sharing your wonderful wife with us–she will be sorely missed but always remembered with love. Hugs and love Mary Ann and Dennis
February 24, 2020
Dear Cathy,
So sorry to hear about the loss of your mother. Our thoughts and prayers are with you at this difficult time.
Ross and Amanda Reed
February 23, 2020
What a beautiful joy-filled woman, with such a good sense of humor and humility. I'm so glad that so much of her goodness is seen in her children. I thank God for the blessing of knowing Ginny and the contributions she made to her family, the larger community and the church!
February 23, 2020
So sorry for your loss. Ginny was a good neighbor when we lived in Mt. Nebo. Remembering her fondly.
Toni & George Bowman
Troy Haun
February 23, 2020
Dear Cathy
So sorry for the loss of your Mom! I really enjoyed the times I was in her presence as she was so kind and welcoming and funny.
Keeping you and your family in my thoughts and prayers.
Hugs
Eileen
February 22, 2020
So sorry for your loss. Ginger was a great friend. Joanne Love

February 22, 2020
Jodi,
I am so sorry Jodi for the
Loss of your Mom. I know you were very close.
Sending Thoughts and prayers to you all!!
Sharon Doll
February 22, 2020
I am so sorry to hear this❤️My thoughts and prayers to all of you❤️May God grant you peace❤️In your time of sadness and sorrow.
Amy Payne Meli
February 22, 2020
Dear Jodi, I am thinking of you and your Dad and your family . My sincere sympathy to all. Punky
February 22, 2020
So sorry for your loss. Ginger had me at her dinner table many times as a young child with my uncle Joe and aunt Verna. Prayers and hugs to the family.
Theresa Krah Dant

February 22, 2020
I was one of those children that Ginny treated like her own. I shared many meals around her table, spent countless hours with her at church, Girl Scout meetings, Girl Scout camp, Boy Scout summer camp, wrestling matches, the list goes on and on. Her family was my second family while growing up and I will be forever blessed by her presence in my life. Linda & Steve and Dennis & Carol were also important to my spiritual growth and I am eternally grateful for the Regitz family and their willingness to share their love. My sincere condolances to the entire family, Ginny will never be forgotten.
Dawn Phillips
Visitation

Saturday, February 29, 2020
9:00 AM - 11:00 AM
Mt. Nebo United Methodist Church
673 Martic Heights Drive
Pequea, PA 17565

Map and Directions

Services

Saturday, February 29, 2020
11:30 AM
Mt. Nebo United Methodist Church
673 Martic Heights Drive
Pequea, PA 17565

Map and Directions