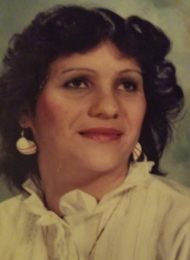 Virgen Ivette Torres, 62
January 28, 2021
Virgen Ivette Torres, 62, of Lancaster, went into the arms of her Lord and savior on January 28, 2021. Her family is very proud of her for courageously battling her ongoing health issues for more than 40 years. Born in Orocovis, Puerto Rico, she was the daughter of the late Sergio Torres Hernandez and Paula Camacho Suarez.
Ivette was a devout Catholic. She was a parishioner of San Juan Bautista Catholic Church, where she assisted with the church festivals and a member of the Legion of Mary. She enjoyed playing Bingo, jigsaw puzzles and arts & crafts. Most importantly Ivette loved being with her family, as they brought her great joy.
She will be sorely missed by her siblings: Maria L. Malpica, wife of Jorge L. of Lancaster, Daniel Torres, husband of Angelica Zays of Lancaster, Milda I. Ortiz wife of the late Andres of Southbridge, MA., Elvira Alvarado, wife of Humberto of Southbridge, MA., Nelson Torres, husband of Maria of Quarryville, Magda L. Torres, wife of Otilio Lopez of Puerto Rico and Alix S. Smucker, wife of Christopher of Lancaster, her longtime caretaker: Senaida Nunez, as well as countless nieces and nephews. She was preceded in passing by her parents and brother, Ediberto Torres.
A funeral service will be held on Wednesday, February 3, 2021 at the Charles F. Snyder Funeral Home & Crematory, 414 E. King St. Lancaster, PA at 6PM. Family and friends are invited to attend a viewing from 4PM until the service.
Watch the tribute video
Leave a condolence on this Memorial Page
Condolences to the Family
February 06, 2021
Que tristeza la pérdida de un ser humano con un CORAZÓN tan especial y un amor tan sincero como el de Titi Ivette. Siempre tenía una sonrisa para con nosotros, sus besos y sus abrazos nos recargaban el corazón, recuerdos que jamás se olvidan. Que tristeza saber que ni nos enteramos de cuado era su sepelio. Siempre la recordare con su corazón genuino. Que mucho tenemos que aprender de ella. Descansa en Paz titi, Edinil Torres.
February 03, 2021
Titi ivette I can't express the feelings I have… I have such great memories of you I miss you so much Titi I love you Titi fly high with the angels love you!
Sandry
February 03, 2021
My deepest condolences to the family Rest In Peace ivette
milagros y family
February 02, 2021
Vuela alto mi querida hermana, estas en un lugar junta con mami papi y Eddie. En el cielo nos veremos pronto. Estas en nuestros corazones..Magda Junito.y Fam.
Magda Torres
February 02, 2021
Mis condolencia a todos l@s herman@s y familiares cercanos , ya descansa titi Ivet, triste cuando parte un familiar físicamente pero nos quedan los recuerdos y bellos momentos de ella, ya estan todos reunidos en el paraíso, mis Abuelos y mi tío, siempre los recordaremos a todos gracias por haber compartido el tiempo necesario aquí en la Tierra hasta luego a todos nos reuniremos en otro momento…..
Familia Soto Lopez
Jasmari y Jean Carlos (Bolo)
Jamairi y Jean Gabriel
February 02, 2021
Vuela alto mi querida hermana. Ya estas con Papi, Mami, Eddie y demás familia!! Donde ya no hay más dolor. Love you and miss you!! Hasta que nos volvamos a ver. No te digo adíos sino hasta luego❤️🙏. Oraciones para toda la familia. Amor y unidad. Dios los bendiga. Love you, Milda
February 02, 2021
Ivette te recordaremos y te amos.Vuela alto junto a nuestros padres y hermano .Te extrañaremos.
Alix smucker
February 02, 2021
Después de que las lágrimas se secan y los adiós se han dicho, tenemos que aferrarnos a los recuerdos felices que hayamos compartido con nuestros seres queridos que ya hayan partido. Esto es lo que los mantiene vivos en nuestras mentes y en nuestros corazones. Que su Alama descanse en paz. Familia Larrea ♥️

February 02, 2021
Les envío mis condolencias a todos los familiares de mi querida ivet e perdido a un pedazo de mi vida todos saben cuánto la amo estoy muy triste ella tendrá un lugar muy especial en el Reyno de los cielos junto a sus seres amados adiós mi Ivette gracias
Zenayda Nuñez su cuidadora
February 01, 2021
Elvira, Please accept my deepest condolences on the passing away of your beautiful sister. She is reunited with your parents in God's Kingdom of Heaven. May He comfort you on the sadness you are going through.
Barry White
Visitation

Wednesday, February 03, 2021
4:00 PM - 6:00 PM
Charles F. Snyder Funeral Home & Crematory
414 East King Street
Lancaster, PA 17602

Map and Directions

Services

Wednesday, February 03, 2021
6:00 PM
Charles F. Snyder Funeral Home & Crematory
414 East King Street
Lancaster, PA 17602

Map and Directions