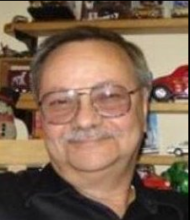 Vincent Anzalone, Jr., 75
December 24, 1946 - September 16, 2022
On Sept. 16, 2022, Vincent Anzalone, Jr. passed from this life and went to his eternal life with Christ. He was born to Maria Stella (Sanguedolce) and Vincent Anzalone, Sr., on Dec. 24, 1946, in Staten Island, NY. On Sept. 13th he celebrated his 53rd wedding anniversary with Marie T. (Fulginiti) Anzalone.
In NY, Vincent attended St. Ritas' Parochial School and Port Richmond High School in Staten Island. During the Vietnam War he was drafted and proudly served his country from 1967-1968.
Vincent will be sorely missed by his loving wife Marie; their only son, Anthony, husband of Lori of York; grandsons: Nicholas, Michael and Dominic, and his beloved dog Rico. In addition, he is survived by his sister-in-law Carmella Anzalone; a niece, Donna Comis; a nephew, Vincent Anzalone; brothers-in-law, Nick Fulginiti, husband of Bonnie, and Frank Fulginiti; as well as great nephews and nieces. He was preceded in passing by his parents and brothers, Rosario "Ceri" and Nicholas "Nick" Anzalone.
Guests are welcome to a visitation at the Charles F. Snyder Jr. Funeral Home & Crematory, 3110 Lititz Pike, Lititz, PA 17543 on Tuesday, Sept. 27, 2022, from 9:30-10:30AM. A Mass of Christian Burial will follow at St. James Catholic Church, 505 Woodcrest Ave., Lititz, PA 17543 at 11 AM with Fr. Ryan Fischer as Celebrant. Vincent will be laid to rest in a private service with full military honors at Fort Indiantown Gap National Cemetery in Annville, PA. Memorial contributions in Vincent's name may be made to the Vietnam Veterans Memorial Fund.
Leave a condolence on this Memorial Page
Condolences to the Family
September 29, 2022
Marie so sorry to hear about your husbanf
my thoughts and prayers are with you and your family
September 27, 2022
Dear Marie, Anthony and family,
So very sorry for your loss. May all of your cherished memories give you comfort during this very difficult time. Keeping you in our thoughts and prayers.
Sincerely.
Jim and Mary Ann Mahler
September 26, 2022
Marie
Please accept my sincere condolences on Vincent's passing. What a great guy . He was great to work with at the Armstrong Lab. He was a hard worker. Always willing to help . Always ready with ideas to solve our problems . He was a key member of our Geezer " monthly breakfast group, always providing information, humor and good conversation. We will miss him . On behalf of the "Geezer group" please accept our condolences and hopes that you and yours can have your cherished memories soften your loss.
Sincerely
John Garrick .
September 26, 2022
Marie, My deepest sympathies on the loss of your husband. May his memory be eternal. 🙏❤️Stella Papademetriou
September 26, 2022
Dear Marie,
Our hearts are heavy with sadness for your loss. May God give you strength in the on coming days. He will be greatly missed.
September 24, 2022
My sincere condolences to the whole family I am so sorry for your loss. Thoughts and prayers for all of you.
September 22, 2022
So sorry for your loss. My God bless you and your family.
September 22, 2022
My deepest sympathy to you and your family on the passing of your father. Love from "your " Ann Marie.
September 21, 2022
Dear Marie and Anthony,
I was so sad to hear of Vince's passing…I will always remember our visit to the Italian festival with both of you! That was a great day! There are no words that can ease your sorrow but please know hat you are in my thoughts and prayers.
September 21, 2022
God needed him, though you were not ready to say good-bye. Our heartfelt condolences, Tony and Family, on the loss of this wonderful man in your lives. May you find comfort in your Faith and in so many amazing memories of your time with him. Love,
Marguerite Sottek and Family
Visitation

Tuesday, September 27, 2022
9:30 AM - 10:30 AM
Charles F. Snyder Funeral Home & Crematory
3110 Lititz Pike
Lititz, PA 17543

Map and Directions

Services

Tuesday, September 27, 2022
11:00 AM
St. James Catholic Church
505 Woodcrest Avenue
Lititz, PA 17543

Map and Directions