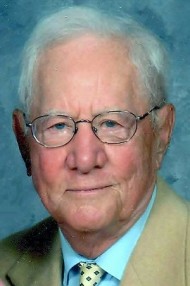 Victor Scott Garman, 93
November 19, 2015
Victor Scott Garman passed away on November 19th at the age of 93. He was born in Lebanon, Pennsylvania to Victor and Lucy (Walmer) Garman in 1922. At the outbreak of World War II, he enlisted in the Marine Corps and served as an NCO in the Pacific Theater, including the Guadalcanal Campaign, until the end of the War. He received degrees from Indiana State College and Franklin and Marshall College and taught at Warwick High School and Millersville State College. Scott was an avid tennis and badminton player and achieved national amateur rankings in both sports. He was an active member of St. Paul's Lutheran Church of Lititz and a resident of Luther Acres. His wife of 59 years, Fay Carpenter Garman, died in 2014. He is survived by a son, Greg Garman, his wife Vicki and three grandchildren, and a son Jess Garman, his wife Arlene, and one grandchild.
A memorial service for Scott will be held on December 5th at 11:00 in the Chapel at Luther Acres, Lititz.
Leave a condolence on this Memorial Page
Condolences to the Family
December 13, 2015
This weekend as I was catching up on some newspaper reading, I saw the news about Mr. Garman. I recognized him immediately as my college speech instructor at Millersville back in the late 60's. My memories of him and that class are very good ones. Although I entered the required class shy, terrified of speaking in front of a group, and definitely nervous, it was a tremendous confidence builder, and credit for that goes to the instructor and his expectations. I still remember the eight required speeches and the new skills I aquired with each one. After graduation and in the years to follow, I went on to teach in public schools for thirty three years and, oddly enough, became a regular public speaker for a variety of causes and activities. Thank you Mr. Garman. My condolences on your loss. Sherry Kalbach
December 04, 2015
My heart was filled with sadness in learning of the passing of Scott. I had the privilege of playing tennis with Scott on many occassions at the Manheim Tennis Club. This was in the late 80s and early 90s and I was just a young kid. The guys at the club would often pair us together because my young legs would help to cover a lot of the court. We hit it off instantly and whenever we had the chance we teamed together to play doubles. We lost more than we won, but we developed a friedship and appreciation for each other. I especially admired his work ethic. I would often find him practicing on the ball machine, working on a variety of shots. He always wanted to improve his game, even as the years and mileage on his body was trying to keep him from doing otherwise. Please accept my condelences on the passing of a great man and friend.
Sincerely,
Brian Peters, Manheim
November 30, 2015
Dear Greg, Jess, and families:
I was saddened to read about your Dad but know he has not been in good health for quite awhile. I saw him in the summer having lunch with Dan Doremus in Katie's Grille at Luther Acres.
Your Dad and Mom were so welcoming to us when we moved in 1970 from Virginia to Lititz. They even invited us to their New Year's Eve party that year. They became very good friends.
Of course we also attended church with them at St. Paul Lutheran.
They were two very special people.
Please know you are in my prayers.
Sincerely,
Gloria Anderson
P.S. I am unable to attend the service for your father – this makes me sad that I cannot honor him by celebrating his life by attending his funeral, also sorry because I will not get to see all of you.

November 29, 2015
My husband and I would like to extend our heartfelt sympathy in the death of your father. We attended church with your parents at St. Paul Lutheran, and enjoyed getting to know them. Your Dad was such an intelligent, active, kind, and thoughtful man. He and your mother handled life's challelnges with such dignity and grace. Scott and Fay were an inspiration to many and will not be forgotten.
Love,
Jim and Nancy (Furlow) Landis


November 29, 2015
I have many pleasant memories of Mr garman as an understanding teacher and very friendly person. May your loss be lessened by your memories.
Trina Leed Williams. Warwick class of 65
Services

Saturday, December 05, 2015
11:00 AM
Luther Acres Chapel
600 E. Main St.
Lititz, PA

Map and Directions