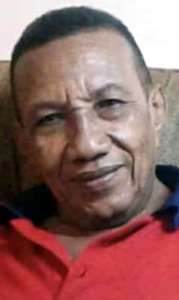 Victor Pena DeJesus, 66
December 14, 2018
Victor Pena DeJesus, 66, of Lancaster, passed away on Friday, December 14, 2018 at home. Born in Villa Altagracia Dominican Republic, he was the son of the late Kan Pena and Lucia de Jesus.
Victor was employed by Pony Express Foods. Victor was a hardworker. He never missed a day of work. Victor enjoyed politics and having political discussions with those around him. Victor will be missed by all of those who knew and loved him.
Victor is survived by his three children: Victor Pena Encarnacion (Laury Melissa Checo) of Cleveland, OH, Yasmina Pena Encarnacion (Odalis Blanco) of Cleveland, OH and Yoneris Y. Pena Saladin of Puerto Rico; four grandchildren: Pamela Pena, Abigail Blanco, Jade A. Pena and Alondra Pena as well as three brothers and two sisters.
Victor will be laid to rest privately in the Dominican Republic at the convenience of the family.
Leave a condolence on this Memorial Page