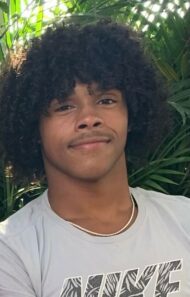 Tyreese "Ty" Deshon Smith, 16
June 25, 2022
Tyreese "Ty" Deshon Smith passed away unexpectedly after a tragic car accident on Saturday, June 25, 2022, at the age of 16. He was the loving son of Bernice McKenzie.
He recently completed his sophomore year at Conestoga Valley High School, where he played on the Varsity football team. Ty loved playing sports. He was in the CV Mat Club and Youth Football during 5th and 6th grade. He also played on the Junior High Football and Basketball teams.
Ty will be remembered for his playful personality and his ability to bring joy to others. He had an infectious smile that naturally attracted people to him. He was dedicated to his family and will be remembered for his countless selfless acts.
He will be sorely missed by his mother Bernice; brother John Weigele; half-sisters, Ashley and Amber Smith; many aunts, uncles, cousins and extended family; as well as his teammates and classmates. He was preceded in passing by his maternal grandmother, Diane McKenzie.
A Funeral Service will be held at 1 PM on Tuesday, July 5, 2022 at the Charles F. Snyder Jr. Funeral Home & Crematory, 3110 Lititz Pike, Lititz, PA 17543. A viewing will be held from 10 AM until 1 PM at the funeral home. Guests are encouraged to wear their CV gear and be comfortable. The Rowdy Rills are welcome. Interment will follow at Mellinger Mennonite Cemetery. In lieu of flowers, the family would prefer memorial contributions be directed to The Tyreese Smith Scholarship Fund, c/o Conestoga Valley School District, 2110 Horseshoe Road, Lancaster, PA 17601.
Leave a condolence on this Memorial Page
Condolences to the Family
September 26, 2022
I am so sorry for your loss I can't imagine how you feel I'll miss his goofy jokes and his smile
July 09, 2022
I am very sorry for your loss. I will miss Ty's joyful and contaigous smile and happiness.
July 06, 2022
Rest In Peace, Ty.
Mr. Scott #32
July 05, 2022
I am so sorry for your loss. My thoughts and prayers are with you during this difficult time.
July 05, 2022
May God give you comfort in your time of sorrow.
May the passage of time
heal your grief, the passing of Ty brings so much sadness. Ty was a bright and beautiful young man
I am glad to have gotten to know him and have him as a friend to my grandson he will be greatly missed.


July 05, 2022
I am so sorry for your loss Bernice, My prayers are holding you close to my heart. Maria Flores
July 02, 2022
MY DEEPEST CONDOLENCES GO OUT TO THESES YOUNG MEN AND THIER FAMILIES! Zula Robinson
July 02, 2022
Bernice as a mother my heart aches for you and John. Tyreese was a wonderful young man. You a rasised a great son. My prayers go out to you. Your friends Peggy,Raymond and Junell Wright


July 02, 2022
As a mother my heart goes out to you.A mother should never have to bury a child.Use your family and support and take it day by day hour by hour if you have to.God bless you and your family🙏🏾❤️
July 01, 2022
Bernice and JD I am so sorry. Words just don't seem adequate. Ty was such a sweet kid with the best heart and smile ever. We are sending all our love.
July 01, 2022
Sending lots of prayers to his mother that she will receive mays days of comfort and peace. May his family and friends be strengthened through the loss.
July 01, 2022
Awww this breaks my heart..gone way too soon. To his mother and family I'm sorry for your pain ,and may Our Heavenly Father and Mother hold him in peace and grace.To see that he passed on my birthday ,makes me even more sad..God Bless you!!
July 01, 2022
God please comfort his mother, as a mother to a 16 year old boy, my heart is so heavy for the loss of your beautiful son. Please lean on God during this time, my most sincere and deepest condolences 🙏🏾
July 01, 2022
Ty was such a great person and was always there for you if you needed him. My heart hurts for Ty's family. R.I.P beautiful angel
June 30, 2022
May the Lord take you in his arms and keep you. May he keep your family in his arms also and protect them.
June 30, 2022
My heart goes out to the family. Tyreese was such a bright person and he affected so many lives in a positive way. He will always watch over each and every one of his friends. He's always taken care of everyone and now God's going to take care of him.
June 30, 2022
My heartfelt sympathies to all Ty's family. I can only imagine the pain you are feeling. Please lean on your CV community whenever possible. We are here for you. I can imagine Bernice can use many hugs to bear this loss.
xo
June 30, 2022
So sorry for your loss. May peace be with his family and friends. Rip Young Man.
June 30, 2022
Bernice,
I can't imagine the pain and hearbreak you, John, and your entire family are experiencing. Ty was such an awesome kid! My favorite memory of him will always be from just last football season, I know you know it well. The last game of the season, senior night, pouring down rain, and CV getting hammered by the other team. Coach puts Ty in as running back late in the 4th quarter and he became a beast and was unstoppable. We all were so happy and proud of him, you especially! There was no way we were going to come back and win, but he helped us end the night on a higher note with his infectious smile and excitment and love for the game. My family is grateful and honored that we had the priveledge of knowing him through you, a life long school friend, and through football. He will be greatly missed by all! You are in our hearts and our prayers!
June 30, 2022
So sorry for your loss. My condolences.
June 29, 2022
Berniece, JD and family,
May the Lord bless you and keep you and cause his face to shine upon you. May he be gracious to you and give you peace. Very sorry to hear of your loss.
Love,
Briana Cowen & Corey
June 29, 2022
Condolences to the entire family. Ty, you will be so missed. #34 forever.
June 29, 2022
My deepest Condolences to the family.
June 29, 2022
My condolences to you & your family. I can't even imagine how heart broken you are. His spirit will always walk beside you. God give this woman & her family peace in knowing that he is with you , that he is in good hands.
Visitation

Tuesday, July 05, 2022
10:00 AM - 1:00 PM
Charles F. Snyder Funeral Home & Crematory
3110 Lititz Pike
Lititz, PA 17543

Map and Directions

Services

Tuesday, July 05, 2022
1:00 PM
Charles F. Snyder Funeral Home & Crematory
3110 Lititz Pike
Lititz, PA 17543

Map and Directions