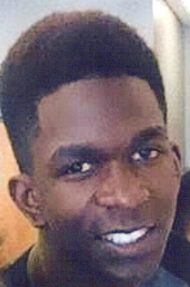 Tyreek Shyheim Gardner, 22
April 22, 1997 - May 30, 2019
Tyreek S. Gardner was born April 22, 1997 on Fort Leonard Wood Army Training Installation in St. Robert, Missouri. During his days as a toddler, Tyreek enjoyed riding his power wheels trucks, bikes, playing on his swing set in the backyard, and watching Barney endlessly. As Tyreek grew older he began to enjoy fishing and just being an all-around nature boy interested in every aspect of the outdoors. On September 11, 2001, Tyreek and family moved to Lancaster, PA. Tyreek attended Bucher Elementary, Neff Middle, and Manheim Township High School. Tyreek was very athletic and very competitive. Tyreek played 1st base in Little League baseball, wide receiver and corner back in football, wrestled, and reached his blue belt in Taekwondo. Tyreek's hobbies include, video gaming, listening to very loud music, fishing, and playing with basically anything electronic.
Tyreek departed this life on May 30, 2019 very abruptly and unexpectedly.
He leaves to cherish his memory: his son, Carter James Gardner; his mother, Wannie; his father, Courtney; his brothers, DeAnthony and Adonis; and sister, Paris; along with a host of other relatives and friends.
Memorial Services for Tyreek were held privately.
Leave a condolence on this Memorial Page
Condolences to the Family
November 25, 2021
Fly high bro bro watch over ur son an family we miss you all love bro
April 22, 2020
we grow up together, you were always crazy lol i miss all bus rides and all laughter.
happy birthday. we are 23 and its feels like hell down right now. i know your in better place
forever rest in peace.
aregash tereffe
June 30, 2019
Despite the fact we may have drifted apart bro, ill always cherish them fun times we had in school and out. I remember we all had nicknames from the teachers and Mrs. Merrill used to call you ReekyRoo. You will be missed and never forgotten. My condolences to your friends and family. May you rest well and watch over us all. -Millz
June 21, 2019
I will never forget growing up with you and how manny good memories I have. You and Ljay always had me buggun when you guys would wrestle everyday after school. Il never forget your wild laugh. Rest easy 😓☝🏽
Summer F☝🏽
June 17, 2019
I miss you lil Bro fly high broskii

Maurise Hill
June 13, 2019
I was in the jam while this went down im sorry bro i failed u💯😥 but just know i will never forget u fly high big bronem😇👼🏿 ima drop these bangers for u i love u bro❤❤ ya hurd and to the family im so sorry for ur lost😥😭
June 12, 2019
Tyreek you are truly missed I will never forget you and all the fun times we had you were there for me when I had no one you are a true friend and will forever be missed I love you reek

Ashleigh
June 12, 2019
So young man my condolences to His family 🙏🏼😔😞
Jeremih rivera
June 11, 2019
Big kuzzo ima miss you bro but we gonna meet one day again just hold it down in the heavens u inna place were u aint gotta check yuh shoulder no moe
Bub
June 11, 2019
No so we ain't never gone forget you brotha man 💫🤟🏼They knew how we was coming fly high
Gav
June 11, 2019
You will be truly missed little cousin
Rachell