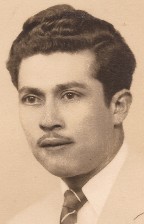 Tomas "Pops" Torres, 82
Tomas "Pops" Torres, 82, was called home on Monday April 15, 2013. A Loving Father, Grandfather, Brother, and Friend.
Pops was born in San German Puerto Rico, son of the late Tomas Torres and late Carmen Irizarry. As a young man, and the oldest of his siblings, Pops left Puerto Rico and migrated to New York to begin building a bridge of prosperity to empower his lineage.
Pioneer, beautiful, devoted, resilient, strong, wise, loving, honorable, noble, gentleman, generous, teacher and selfless Saint. These words and many more are words that define the man we call "Pops." He was a man who led by action not through rhetoric. The foot prints Pops left through life's journey was a path that can best be exemplified through the legacy he has left behind.
An avid sports fan, appreciating the Jets and Mets, he was an even bigger fan of his family
Pops is preceded in death by his mother, father, sister, Maria F. Torres, 2 brothers, William Torres and Iraldi Torres, a son, James Torres, and grandson, Jonathan M. Torres.
Pops is survived by sister, Ramonita, wife of Monserarte Negron; brother, Anibal Torres Irizarry of Florida; brother, Miguel Torres; sister-in-law, Felicita Torres, Hortencia Torres; 7 sons: Oscar E. Lucret married to Leslie, Thomas Torres married to Carolyn, Michael A. Torres married to Maribel, William J. Torres married to Lilly, Joseph Torres, John Torres married to Tanya and Edwin Torres; 2 daughters, Gladys M.Garcia, Annmarie G. Torres; 27 grandchildren and 38 great grandchildren.
A Funeral Service will be held at 11AM on Thursday, April 18, 2013 at the Charles F. Snyder Funeral Home & Crematory, 414 E. King Street, Lancaster, PA 17602. A viewing will be from 10-11AM at the funeral home. Interment will be at Conestoga Memorial Park. In lieu of flowers, contributions may be made in Pops name to SACA of Lancaster, 545 Pershing Avenue, Lancaster, PA 17602. To send the family online condolences, please visit SnyderFuneralHome.com. Charles F. Snyder Funeral Home & Crematory 717-393-9661
Leave a condolence on this Memorial Page
So sorry for your loss. May you find comfort within each other during these difficult times. God Bless You.
Celines Huertas & Family
Sorry for Your loss. May the sorrow you feel in your heart be lighten by the love that surrounds you
To Joe and family my sincere condolences got out to you in this troubled time, no that your father is in a better place. Time and memories will get you through,he may be not be with you in flesh but he will always be with you in spirit .
God Bless
From The Henderson Family
Chris
Shauntel
King
Kyron Woods