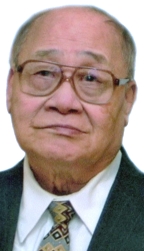 Tinh Quang Tran, 84
Tinh Quang Tran, 84, of Lancaster, passed away on Tuesday morning, March 29, 2001 at his home.
He was the husband of Linh Tuyen Thi Tran, with whom he was married to 56 years this past December 27th. Born in Nam Dinh, Vietnam, he was the son of the late Thanh Quang Tran and the late Ty Thi Nguyen.
Tinh has served as an officer in the Vietnamese Navy for 25 years. Coming to the United States in 1975, he had worked for the Shasta Co. as an assembler and production operator for 21 years.
He was a member of Vietnamese Catholic Congregation of St. Anthony of Padua Catholic Church.
In addition to his wife, he is survived by his children: Toan Quoc Tran married to Theresa Lan Tran of Silver Spring, MD, Tien Ngoc Tran married to Teri Thu Tran of Clarksburg, MD, Bich Thu Nguyen married to Cuong Kim Nguyen of Lancaster, Minh Thu Thi Tran married to Tuan Quoc Tran of Alexandria, VA, Michael Trung Tran married to Ngoc Tram Tran of Alexandria, VA, and Tin Trung Tran married to Thu Trang Ngo of Clarksburg, MD and his 10 grandchildren. He is also survived by his brothers: Dzung Anh Tran married to Dzu Thi Nguyen , Thu Quang Tran married to Cuc Thi Le, and Minh Quang Tran married to Ngoc Linh Chu Tran , all of Lancaster. He was preceded in death by his sisters, the late Nhuong Thi Tran married to Trieu Hai Ngo of Lancaster, the late Chau Thi Tran married to the late Cuong The Dinh of New Orleans, LA, and his brother, the late Thong Tri Tran married to Thao Thi Pham of Boyds, MD.
Families and friends will be received at the Charles F. Snyder Jr Funeral Home & Crematory, 3110 Lititz Pike, Lititz, PA on Thursday March 31 and Friday, April 1, 2011 from 6-9PM, and again on Saturday, April 2, 2011 from 8-9:45AM. The Mass of Christian Burial will be celebrated at St. Anthony of Padua Catholic Church, 501 E. Orange St., Lancaster, PA on Saturday at 10:30AM, with interment to follow in St. Mary's Catholic Cemetery. To send an online condolence, please visit SnyderFuneralHome.com. Charles F. Snyder Jr. Funeral Home & Crematory 560-5100
Leave a condolence on this Memorial Page