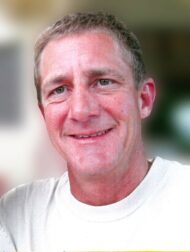 Timothy L. Landis, 65
December 22, 2021
Timothy L. Landis, 65, of Lititz, PA died peacefully on Wednesday, December 22, 2021 at Hospice and Community Care, Mt. Joy, surrounded by his loving family after a lengthy battle with cancer. He was also known as "Wilbur" to a few close friends. Born in Lancaster, PA he was the son of the late David Landis and Mary (Wenger) Landis. Tim was the loving husband to Linda (Stabley) Landis for over 35 years.
Tim attended York Academy of Arts as well as Millersville University where he earned a Bachelors Degree in Fine Arts. His three-dimensional wire and clay sculptures expressed his talent and creativity in the Arts. Tim was a master mechanical technician. He took pride in his skills in any machine he assembled or fixed. He believed in quality workmanship. Prior to retirement, Tim worked for Deere Country in Mt. Joy, his favorite employer in his lifetime. Previously, he worked for Bent Creek Country Club and his grandfather's business, John E. Landis Company.
Surviving in addition to his wife, Linda of Lititz, is a daughter, Kelsey Grove (Todd) of Elizabethtown, and son, Tyler Landis (Ruth Shadle) of East Petersburg; his brother Steve Landis (Judy) of Leola; and sister, Gwen Hostetter (Phil) of Lancaster; as well as a host of nieces and nephews.
Tim had a love for animals and all living things. The Landis house had an open door to feral and unwanted cats that became part of their family. He built special cat houses for outdoor cats to keep warm during inclement weather. Tim shared a love of his vegetable garden with his wife and grew many varieties of mild and hot peppers to produce his famous specialty fruit salsas and BBQ sauces, each unique of its own. Tim was a devoted Eagles fan and enjoyed gathering with friends and family to cheer them on.
Tim was like a walking history book who loved to read and share his knowledge of the past. He was a great storyteller. He was a devoted, loving husband and father who adored his children and loved his family and friends. His quirky sense of humor will be surely missed by all who knew him!
In lieu of flowers, memorial contributions may be made to Hospice and Community Care, 685 Good Drive, Lancaster, PA 17601 or Johns Hopkins Sidney Kimmel Cancer Center, 401 N. Broadway, Baltimore, MD 21231. Family and friends will be received from 5 pm until 7 pm on Friday, January 7, 2022 at the Charles F. Snyder Jr. Funeral Home and Crematory, 3110 Lititz Pike, Lititz, PA 17543. A Celebration of Life will be held at 2 PM on Saturday January 8, 2022 at the funeral home. Tim requested that friends and family bring memories or stories that bring smiles and laughter to the service. Interment will be private.
Leave a condolence on this Memorial Page
Condolences to the Family
January 08, 2022
Tim Landis was my neighbor and friend for 28 years. He was a true family man and loved his wife and children and extended family dearly. He also will be fondly remembered in my heart for his love of any and all cats and plants. He was a friend who extended advice and hope when needed and humor to keep us all going. The next stray cat that arrives in our neighborhood just might be sent by his spirit.
Sheryl Bustin
January 08, 2022
Beautiful service Linda and family. Please know we are thinking of you during this difficult time. May fond memories of your life together bring you peace. Larry and Nancy Zeamer
January 08, 2022
Very nice service. I never met your husband Linda but all indications lead me to believe he was truely a kind wonderful loving man. May God bless you and your childern.
Joyce Stabler
January 08, 2022
My heart aches for family and friends that shared his life. I'm grateful for having been best friends during our early years of York academy and millersville. I'll never forget his guarded excitement upon meeting Linda at one of our last infamous long lane farm gatherings. He always kept his "cool" and confidence during challenging moments. Gifted with a mind both empirical and creative and an infectious humor he will remain in our hearts and memories forever. Kevin Garber
January 06, 2022
I am deeply saddened with the loss and pain that you Linda and the family are enduring and no words can truly express it. I am so blessed to have had the windows of "wit and wisdom" from Tim. He made me laugh and feel so confident about my path in life Ashe was so encouraging. His guiding words and responses during very difficult times influenced me to "stay the course". I hope that all the love and prayers from so many will lift up your hearts. With Tim in HIS corner, Gods got a true fighter to find a cure for Lung Cancer. I believe❤️Kara Rose
January 05, 2022
What I know of this incredible man, beautifully described here, is that he was father to one of the finest students I have ever had. Kelsey, I am so very sorry for your loss. I know that your great spirit and passion for life will provide you with the strength to move on each day, taking baby steps, as you grieve his passing. I lost my mother when I was about your age, and I continue to feel her presence every day. Please know that it does get easier… Sending you hugs and lots of love.
January 03, 2022
We will miss you Tim!! May you have eternal peace in heaven. Love Jim And Jean
January 01, 2022
Prayers and blessings and smoke going up for for Tim's family and friends. You were one of my favorites. I am so happy I got to spend time with you a couple of years ago when I was back in Pennsylvania. Still the same funny guy. I always wished that we lived closer. Hugs to Linda.
Karen Bair Ward
December 30, 2021
Linda,
Wishing you comfort, peace & fond memories.
Sharon Covert Yopp

December 28, 2021
Linda, I am so sorry to hear about your Tim. My thoughts and prayers are with you and your family. You were by his side through everything. Know that many people care about you. Take care, Love Paula 🙏🏻🙏🏻🙏🏻🙏🏻🙏🏻🙏🏻
December 27, 2021
Tim Landis was my first official friend. I met him in Lititz in the fall of 1960 on a rainy day when I was four years old. We learned to play baseball, football, and basketball together. Learned how to sled and skateboard…even golf as time progressed (He was ALWAYS better than me) We also shared the same interest in music and arts. He was an excellent artist from a very early age and got me interested in drawing and painting when we were both little. He was truly gifted with that. We both experienced the Beatles in 1964 and from that point on, everything was different as far as music was concerned. We would talk about it and listen to new music constantly throughout our lives. I was broken-hearted in 1965 when we moved from Lititz to Quakertown PA, and I knew I wouldn't see him every day. The day we moved he made me oatmeal cookies and brought them over to our house in a shoebox. I remember it like it was yesterday. I missed him like crazy and while we had our disagreements like most friends, we had a bond that only kids can understand. His parents had a piano and would patiently put up with me hitting the keys (I wouldn't call it "playing") when they were eating dinner (can you imagine?) …

After my move away we would usually get together in the summer and the winter to visit and sometimes our families would vacation in Maine together. We did that through the rest of elementary school and high school. And in the summer of 1971, we had the bright idea to ride from Quakertown all the way to Lititz on bike. I can't believe our parents let us do that, but they were probably exhausted with both of us by then. It was a blast!… Also in that time, he taught me how to shoot a shotgun, rifle, ride and shift a motorcycle and ultimately how to repair my MG which was I was always grateful for because British cars were not known for reliability. Unfortunately, after high school, we both left for college, careers, marriage, and all the distractions that can eventually pull people apart, eventually causing us to drift apart. We saw each other sporadically but eventually lost touch until I saw him again in 2001 when he was visiting my town for his daughter's soccer game. It was a short visit, but it was like we just picked up where we left off. Only childhood friends are capable of that. His wire sculpture was amazing. His farming and gardening knowledge of peppers and salsa was equally amazing. He was curious about almost everything. And his love for animals was unconditional. He saved cats, squirrels, turtles…. you name it. I was (and will be) eternally grateful for the last conversation we had in September. True to form he was eternally optimistic and in fighting form. We continued to text until he left us. I am comforted that we will meet again if he puts a good word in for me up there. Until then I will miss him and continue to save the neighborhood turtles (which I am known for) in his honor


December 26, 2021
I only knew Tim as Steve's little brother. Living near the Lion's Club playground. My heart goes out to the Landis family. Cancer definitely sucks. Lost our nephew on 12/1. My condolences to all of the family. Huggs.
Visitation

Friday, January 07, 2022
5:00 PM - 7:00 PM
Charles F. Snyder Funeral Home & Crematory
3110 Lititz Pike
Lititz, PA 17543

Map and Directions

Services

Saturday, January 08, 2022
2:00 PM
Charles F. Snyder Funeral Home & Crematory
3110 Lititz Pike
Lititz, PA 17543

Map and Directions