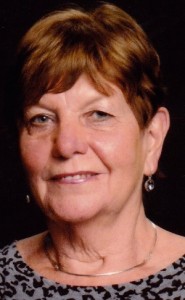 Tilly Schouten, 80
February 28, 2016
Tilly Schouten, 80, passed away peacefully on February 28, 2016. She was the loving and devoted wife of Gerard M. Schouten, to whom she was married for 48 years prior to his death in 2010.
Born in Eindhoven, Netherlands, Tilly was the daughter of the late Harry and Nellie Broos. While in Holland, she was the secretary to the managing director of Van Doorne's Automobiel Fabriek. There, she met her husband, Gerry, whom she married after six dates. She immigrated to the United States with him in 1962, and lived in Lititz since then.
Tilly was an immensely talented craftsperson and renown for her Scherenschnitte paper-cuttings, often using her husband's designs in her work. She enjoyed cooking gourmet food with her husband, which was enjoyed by both family and friends alike. Tilly diligently followed politics and the news, particularly on CNN, and was an avid stock enthusiast. She enjoyed chatting with friends on Facebook, playing computer games, traveling and reading People magazine.
Known as an eternal optimist, Tilly had the uncanny ability to see the good in everything and everybody. She lived life to the fullest, and never knew a dance floor she didn't like. Her sense of humor drew many to her, including long-time Lititz girlfriends and members of St. James Roman Catholic Church in Lititz.
Tilly's greatest joy and accomplishment was her family. She loved dearly and took great pride in her husband, Gerry, and their four sons: Anthony, Ian, Erik and Alex. She welcomed with open arms her sons' wives and companions: Joan, Lisa, Jackie and Amy. She cherished deeply her ten, precious grandchildren: George, Andrew, Caroline, Lauren, Sara, Colin, Madeline, Emma, Matthew and Grace. She also enjoyed a loving, life-long friendship with her siblings Riet, Bea and Frank, and their companions, Hans and Diane, which is a testament to the priority she placed on family. She will be sorely missed by all.
Please join in celebrating Tilly at a Mass of Christian Burial at St. James Catholic Church, 505 Woodcrest Ave., Lititz, on Saturday, March 19th at 11:00 a.m. Tilly's family will receive friends from 10:00 a.m. to 11:00 a.m. at the church prior to Mass. A private inurnment will be in Witness Park. Finally, a party feting Tilly's life will be held later that day at the Eden Resort, 222 Eden Rd., Lancaster. All are invited to raise a glass in Tilly's memory.
The Schouten family is immensely grateful to United Zion Retirement Community, 722 Furnace Hills Pike, Lititz, PA 17543 and Hospice & Community Care, P.O. Box 4125, Lancaster, PA 17604-4125. Please consider donating to these charitable organizations in Tilly's memory. She would be thankful if you did.
Leave a condolence on this Memorial Page
Condolences to the Family
March 19, 2016
I am so sorry to hear about your loss! My thoughts and prayers are with you. Take care, Sincerly, Brad Kane
March 16, 2016
My best memories of Tilly were of our friendship in the 70's. We would go to every exercise class offered that had babysitting for Alex and my 3 little ones. Yoga at the Y was our favorite. Oh, how we laughed. She was a true role model to me. She will be missed. Our sympathy to everyone in your family. Mary Ann & Joe McSparran


March 07, 2016
Our sincerest sympathy in the loss of Tilly. We were her neighbors for 14 years and will miss her greatly.
Jean & Norman Lannigan @#5
March 04, 2016
Our condolences to Tilly, thoughts and prayers to the family.
Warmly,
Brooke and Brittany
March 03, 2016
My sincere condolences to your family at this difficult time. Tilly. Was such a fun, life loving woman. She was a neighbour to my son, Adam and I had the privilege of having many ot her beloved grandchildren in preschool. I saw her recently and the first thing she asked was how Adam was. Always the thoughtful one. I have many pieces of her artwork and I will always treasure them. Sincerely, Denise Bedger
March 03, 2016
Tante Tilly was one of the best Aunts a girl could have. I have such fond memories of spending time in Lititz visiting Tilly and Gerry with my parents. My heart goes out to my cousins and their families. You are all in our thoughts and prayers.
March 01, 2016
MY sincerest sympathy during this most difficult loss.
She will be missed by friends and neighbors.
Carole J. Rusnak
A Pebble Creek Neighbor

Visitation

Saturday, March 19, 2016
10:00 AM - 11:00 AM
St. James Catholic Church
505 Woodcrest Ave.
Lititz, PA

Map and Directions

Services

Saturday, March 19, 2016
11:00 AM
St. James Catholic Church
505 Woodcrest Ave.
Lititz, PA

Map and Directions