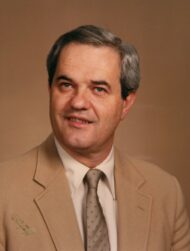 Thomas (Tom) William Stork
March 09, 2023
Thomas (Tom) William Stork, 87, of Lititz, went to be with the Lord on Thursday, March 9, 2023. Tom shared 66 years of marriage with his wife Josephine (Josie) E. (Haefner) Stork. Born in Lancaster, he was the son of the late Charles and Ida (Hilbert) Stork.
Tom graduated from Lancaster Catholic High School in 1953. He was a Senator's Scholarship winner and graduated from the University of Pennsylvania Wharton School of Business in 1957. While at Penn, Tom served as President of his fraternity, Phi Sigma Kappa. He was also very proud to be part of the Penn football team as their manager.
After graduating from Penn, Tom started his career at the old Ma Bell Labs and held various managerial positions outside Philadelphia. In 1970, Tom and Josie moved back to Lancaster where Tom worked as General Manager of the John Wright Company. He formed his own sales representative company, Bowers and Stork, in 1975. This company eventually combined with Ivy Stone Group where Tom spent the balance of his career.
Tom loved the Lord, his family, his church, and his community. Tom was very involved in "The Light of Christ" Prayer Group, church leadership, and was voted into the Lititz Borough Council. He gave his time to various service organizations over the years, including the Sunrise Lions Club. He also enjoyed playing golf and watching the Eagles and Phillies.
In addition to his wife, Josie, Tom is survived by his daughter, Susan Rossman (Thomas) of Lititz, sons, Thomas Stork Jr. (Terry) of Millsboro, DE, Charles Stork (Penny) of Lititz, David Stork (Annette) of Mountville, Richard Stork (Courtney) of Lancaster, daughter in-law Kelle Stork of Lititz, 17 grandchildren and 11 great-grandchildren. Tom is also survived by sisters Mary Gallagher of Fairfax, VA and Elizabeth Stork of Willow Street.
In addition to his parents, Tom was preceded in death by his son, Lawrence Robert Stork and siblings, Dorothy Stork, Richard Stork, Louise Bellas, Lucille Hohenwarter, Florence O'Brien, and John Stork.
A visitation will be held on Wednesday, March 15, 2023 at Charles F. Snyder Funeral Home (3110 Lititz Pike) at 6:00pm – 8pm. A Mass of Christian Burial will be celebrated for Tom on Thursday, March 16, 2023 at Saint James Catholic Church (505 Woodcrest Ave, Lititz, PA) at 11:00am. In lieu of flowers memorial contributions may be made to St. James Catholic Church, address above.
Leave a condolence on this Memorial Page
Condolences to the Family
March 16, 2023
Our deepest sympathies to you and your family at this difficult time…..

March 13, 2023
Dear Josie and the entire Stork family,
I was saddened to learn of Tom's recent passing. Please accept my most sincere condolences at this time. While we were serving together at LAC (Lancaster Alliance Church) as Elders we often worked together in visitation. I truly enjoyed those times of service and the opportunities to chat that traveling to those visits afforded us. Tom was a great friend, a real man and a devoted Christian in all that he said and did. I was saddened when those times of sharing and service came to an end. Chatting with you Josie was also a real treat when we had that opportunity here and there. My heart is heavy for your loss, but so thankful that Tom has realized the Hope that he had in CHRIST JESUS his LORD. Praise be to ALMIGHTY GOD! May I share a few words of comfort from Scripture that have been especially meaningful to me at times of sorrow? … GOD in love has promised grace for every trial, strength for every sorrow, help for every mile, and may GOD in sympathy and unfailing love impart help for each tomorrow and new courage to your heart. … "Cast your burdens upon the LORD, and GOD shall sustain you; The LORD shall never allow the righteous to be moved." (Psalm 55:22) … "Cast all your cares upon GOD, for the LORD GOD cares for you." (1st Peter 5:7)
Most Sincerely,
Fred and Judy Holler (LAC)
March 13, 2023
David and family: Prayers from my family to yours as you mourn the passing of your father.
The Groscost Family
March 13, 2023
Dear Family of 'Tom,'
Remembering Tom from high school and beyond, when I came to know him as a brother in the Lord Jesus Christ. All my remembrances are of a truly honorable and highly gifted young man during high school days, and as a faithful and mature man of God after. As you mourn his loss on this earth, please take comfort in knowing that his heavenly reward is great and you will once again be with him in Father God's Kingdom.
Maureen McEvoy Farrell
March 12, 2023
Josie, my deepest sympathy on Tom's passing. We send our prayers and love to your whole family. Jimmy
March 12, 2023
Tom you were an honorable person who led a purposeful life. Nothing more need be said.
Cathy and I lit a candle for you a Mass today at Sacred Heart Church where we serve as ministers.
Go with God!
Christopher Haefner
March 12, 2023
Dear David and family: we were sorry to hear of your father's passing, you have our deepest sympathy.
George & Judy George
Visitation

Wednesday, March 15, 2023
6:00 PM - 8:00 PM
Charles F. Snyder Funeral Home & Crematory
3110 Lititz Pike
Lititz, PA 17543

Map and Directions

Services

Thursday, March 16, 2023
11:00 AM
St. James Catholic Church
505 Woodcrest Ave
Lititz, PA 17543

Map and Directions