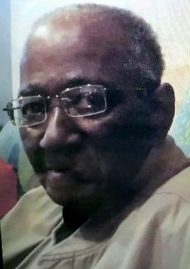 Thomas Ray, Sr., 94
January 05, 2019
On Saturday, January 5, 2019, Thomas Ray, Sr. of Lancaster, loving father and great friend passed away at the age of 94.
Thomas was born in 1924 in Mountville, PA to the late Rev. George D. Ray Sr. and Pearl (Smith) Ray. He was the longtime companion of the late Anna Mae Dixon. He was the former owner and bartender of the South Pole in Lancaster and continued to work part-time as a bartender at Joe Capps until his 86th year.
Thomas was the definition of a "good man". He was sociable, kind and generous of himself. He always helped when needed and lifted spirits of all who needed a friend. His family will remember him as a fantastic cook and his fried fish sandwiches. He was a member of the Conestoga Lodge of Elks, No. 140, later in life, he was baptized and became a member of the Bright Side Baptist Church, where he was a loyal follower of the church and most importantly of God.
He is survived by his children: Suzanne Thomas and husband, Randall, Robert Stewart and his wife, Patricia, Robert Dixon and his wife, Patricia and Tracy Dixon; brothers: Robert Ray, Charles William Ray and many grandchildren, great grandchildren, nieces and nephews. He was preceded in death by his companion Anna Mae Dixon; a daughter, Beverly Dancer; son, Thomas Ray, Jr; brothers: Edward and George "Baron" Ray.
Home Going Services will be held at Bright Side Baptist Church, 515 Hershey Ave., Lancaster, PA 17603 on Tuesday, January 15, 2019 at 1PM. Friends and family will be received from 12PM-1PM prior to the service. Interment will follow at Mellinger Mennonite Cemetery in Lancaster. In lieu of flowers, memorial contributions in honor of Thomas may be made to Bright Side Baptist Church at the address above.
Watch the tribute video
Leave a condolence on this Memorial Page
Condolences to the Family
January 15, 2019
As Mr. Tom's memory brings tears to your eyes or pain to your heart … know that even though he has fallen asleep in death … he is in Jehovah God's memory … May you find some comfort in Jesus promises at John 11:25 "… I am the resurection and the life. The one who exercises faith in me, even though he dies, will come to life …" You are in our thoughts and prayer at this very sad time in your lives … Love, Dawn, Toni, and Devon Dixon
January 14, 2019
I am so sorry for your loss May God keep and bless you and your family. Love Cassandra Owens
January 14, 2019
Our sincere condolences to the family. As my sister, Jennifer (Wilson) stated, we had the priviledge of meeting and working with, Mr. Tom, at "Joe Capps", or "Banzhofs". He showed us a work ethic that I still practice to this day. Mr. Tom said repeatedly, "Dont' take no stuff from no one," this is YOUR bar, and if they can't respect that, "they have to go!" (and some were made to do just that!! LOL) Many good times, and some great friendships, including his, were made. Fridays, there was no cooking at my house, Fridays were, Mr. Toms famous fish sandwiches! Haven't had anything like it, to this day! Mr. Tom wasn't just a great cook, he was a phenomenal human being. He didn't have to be that good, he chose to! I'll miss his hugs, and that great smile. Just wanted to say thank you, Mr. Tom, for allowing us to share your life, we love you and we'll always remember the laughter, the dancing, even though we weren't supposed to, (smile) and just the best atmosphere ever!! God Bless your family at this time, and know you will be in our thoughts and prayers, always!!
Charmaine Williams, and Kierstan Williams
January 14, 2019
To the family and friends of Mr. Tom Ray:
Sincere condolences to the family and friends of Mr. Tom. I met him while working at Joe Capp's in my younger days. He taught me how to be myself while working there and how not to take any nonsense from the customers. His famous fish sandwiches will be greatly missed. His sense of humor was contagious and I appreciated it on a daily basis. I am keeping his family in our prayers and in our hearts. Love you Mr. Tom.
Much love from the Charles (Pidge) Williams Family
JoAnna Williams, Jennifer Williams Wilson, Charmaine Williams, Dorian Williams, Kierstan Williams.
January 13, 2019
To the family of Mr. Tom…what a wonderful kindred spirit. We extend our sincerest sympathy to the entire family.
The Hudson Family from Church Street
January 13, 2019
My condolences to the Ray and Dixon Family you are in my prayers. Mr. Tom was a kind, wonderful man and made great dinners. I remember he lived next door to my Great Grandparents the Esters on Christian St.
January 13, 2019
To the family,
You are in our thoughts and prayers. May the Lord strengthen, keep, and comfort you during this time of loss.
With heartfelt sympathy,
Preston and Thomas Family
January 12, 2019
I am truly sorry 😐 for your loss. I will keep you all in my prayers 🙏
January 12, 2019
Condolences to the family!i meant Mr.Thomas Ray many moons ago.very nice man.may you rest in peace….
January 11, 2019
My sincere condolences to the Ray family. May God cover you all with peace and comfort!
Brown and Washington family
January 11, 2019
Mr Ray was a very kind person, I took care of his Father, Rev. Ray, Mr Ray and his wife were so kind. In Sympathy to the Family ❤️
January 11, 2019
To the family of Thomas Ray I've known mr. Tom it seems like a lifetime I'm going to his children Thomas and Beverly grew up with them he was best friends with my uncle Snook and Aunt. Uncle Sam Brown so on holidays we would be there together very good cook we loved his fish sandwiches and his chili I've always known him to be a respectful and kind man and always mom temper I really never ever seen him get upset about everything it's been a pleasure knowing you missed the time I know you're resting in peace God bless Doris and Carol Ann
January 11, 2019
You will be dearly missed condolences to the family 🙏
January 10, 2019
My condolences to you and the family. Prayers of comfort, for family and friends.
The Blackman Family
January 10, 2019
Mr. Tom. You've waited a long time to reunite with your loving Anna Mae. Rest peaceful My Dear friend, Father. Greatful Thankful for the time I've been honored to know you…
Never forgotten.
Deb Gray

January 10, 2019
Uncle Tom was a great man and uncle. I will always remember his loving kindness.Taking care of his parents. Looking out for others.God be with you until we meet again. I love you Uncle!!!
Visitation

Tuesday, January 15, 2019
12:00 PM - 1:00 PM
Bright Side Baptist Church
515 Hershey Ave.
Lancaster, PA

Map and Directions

Services

Tuesday, January 15, 2019
1:00 PM
Bright Side Baptist Church
515 Hershey Ave.
Lancaster, PA

Map and Directions