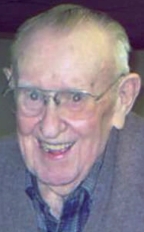 Thomas R. Reece, 92
Thomas R. Reece, 92, of 509 Terrace Rd., Lancaster, passed away on Tuesday, August 24, 2010 at the Essa Flory Hospice Center.
He was the husband of the late Earlyne L. Lewis Reece, who passed away in 2005. Born in Deepwater, VA, he was the son of the late Posey and Cora Hylton Reece.
Thomas had worked for 42 years for Raybestos-Manhattan in Manheim as a press operator.
A United State Marine Corps veteran, he served in the Pacific in World War II, attaining the rank of Technical Sgt.
Thomas was lifetime member of the American Legion Post 56, the German Band Club of Manheim, and the Riverside Camping Assn.
He is survived by his daughter, Beverly Reece of Lancaster and by several nieces and nephews. He was preceded in death by his siblings Bernice, Treva, Kirby, Keffer, and Artie. He will be greatly missed by all his friends, too numerous to mention.
Friends will be received on Sunday, August 29, 2010 from 6-8PM at the Charles Snyder Funeral Home and Crematory, 414 E. King St., Lancaster, PA and again on Monday, August 30, 2010 from 10-11AM, with the Funeral Service to follow at 11AM. Interment in Riverview Burial Park. In lieu of flowers, please make contributions in his memory to Hospice of Lancaster County, 685 Good Dr., Box 4125, Lancaster, PA 17604-4125. To send an online condolence, please visit SnyderFuneralHome.com
Leave a condolence on this Memorial Page
My thoughts and prayers are with you at this time. What a great man loved by all! May you find peace in knowing he has moved on to a much brighter place and we too will see him again some day! So very sorry for your Loss!
Much Love,
Heather
Mr. Reece was a very nice man that my family enjoyed talking to. We knew him from the Riverside club. I personally enjoyed the relationship that Bev and her father had. It is not often one gets to see the love they had shared with each other, but it was there. My mother Pat Anderson found Mr. Reece to be delightful to talk to. I personally enjoyed the kindness he had shown me, people could have learned from his example. One could not but help feeling a little bit better, when someone like Mr. Reece is around. I like to think he still is, at least in spirit.
We shall miss him and our family offers our prayers to yours.
Robert L. Anderson Jr.
Patsy Anderson
Scott Anderson
Dear Beverly,
Your dad was a wonderful man and of all my uncles and aunts your parents were the ones I loved to be around most because they were happy people and they made an effort to do things we liked. I am going to repeat the story of your mom and dad in 1949. I was 12 and Joyce was 10 and they took us from the Virginia Homestead to their new home in Lancaster for a week of vacation. They couldn't have been nicer. Your mom had a picnic lunch which we had in route stopping at Uncle Freds for an overnight. Every evening we would ride through the Amish countryside and you dad and mom would tell us stories of Amish that they had met. Your dad provided me an excellent image of a young husband who loved his wife so very much. I know that you will miss him very much but I hope that you remember the lessons and skills that he gave you and some day we all will meet again in our home in the sky.
I love you,
Preston Lewis
Beverly,
I will never forget the good time we had in 2008 with you and Russ when we visited Lancaster nor all the childhood memories of our Uncle "Russie". He always had such a wonderful sense of humor. Just know we love you here in Virginia.
Ruth Lewis McCain
Beverly, you are in my heart and prayers. I am so glad we spent time with you, your Mom and Dad in 2005 and again with you and your Dad in 2008. Your Dad always had a great sense of humor. I will never forget the birthday cake he made for Uncle Fred many years ago. Only Russie could pull that off.
We are never ready to lose our parents.
God bless you and give your comfort.
My love to you. Jeanette (Lewis) McCreary, Marietta, GA